VV Check mate?
The latest NFT sensation taking the crypto world by storm is VV-Checks, the open-edition NFT collection created by visual artist Jack Butcher. Inspired by the iconic Twitter verification checkmark, each NFT features 80 checks in a mesmerizing 8×10 grid pattern. As of this writing the vv check project floor is sitting at over 2.1 ETH $3,490.77.
On January 3, 2023, 16,027 NFTs were sold out in just 24 hours at the launch price of $8 each, mimicking the amount Twitter charges for verification. The project aims to capture the changing context of verification in the digital age and challenge the concept of ownership and authorship in the internet era.
VV-Checks and Jack Butcher
Jack Butcher is a renowned graphic designer and art director, known for his work as a creative director for some of the biggest brands in the world, including Amazon and Ferrari. He is the founder of Visualize Value, a Nashville-based consulting agency, where he has honed his skills for over a decade in Fortune 100 advertising.
In early 2021, Jack embraced the NFT craze and has been making waves in the crypto world with his innovative and thought-provoking collections. One of his most successful NFTs, "NFTs, Explained", sold for a staggering 74 ETH. Jack's unique perspective and expertise in graphic design and art direction have made him a sought-after figure in the NFT world, and his collections are highly coveted by NFT collectors and investors alike.
With Jack Butcher's unique perspective and expertise in the graphic design and art direction, it's no surprise that he has quickly become a sought-after figure in the NFT world. He has already created several successful collections that have garnered the attention of NFT collectors and investors alike. His innovative and thought-provoking work is making a lasting impact on the world of NFTs and establishing him as a force to be reckoned with in the industry.
Given Jack's impact on the NFT space and the popularity of his collections, it's likely that he will join the ranks of NFT luminaries such as Tyler Hobbs and Snowfro. These artists' projects have become part of the larger art culture and helped shape the NFT landscape as we know it today. With Jack's continued success, he is poised to leave a lasting impact on the world of NFTs and cement his place in the NFT lexicon.
Burn the Checks
The Checks NFT collection is more than just visually stunning – with each piece showcasing 80 check marks arranged in a captivating 8×10 grid. But what's truly taken this project to the next level is its innovative burn mechanics and engaging game theory.
By holding multiple Checks, NFT owners can burn them to create more limited versions of the artwork. The process works like this: burn 2 80-check pieces to receive 1 40-check piece, burn 2 40-check pieces to get 1 20-check piece, and so on until you have a single-colored check. And if you're looking for the ultimate grail, 64 single checks can be burned to create a single black check mark piece – with only three of these rare pieces in existence.
The fun doesn't stop there – users must choose which serial number to keep when burning their NFTs, adding an extra layer of strategy and excitement to the process. This has resulted in the formation of DAOs to create specific serial numbers, colors, and even the coveted Black check – driving up its price and scarcity even further.
The burns have yet to begin, and with only 5% of the original 16,031 total Checks listed for sale, this NFT project is one to keep an eye on.
Vincent Van Dough Derivative.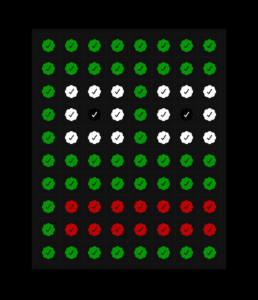 The VV Checks project has been a huge success, generating a total of $514,374 for Jack Butcher through the initial mint and royalties. The popularity of the project has even spawned a derivative, Vincent Van Dough's Checks, which generated a massive $1,641,296 in just one day of its mint. The innovative burn mechanics and game theory have created a buzz around the project and have led to the formation of DAOs, driving up the price of the highly coveted black check mark piece. The attention and insanity surrounding this project is a testament to its success and impact in the NFT world.
On VV Checks, Jack Butcher has made

$128,568 on mint
$385,806 on royalties
———-
$514,374 total

Vincent Van Dough's derivative of Checks just made more than 3x that in a day.

$1,641,296 on mint

— NFTstatistics.eth (@punk9059) February 6, 2023
The Checks Counterpoint and NFT Meta
wale.swoosh posted the following tweet that makes some really good point about the challenges facing the current NFT meta and what risks may come from this project.
Open editions:

Why new metas are NEVER here to stay 🧵👇

(1/18) pic.twitter.com/EXpnmqJKPi

— wale.swoosh 🐳 (@waleswoosh) February 6, 2023
Follow us on Social Media