VeeFriends is hosting an on-site experience at
Major League Pickleball Austin
, a 3-day tournament that will take place June 3–5, 2022, at Dreamland in Dripping Springs, Texas.
Pickleball is a racquet sport in which players use a perforated plastic ball, trying to hit it over the net. The game is played on a court that has a net dividing it into two halves.
The game was invented in 1965 by Wally Froehlich of Seattle, Washington and named "Pickleball" because he was selling pickles at the time.
It is now played all over the world with more than one million players who play at least once a year.
Who Plays Pickleball?
People of all ages can play pickleball, but it is common for adults to play this game because they have more free time to do so. The average age of players is around 55 years old and there are many people who are 75 years old
This is the first utility to be announced for Series 2 VeeFriends holders; holders that will be eligible for this experience are:
Those that own the Competitive Clown character
Those that own the Pickleball Court background
"Creating opportunities and unique experiences for the VeeFriends Community is at the core of the VeeFriends project's mission and vision," said Andy Krainik, President of VeeFriends. "We are proud to continue to have VeeFriends be a pioneer in guiding how IP owners can execute meaningful NFT projects successfully to deliver the most value to their communities."  Gary Vaynerchuk & VeeFriends continue to accomplish this by curating ongoing utility for holders through unique brand collaborations, access experiences,in-real-life community-building events, and innovative mini-drops.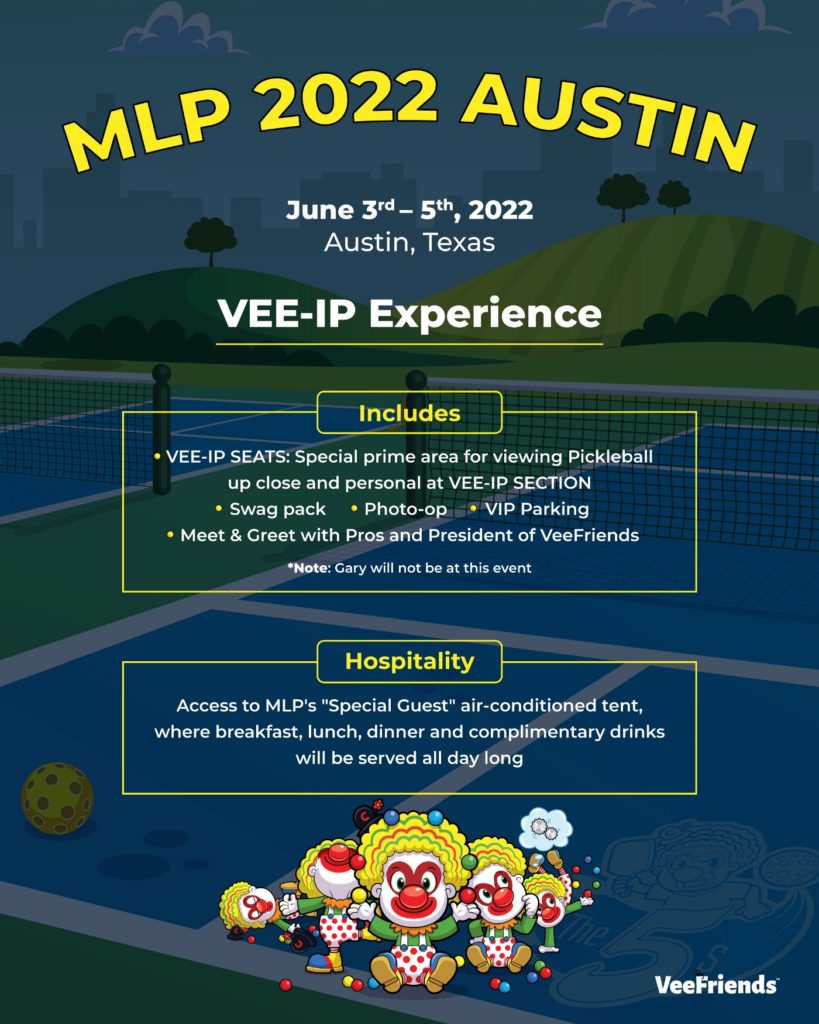 This on-site experience was curated after Gary Vaynerchuk recently purchased ownership of a Major League Pickleball (MLP) team named
"The 5's"
, and the 'Competitive Clown' character from the VeeFriends collection became the team's logo. MLP 2022 Austin is the first event of the year for the league; CBS Sports Network will be broadcasting the event.
The VeeFriends "VEE-IP" Experience at Dreamland will consist of:
A "preferred MLP rate" at Sonesta in Bee Cave

VEE-IP SEATS: Special prime area for viewing Pickleball up close and personal at the VEE-IP SECTION

VEE-IP HOSPITALITY: Access to MLP's "Special Guest" air-conditioned tent, where breakfast, lunch, dinner, and complimentary drinks will be served all day long

VEE-IP PARKING: VIP Parking

VEE-IP PACK: MLP hoodie, shirt and hat

VEE-IP PHOTOS WITH THE 5's: Photos with GaryVee's MLP Team The 5's taken by our Official Photographer Future Fox 360 Friday & Saturday

Meet and Greet with the Pros and the President of VeeFriends: Meet the players, learn about the sport and join a Q&A with the President of VeeFriends, Andy Krainak (Gary Vaynerchuk will not be at the event).
Follow us on Social Media