Your Comprehensive Guide to Otherdeed Ownership, Vessels, Maras, and Kodas
Otherside has unveiled Legends of the Mara (LOTM), a unique 2D standalone gaming adventure powered by ApeCoin. The game features the Otherside Koda collection and introduces a new collection called Mara, which can evolve into Kodamara. LOTM kicks off by gifting every Otherdeed holder with a Vessel NFT, with the rest of the gaming experience being up to the player.
TLDR:  Legends of the Mara is a new 2D strategy game exploring the origins and lore of Otherside. Each Otherdeed owner will receive one free Vessel, which grows into a Mara. Kodas can be assigned to an Otherdeed and decoupled from it. The game will be powered by apecoin. The claim and decoupling periods will start soon, and the game will begin in May. Since the news broke, the floors have rebounded almost 20%.
Introducing Legends of the Mara, a 2D experience with its own companion collection. Claim your Vessel, discover its potential, and forge your path.

Otherdeeds with a Koda will be able to decouple in advance of the game launch.

Step into https://t.co/PL6spHFERp and the 🧵 below pic.twitter.com/inu3s4sVdq

— Othersidemeta (@OthersideMeta) March 27, 2023
Claiming a Vessel is the first step in participating in LOTM, which is open to all Otherdeed holders, also known as Voyagers. Each Voyager can claim a Vessel NFT for each Otherdeed they own. Players will need at least one Otherdeed to play, in addition to a Koda and/or an apprentice Mara. Otherdeeds are an essential component of the LOTM experience, and the Koda, Mara, and Kodamara collections will be crucial to unlocking the Otherdeed's potential.
Mara starts with the vessels
Vessels are meteors capable of supporting a Shade and can be used to defend the Otherside. During the claim period (which begins in early April), each Otherdeed holder can claim one Vessel, each with one of three random functions: Hunting, Farming, or Enchanting. Each Vessel has a specific incubation period before revealing a Mara, which will match its function. Claimed Vessels will be sent to the Otherdeed-holding wallet as separate ERC-721 tokens with a new smart contract/NFT collection. Vessels can also be purchased and sold on trading platforms.
What are Maras?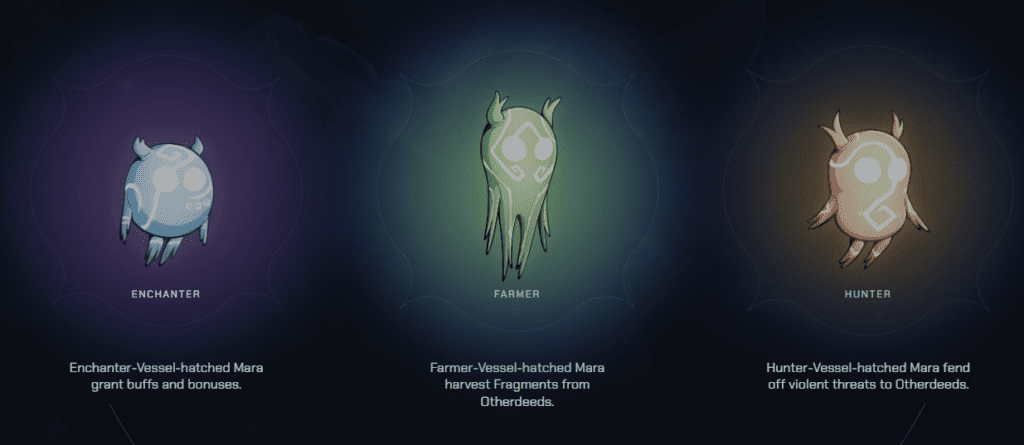 Maras are otherworldly creatures that emerge from Vessels and can perform simple tasks. The three types of Mara that will emerge from Vessels are Farmers, Hunters, or Enchanters, depending on their assigned function. Maras will be ERC-721 tokens separate from Vessels, with a new contract/NFT collection. Once emerged, Maras can be purchased and sold on trading platforms.
How do Kodas come into play
Kodas are the primary keepers of Otherside, possessing the natural ability to Hunt, Enchant, and Farm at much higher power levels than Mara or Kodamara. They can be assigned to an Otherdeed to perform any of these functions, with role assignment details to be revealed in future activations. Kodas with weapons and Mega Kodas will be employed in battle if assigned to the Hunter role.
The Game Details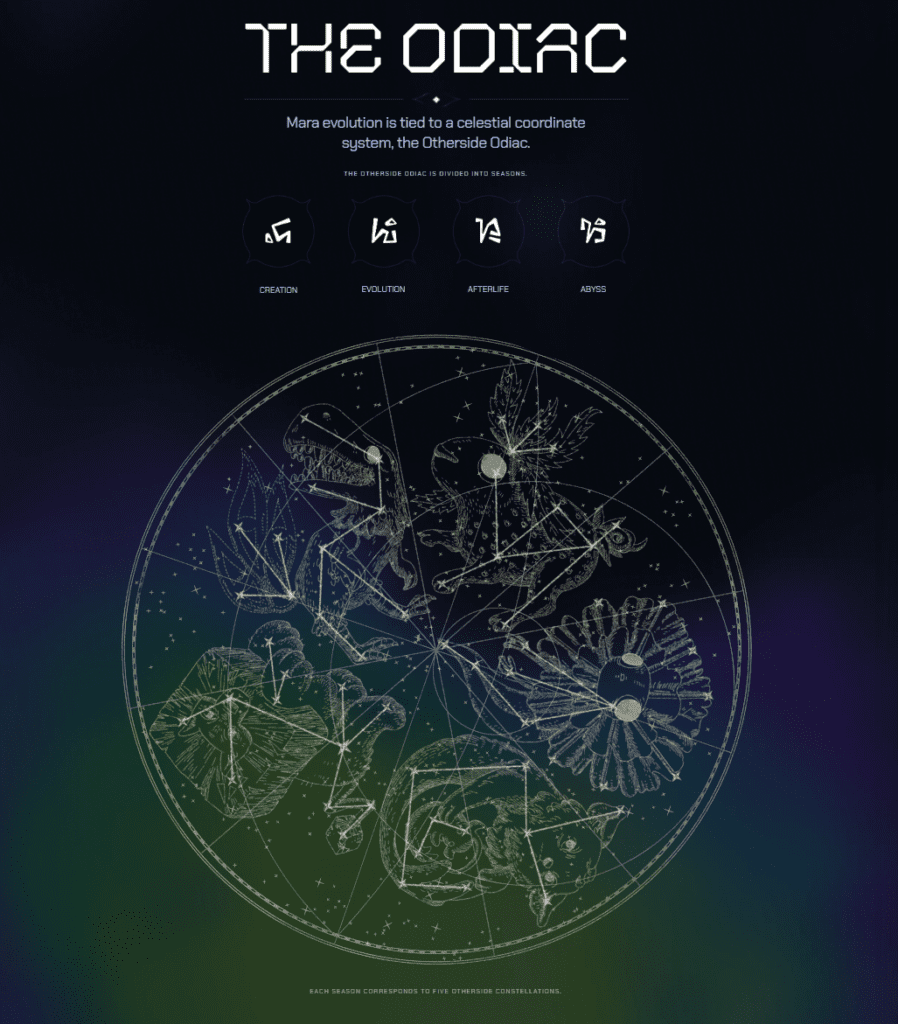 LOTM is a persistent 2D experience driven by the celestial Odiac. The game allows players to evolve their Mara into Kodamara, farm sediment, and defend their Otherdeed from emerging threats. With its engaging, interactive platform, LOTM showcases the potential of NFTs and blockchain technology in revolutionizing the gaming industry.
Will this be a strategy game?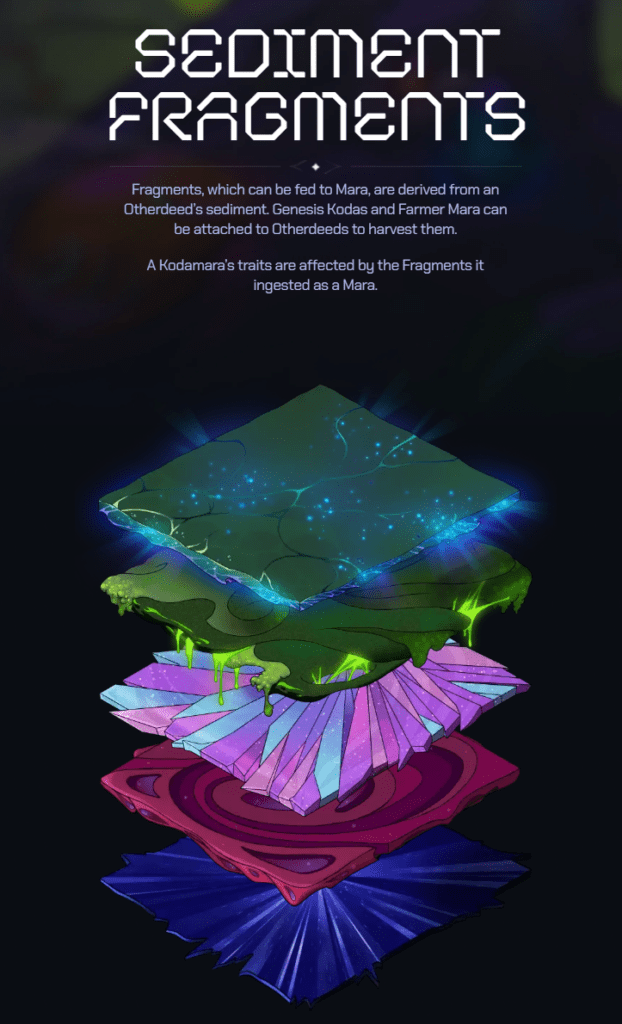 There has been speculation that Legends of the Mara (LOTM) will be more similar to classic 2D strategy games like Warcraft II and Command and Conquer, significantly changing the gaming experience from the previous 3D Twitch game, Dookey Dash. Despite this speculation, Otherside has not yet confirmed or denied these rumors, leaving players curious and excited about what the LOTM gaming adventure will offer. Nevertheless, the game's immersive and interactive platform, coupled with fresh NFT collections and an unparalleled gaming experience tailored for Otherdeed owners, is already causing a buzz in the crypto and NFT ecosystems. To learn more about LOTM and its exciting features, please refer to the provided links.
It appears that the meteors from 10KTF are vessels for the game
— Wagmi-san (@10KTFshop) March 25, 2023
Keep checking back as this will be the main resource for updates on this game moving forward.
Follow us on Social Media