ART POWERHOUSE THANKYOUX BRINGS "HOLDING ON" – A PHYSICAL AND DIGITAL COLLECTION BASED ON RESTORED MEMORIES EXCLUSIVELY TO BONHAMS & NIFTY GATEWAY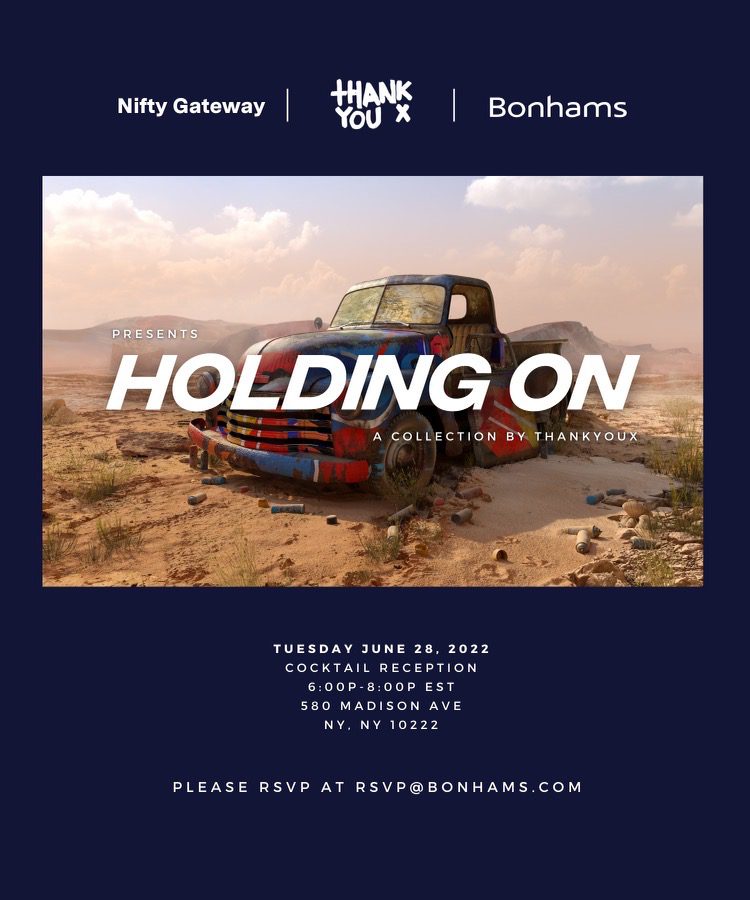 On June 29, the innovative artist ThankYouX (@thankyouX), known for his seamless blending of the physical and digital spaces, is dropping three NFTs and two art pieces as a new collection as a new body of work. The collection will be presented exclusively by auction-house Bonhams in partnership with Nifty Gateway and is collectively known as "Holding On". The group of NFTs includes 'Expectations', an edition of 20 offered for $999 each; 'Found', a 20-minute open edition offered at $420 each as well as 'Reborn', an edition of 10 offered exclusively to existing ThankYouX collectors at $1,999 each. The collection will debut at a private reception in New York on June 28, at Bonhams New York at 580 Madison Avenue from 6-8PM EDT.
'Holding On' is a once-in-a-lifetime exhibition of ThankYouX's most recent works which reimagines the mundane – in this case a once-beloved vintage pickup truck – with expressions in both the physical and digital spaces. 'Reborn' and 'Found' each depict the same truck in two starkly contrasting states. One compacted beyond recognition into a cube of metal and the other on exhibit in a museum setting restored to full glory. The final piece 'Expectations' leans into the abstract, with the paint of the truck creeping over an abstract square sculpture. The three works explore novel conceptual ideas about memories and transformation challenging and evolving traditional notions of how it can be created and experienced.
The artist known globally as ThankYouX first gained recognition in early 2009 for covering Los Angeles in street stencils of Andy Warhol before quickly graduating to painting and sculpture exhibitions in London, Los Angeles, Miami, New York, and Hong Kong. Making the leap into the digital art space in 2020, ThankYouX brings the physical and digital worlds together in a unique collection of original paintings and NFTs. An early pioneer in the new digital space, ThankYouX has created notable contributions including his 2021 works "Convergence" and 2020's 'Xplore'. The latter a 1 of 1 sold for a history making 751 (SOL) Solana.

"This multi-platform piece is a very personal reflection of finding beauty in something that was left behind," begins ThankYouX. "This truck was once a treasured piece, a representation of a life well-lived. Its essence is full of vivid memories…first kisses, family trips, moving to new places. I see those memories in the dings and scratches on the chassis, the bubbles of rust in the paint. I have lovingly restored it, bringing it back to life as physical and digital art pieces. The memories contained within remain intact and have been translated into something new. Something that will last a lifetime."
Nima Sagharchi, Head of Digital Art at Bonhams, said, "We are thrilled to continue our ongoing partnership with pioneers of the NFT space, Nifty Gateway, and to present the genre-defying work of ThankYouX. These collaborations are exciting because they continue to prove the value in the merging and coexistence of the traditional art world with the new frontier of NFTs."
The sale will take place on June 29th on niftygateway.com.
Reborn and Expectations will drop at 6:30pm EST
https://niftygateway.com/collections/thankyoux-bonhams
Found will go live for a 20-minute sale window at 7pm EST
https://niftygateway.com/collections/thankyoux-bonhams-oe
Bonhams will present two additional works by ThankYouX in our upcoming Post-War & Contemporary Art sale on June 30 in London:
Starting Somewhere (2022), an abstract painting accompanied by an NFT, is estimated at £50,000 – 70,000
Purpose (2022), a sculpture of a compounded truck accompanied by an NFT, is estimated at £60,000 – 80,000
ABOUT BONHAMS:
Bonhams, founded in 1793, is one of the world's largest and most renowned auctioneers, offering fine art and collectables, motor cars and a luxury division, including jewellery, watches, wine and whisky. The main salerooms are in London, New York, Los Angeles, Paris and Hong Kong, with auctions also held in Knightsbridge, Edinburgh, and Sydney. With a worldwide network of offices and regional representatives in 22 countries, Bonhams offers advice and valuation services in 53 specialist areas. For a full list of forthcoming auctions, plus details of Bonhams specialist departments, please visit bonhams.com
ABOUT NIFTY GATEWAY:
Nifty Gateway is an all-in-one platform that makes it easy to buy, sell, and store digital art and collectibles, otherwise known as Nifties (or NFTs). Nifty Gateway was founded by Duncan and Gryphon Cock Foster in 2018, and acquired by Gemini in 2019, with the belief that crypto networks and the blockchain have the power to fundamentally change the art world by creating greater choice, independence, and opportunity for artists, creators, and collectors.
Follow us on Social Media