To say that RECUR had a successful launch would be putting it mildly.  The brand is off to a feverish start.
We're minting the world's biggest names in film, TV, and sports. 1 RECUR Pass = 1 unique Pass on the Reveal date. Get your Pass, and get early access forever. Each Pass NFT will be programmatically generated. Your unique Pass(es) will be revealed within one week of the end of the Sale. Attributes may impact rarity.
This pass will allow collectors access to top brands including Hello Kitty, Teenage Mutant Ninja Turtles, The Godfather, and sports teams including LSU, Michigan, and more.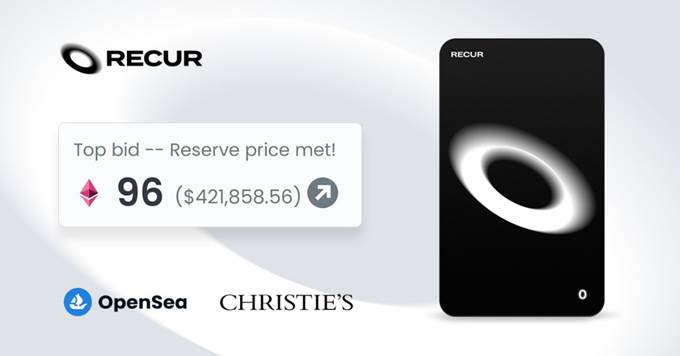 RECUR PORTAL PASS RESULTS:
RECUR sold 64,031 NFTs at $300 each, totaling just shy of $20M in 24 hours
RECUR's rarest NFT, Pure White Zero, sold for a whopping $~$420,000 (96 ETH) in an auction with Christie's
75% of all RECUR Portal Pass purchases came from Fiat (non-crypto), indicating the ushering of a brand new fanbase into web3
RECUR offered Apple Pay, Google Pay, Credit Card and Crypto as forms of purchase – making them one of the first NFT platforms to accept Apple Pay
Nearly ¼ of all purchases were made via Apple Pay
Fans in over 121 countries made a purchase and 221 countries were supported from a payment and compliance standpoint
RECUR now has nearly 30K registered users
A portion of our marketplace sales will be allocated towards the RECUR Community Fund, a program established to support new and ongoing initiatives in the NFT space. RECUR is committed to supporting its diverse community of fans, technologists, and creators. We'll share more soon!
Follow us on Social Media