Tomorrow, Tuesday February 8th, The first ever piece of US property will be auctioned off as an NFT. Making history, this home will have a starting auction price of $650,000, and will be purchased by bidders using crypto currency. The home is located in Gulfport, Florida.
Propy, a Palo Alto based real estate tech company will be holding the auction online and the property rights will exist as a digital token. Marking a change of the times, the home as an NFT is digitally secure on the blockchain, and is similar to the traditional deed. A buyer will simply visit the listing website, register, connect their wallet, and participate in the auction. As this will likely be the first of many " real estate meets blockchain" events,  eyes are watching to see how smoothly this auction goes, myself included. Propy successfully auctioned the apartment of TechCrunch founder Michael Arrington last year in Kyiv. The auction started at $20,000 usd and sold for almost $94,000.
Leslie Alessandra, the listing agent for the Gulfport property, is no stranger to web3. She is founder of the blockchain company Defi Unlimited, and is utilizing this unique opportunity to further prove the use cases related to NFTs. She is also a local real estate investor, and has navigated the recording of the sale, and transfer of ownership rights by creating a legal entity to own the property, and this company (an LLC) will be sold as the NFT. The company will also be responsible for paying property taxes. She is quoted on the website for the listing, saying "This technology will revolutionize the real estate industry providing speed, transparency, and security on a level not seen before."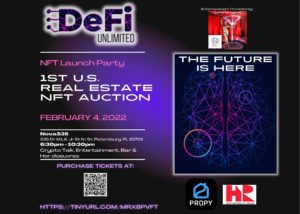 Included in the sale of this property will also be a mural from a local artist, Derek Donnelly aka Saint Paint. He is creating something to compliment the home, as well as aiming to immortalize street art on the blockchain. The mural will be a separate nft as a part of the sale. 
The home is a Spanish-inspired, 4 bedroom, 2 ½ bath, and the listing may be seen here. 
As always, do your own research and happy hunting (or home buying!)
Ashley_NFT
Follow us on Social Media