Nansen, a blockchain analytics platform that analyzes 100M+ labeled wallets and their activity on Ethereum, Polygon, Avalanche, and numerous other L1 and L2 blockchains, released its 2021 State of the Crypto Industry Report. The company's first release of this kind includes the most notable trends and insights across the cryptocurrency, NFT, and DeFi markets over the last year. It highlights statistics and movement within key sectors of the blockchain industry as well as an outlook for 2022 from Nansen Co-Founder and CEO Alex Svanevik. Nansen has plans to continue releasing reports of this nature, annually and periodically with a focus on different sectors.
2021 was a huge year for crypto, both in terms of price action and adoption. There were multiple trending narratives throughout the year. Each sector had their own time to shine, bringing more interest, more capital and more people into the space. Many of us thought that DeFi would be the use case that brings millions of people into crypto, especially after the year DeFi had in 2020. While TVL did hit new highs, JPEGs of cartoon animals stole the show and brought in mainstream attention. Blockchain games like Axie Infinity introduced a new paradigm of gaming and showed strong product market fit with their high number of daily active users.
Smart money (e.g., crypto funds, institutions) activity and profitability in DeFi and NFTs

NFT collections and marketplace statistics

The rise of play-to-earn gaming

Institutional adoption of DeFi 

DAOs, today's landscape, and outlook for 2022

…and much more!
NFT collections and marketplace statistics
As the NFT market grew, the end of 2021 resulted in a total sales volume that surpassed 4.6M ETH (17B USD).
NFTs gained major traction in 2021, growing from a niche use case to dominating blockchain platforms. They became popular as profile pictures on social media, with celebrities such as Jay-Z, Reese Witherspoon, Snoop Dogg, and Steph Curry using them as their Twitter profile pictures.
As the NFT market grew, so did the pace of investment – a dynamic market emerged. Minting as a form of initial NFT sales became one of the most innovative, fun, and complex parts of this new market. 1.2M wallets participated in directly minting NFT projects in 2021.
Nansen is a blockchain analytics platform that analyzes 100M+ labeled cryptocurrency wallets and their activity to provide trading firms, hedge funds, and VCs with insights into the crypto and NFT markets. Nansen is funded by a16z, Coinbase Ventures, and Accel, among others. Please visit www.nansen.ai to learn more.
Play to Earn: A new paradigm in gaming
Beyond being used for art and JPEGs, gaming offers a compelling use case for NFTs. Gamers are able to own their assets and extract monetary value from the hours they've spent in the game. The flow of value is more fluid and potentially more multi-dimensional if the in-game economy is crafted well.
Flow of value in traditional games vs blockchain games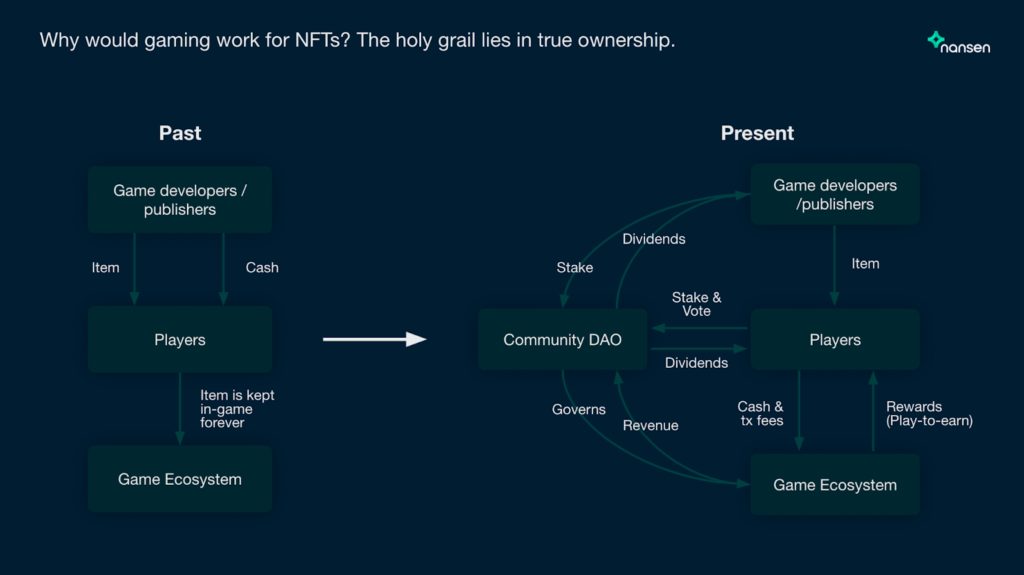 Read the Report Here
Follow us on Social Media