Hip Hop Supergroup Mount Westmore Release New Album through NFTs in the Metaverse with Gala Music, The Berry Boys and The Berry
New album from collective of Hip Hop's most legendary artists is released as NFTs on Gala Music platform, with all NFT content being created by 'Cannes Lions Young Directors Showcase 2022' shortlisted directing and VFX duo, The Berry Boys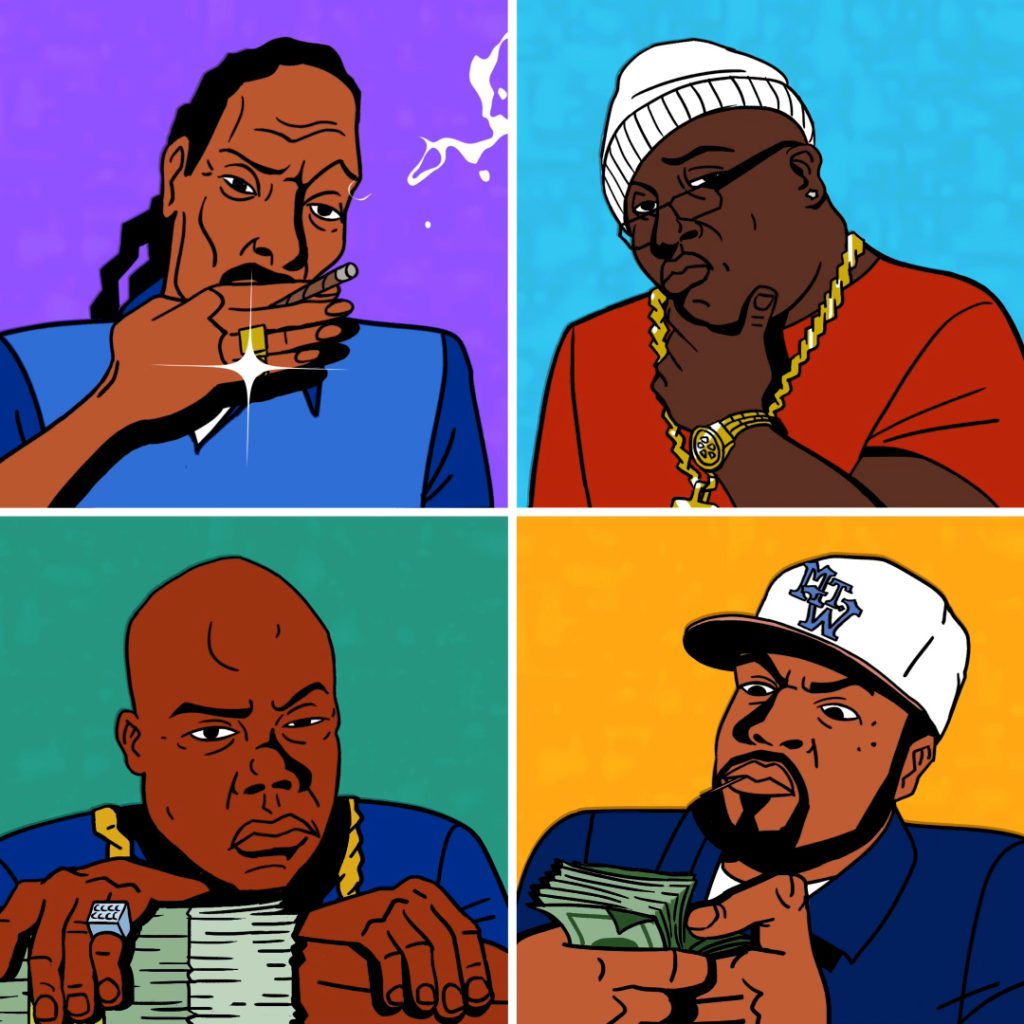 Mount Westmore (the supergroup comprising Hip Hop's most influential legends: Snoop Dogg, Ice Cube, E-40, and Too $hort) is promoting its new album – BAD MFs – by releasing it exclusively on blockchain-based platform Gala Music for a limited period ahead of traditional formats. 
BAD MFs was released in the metaverse during a premiere at Gala Music's Galaverse event on 7 June 2022. The NFT content was directed by The Berry Boys with support from The Berry's VFX teams. The Berry Boys, who have been shortlisted for the upcoming Cannes Lions Young Directors Showcase, led the charge on the creative direction and visualisation of each NFT asset.
The Berry Boys worked closely with Gala Music to create 15 unique NFTs in the form of looped videos that use 3D Animation, Motion Graphics and 2D workflows. Featuring everything from animated versions of the Hip Hop legends rocking a throne with signature attitude, to a spliff pumping on a giant sub woofer, the NFTs help forward-thinking fans unlock and experience the masterpiece that is BAD MFs. 
The Berry Boys and The Berry created the 15 NFTs at breakneck speed over a three-week period, taking responsibility for creative development, production, creative management, 3D, motion graphics and all animation. 
Alex Frank, Global Head of Music (Gala Music), said: "The Berry Boys and their team at The Berry absolutely nailed the visuals for the Mount Westmore project. The creative pushed boundaries but still aligned with the subject of each track. Both the artists and NFT holders were incredibly pleased. Working with them was a dream as well."
Ryan Burnham, one half of The Berry Boys, added: "It was such a privilege to be part of this seminal project. Creating next gen content for legends like Snoop Dog and Ice Cube, gave us plenty of motivation and inspiration to achieve outstanding NFT creatives. And with NFTs being one of the fastest growing assets, the project puts us at the forefront of this digital art revolution. The opportunity to work so closely with Hip Hop's biggest stars has been incredibly rewarding and we can't wait to take our partnership with Gala Music even further." 
Luke Robson, the other half of The Berry Boys, commented: "Not only was this one of the most exciting projects to come through our door, but it was by far one of the most challenging too. The tracks were still being tweaked and finalised while we created the digital artworks. So we had to be very reactive when tracks were dropped or re-written, as we were creating bespoke artwork for each one. It was all part of the fun though and really reminded us how creative and efficient we can all be as a team, even under pressure!"
Ice Cube (Rapper and ¼ of Mount Westmore) said: "You got the four pillars of West Coast hip-hop. We are down with Gala Music. We are coming out with that Mount Westmore BAD MFs album. There is going to be new music, new experiences, shows, everything that the Westmore got, baby, you gonna get it."
Credits:
Project: Mount Westmore – Bad MFs – NFT Metaverse Album launch
Client: Gala Music 
Directors: The Berry Boys (Ryan Burnham & Luke Robson)
VFX + 3D + 2D Animations: The Berry
Producer: Andy Daly
Operations Director: Joanna Osborn
Lead MGFX Artist: George Barnes
About Gala Music: Gala Music is one of the first decentralized music companies. Already proven in the gaming world with the Gala Games ecosystem, their focus is to allow both artists and fans to participate in the music experience like never before. Gala Music utilizes blockchain technology to provide artists with new avenues for creativity and revenue as well as providing fans with deeper connections to their favorite artists through shared incentives and unique experiences. As the leaders of this industry-wide paradigm shift, Gala Music is building a decentralized world of music to uplift artists, fans and collectors like never before, based on rewards, NFTs and Web3 interoperability.
About The Berry & The Berry Boys: The Berry is a London-based video production company that creates action-packed, moving images and animations, across digital, social media, broadcast, branded content, TVCs and more. The Berry integrates modern filmmaking technology to maximise the capabilities and quality of creative productions. The company develops, builds and produces bold, award-winning creatives that combine live action, 3D and visual effects to develop and capture stand-out concepts and imaginations. The Berry has since gone on to launch The Berry Boys as a sister company that focuses exclusively on Burnham and Robson's visual effects and mixed reality directing talents. The duo recently won The Shiny Awards 2022 and have been shortlisted for the prestigious Cannes Lion Young Directors Showcase 2022. 
Follow us on Social Media