"bedbugs" is an organization built on integrating grimbogs into society peacefully while bringing them into the public consciousness in a positive light. bedbugs have deployed 10,000 membership NFTs for people who believe in the limitless possibilities that grimbogs have to offer. One of the things that makes this project unique in the current phase of NFTs is that the artist behind the project Julian Armstrong is doxxed and has collaborated with some of the top brands and musicians in the space.
grimbogs by bedbugs project overview
following the era of over promised roadmaps and rugpulls, the grimbogs project had no mention of anything related to a potential roadmap offering which is leading to massive speculation about the future of the project and what that may mean.  Additionally, while this is a blurred link alluding to discord access, it is currently inaccessible, both of these actions appeared to subvert the current trends being pursued with NFT collectible projects of this sort. That being said, the grimbogs project has drawn the attention of big players in the space including the futureproof team
Having launched on June 7th, 2022, the project has already seen a lot of price action and volatility. The project has moved from highs around .11 ETH with capitulation back below .04 ETH but has stabilized around .6 ETH. More impressive is that the project has already seen over 350 ETH (in under 24 hours since launch). The team also mad a very interesting decision to release the project for free and lower their royalties to 5% stating:
Now that I am not only the artist of the project but also the core decision maker, here's why we decided this mint need to be free & why we will refund everyone who paid to mint. To start, the reason we are deciding to give teh grimbogs away for free is because we really want people to experience the world we can create together as a team. Holders come first and I will make sure they do.  This isn't and should never be about us as a team getting paid a ton of ETH right off the bat. That is also why we're lowering the royalties to 5%, all of which will be transparent to the holders…" Julian Armstrong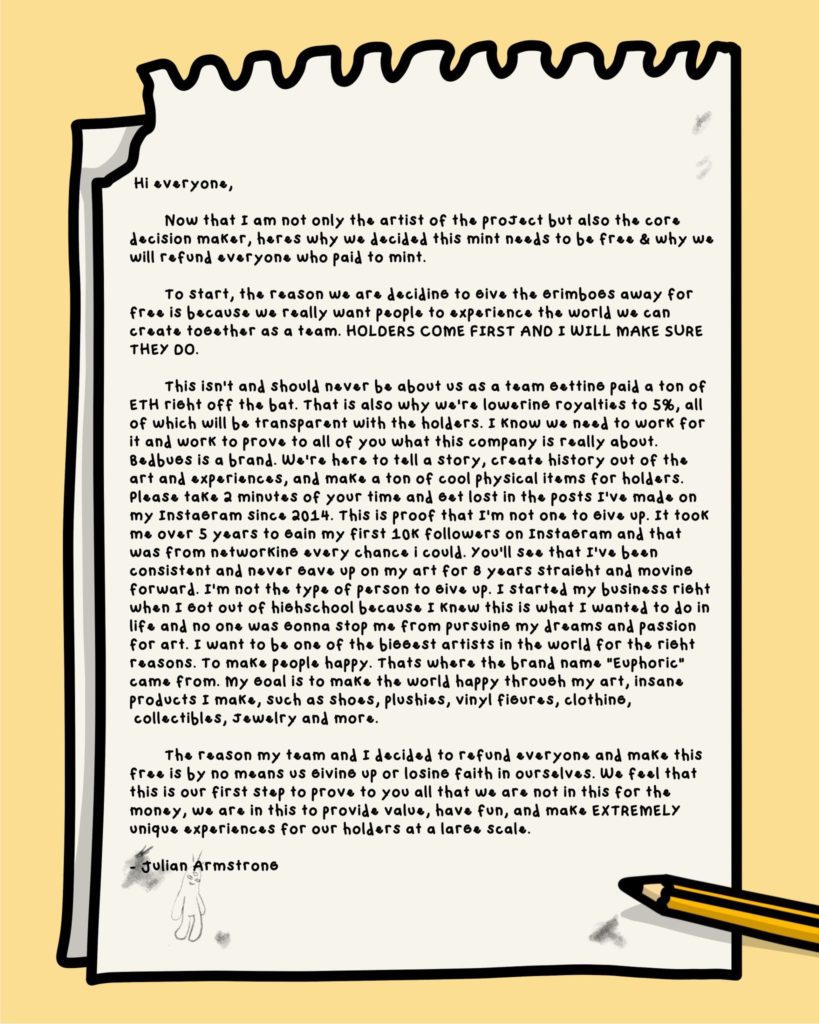 While no formal roadmap has been announced, Julian goes on to talk about building bedbugs as a brand. and essentially outlines roadmap items including:
Storytelling, creating a history out of the art
Experiences
Physical items for holders
With all NFT projects, collectors should do their own research on every project.
grimbogs by bedbugs Official NFT Links
grimbogs team
julian armstrong: bedbugs artistalso known as "euphoricsupply", julian is an american artist & creator. he has gained a large audience online from his work that spans from illustrations, figurative characters, designing shoes, toys, sculptures, and more. julian has collaborated with drake, playboi carti, a$ap rocky, sprite, and other well known people in the industry.
aaron maresky: producer- building invigorating communities and dedicated to bringing like-minded individuals together.
alex bortz: creative director- multi-disciplinary artist and creative director working in music and fashion.
luca de ry: director of ops- advisor, manager, and trader. constantly in search of IRL applications.
back­seats: engineering lead- solidity dev, co-founder of noun cats, co-creator of contractreader.io.
plaid shaman: ui/ux + web dev- designer, developer, founder. bringing to life the next generation of creative web3 experiences.
Follow us on Social Media