What is FutureShape 360?
First of its kind, fully NFT gated membership, all-inclusive 3-day event converging the most influential people in the crypto and NFT space to network, socialize and form the core group of leaders to help shape the future of Web3.0. Curated events, musicians, artists, guest speakers, immersive experiences and concerts with deadmau5, Don Diablo + Pink Floyd's Saxophonist, Scott Page.
Held in multiple different venues in Colorado, the FS360 will have the opportunity to experience amazing curated events, historic landmarks, incredible musicians and artists, and guest speakers.
The public will also have the opportunity to join in on the festivities with 2,500-3,000 a la carte tickets on Saturday, July 30th and Sunday, July 31st to attend our immersive concert experiences and galleries, while the FS360 attend with all-inclusive VIP status.
We are also thrilled to announce that Teen Cancer America will be our charity beneficiary! Contributions will be made to Teen Cancer America through live art auctions at the event, and a charitable donation from the project revenue will be donated as well.
Sponsors will have a direct line to connect with some of the most influential people in Web3.0, as well as visibility to thousands during our concert events at the Fillmore Auditorium and ReelWorks. Our NFT Holders and Sponsors' involvement in the FutureShape360 event will help launch you and your company into being a Web3 industry leader.
When + Where?
July 29 – Aug 1 2022
DENVER, COLORADO
What token?? And wdym 'All Inclusive' ??!
FS360 Token Benefits: 
accommodations at 4Seasons or other neighboring luxury hotels, all food + drinks, VIP access to all events, transportation to + from airport, merch, 1/1 NFT Airdrops throughout the weekend, pre-sale spots for upcoming NFT projects, Discounts + Access into all our partners and sponsors products/services + more (see pics)
Total supply: 360
Price: 2.5 ETH
DISCOUNTED PRICE FOR KOM + FRENS: 2 ETH
LIMITED SUPPLY, FIRST COME FIRST SERVE BASIS!!
!! If interested please DM @ the__crypt__gal asap!!
More Info?
Listen in to their recent Twitter Space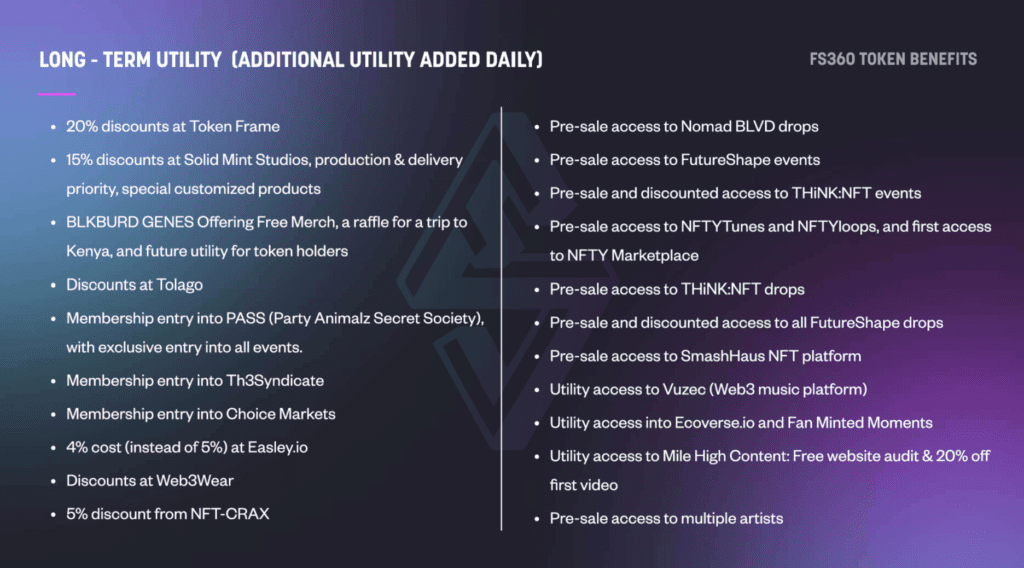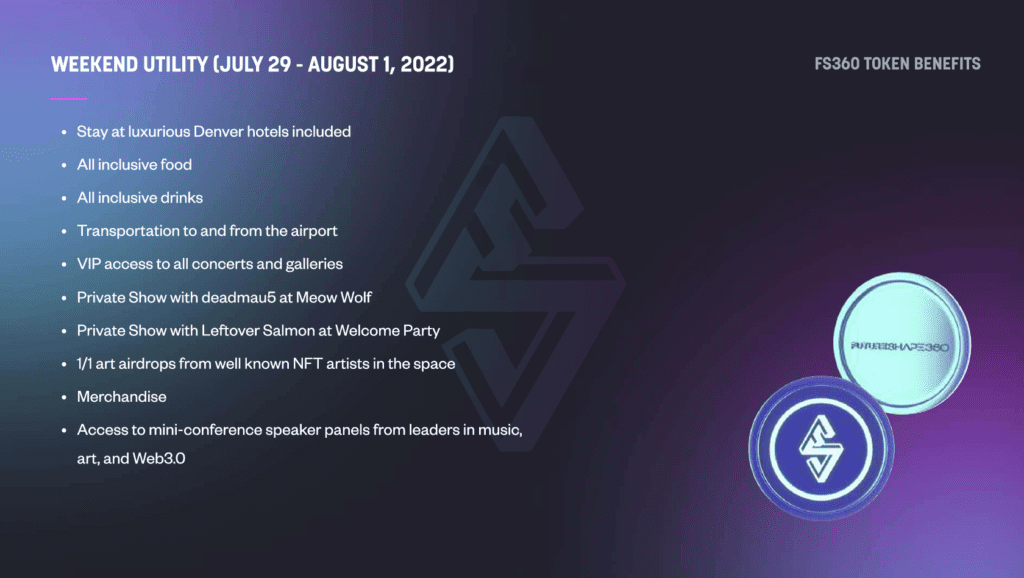 Official Links:
MINT SITE: https://mint.metanoise.io/
Twitter: https://twitter.com/MetaNoiseLLC
Telegram: https://t.me/metanoisellc
Discord: https://discord.com/invite/UuTEM2fHwy
Website: https://www.metanoise.io/
Link Tree: https://linktr.ee/metanoisellc
Follow us on Social Media