Devour premiered at Art Basel in Miami on Dec 2nd in partnership with eBay Luxury and consists of only 600 pieces, priced at .1 ETH each. Find out more at devour.landdao.io.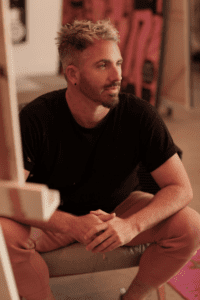 As children, we are driven by an authentic desire to express our life's function. From an early age, the creator of this collection painted enthusiastically, telling visual stories with distinctive messages. But as he grew up, he was slowly but surely devoured by the rapacious world surrounding him. Having bitten the apple, he embarked on a precarious journey, triggering a domino effect that led him deeper and deeper into the underbelly of desire. The temptations of ego, sex and greed influenced his pure creative spark. It is in recalling these visceral experiences – and sharing them candidly in his 'Devour' series – that he seeks direction and redemption. Imprinted forever on his artworks, these fragments of memory are unique pieces of art, sharded into NFTs.
"If I must interpret my work, it is concerned with curiosity. Through painting, I explore our common purpose on this earth, the meaning of human existence. Consequently, I have learned not to accept images at face value, as life presents them to us, but instead to offer up an alternative vision. My work consists of a manipulation of sorts: I paint not what I see, but what I feel."
Land DAO is a first of its kind art commission platform, bringing established artists into the NFT space for exclusive drops.
By owning LAND and becoming a Land Owner, you are able to:
Share in the profits generated from our NFT launches
Mint one NFT from each of our collections for free before public sales
Participate in the DAO's operations, curation of artists, distribution of funds from the DAO treasury & more
Access exclusive Discord channels with our 100+ DAO members (NFT influencers, DeFi founders, crypto investors & others)
Receive future benefits that we are preparing with partners
For even more info: An Introduction to LandDAO
Follow us on Social Media