UNCOVERING THE PARADIGM LOST
THE ARTIST JOSIE PRESENTS CYBERBROKERS, A FIRST-OF-ITS-KIND ART COLLECTIBLES ECOSYSTEM CENTERED AROUND 10,001 UNIQUE AND FULLY ON-CHAIN CYBERBROKER NFTS.
Created by Josie Bellini, CyberBrokers is a series of 10,001 on-chain NFT collectibles that provide membership and access to different kinds of metaversal experiences. Every CyberBroker is a piece of art in its own right and has varying traits and accessories.

WILL THERE BE A PUBLIC SALE?

No. The sale is entirely allow-listed, and spots to join the sale will be earned or given out by specific criteria.

WHEN AND WHERE WILL INFORMATION BE SHARED ABOUT PUBLIC ALLOWLIST RAFFLES OR COMPETITIONS?

I'M ON THE ALLOWLIST. WHEN WILL I BE ABLE TO PURCHASE MY CYBERBROKERS?

HOW MUCH WILL EACH CYBERBROKER COST TO MINT?

WHAT DOES IT MEAN THAT CYBERBROKERS ARE "FULLY ON-CHAIN"?

CyberBrokers are stored entirely on the Ethereum network. The art is composed of SVGs, a human-readable, text-based file format that allows for specifying the positions, colors, and shapes to be drawn. These SVG files are broken down into components, compressed, and stored as individual layers on Ethereum. The CyberBrokers art can then be reconstructed directly from the assets using an on-chain transcoder. CyberBrokers metadata will also be stored on-chain, and a cached image of the compiled CyberBrokers will be stored via IPFS for seamless integration into existing marketplaces.

WHY DOES IT MATTER THAT CYBERBROKERS ARE "FULLY ON-CHAIN"?

Most NFTs only store partial data on-chain: the token ID and a URL that points to the token's metadata. Some NFTs may store additional information on-chain, such as metadata and traits metadata, all the way to storing the art entirely on-chain. Only a few projects currently store the full art and metadata on-chain, including Avastars, Aavegotchi, and Loot.

WHO IS THE TEAM BEHIND CYBERBROKERS?
About the Creator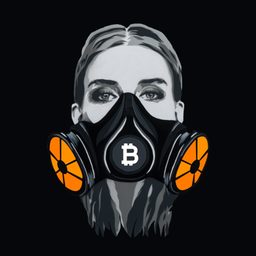 Josie Bellini – Previously in finance, she left that world to join the cultural revolution of crypto. Josie has been creating art that tells the story of the crypto ecosystem since 2017. She has exhibited in virtual worlds and at major blockchain conferences like Consensus, NFT NYC, and Satoshi Roundtable. In 2020, she created an art piece and metaverse puzzle which brought together leading projects Neon District, CryptoKitties, Axie, Cryptovoxels, SuperRare, Age of Rust, and OpenSea to create an immersive and interactive metaverse experience. Her work has been sold at Christie's and Sotheby's, featured on Obama.org, and sells on OpenSea, Nifty Gateway, and Async Art. Josie is the creator of CyberBrokers and MirrorWare.
Follow us on Social Media