Where are you from?
I'm from Lagos, Nigeria
Can you tell us about your background and what lead you down the path to becoming an artist and ultimately experimenting with NFTs?
Crixtover Edwin, a self-taught multidisciplinary contemporary visual artist, was born and raised in Lagos, Nigeria. His visual art creations celebrate black people, black love, women of color and pop culture – hence creating the much needed conversations where emotional connection and creativity meet cultural identity.
The majority of his visual renditions are inspired by eras, movements, and events surrounding women of color and pop culture subjects. While his theme, which explores the global diverse beauty of everyday people, is rooted in Afrocentric representations. By creating near-realistic portraits, Crixtover typically celebrates black culture, love, lifestyle and rejuvenates an appreciation for black excellence.
My journey as an artist experimenting on the nft space was as a result of me exploring new collectors medium and bringing my art on chain in the context of a new developing renaissance like web3.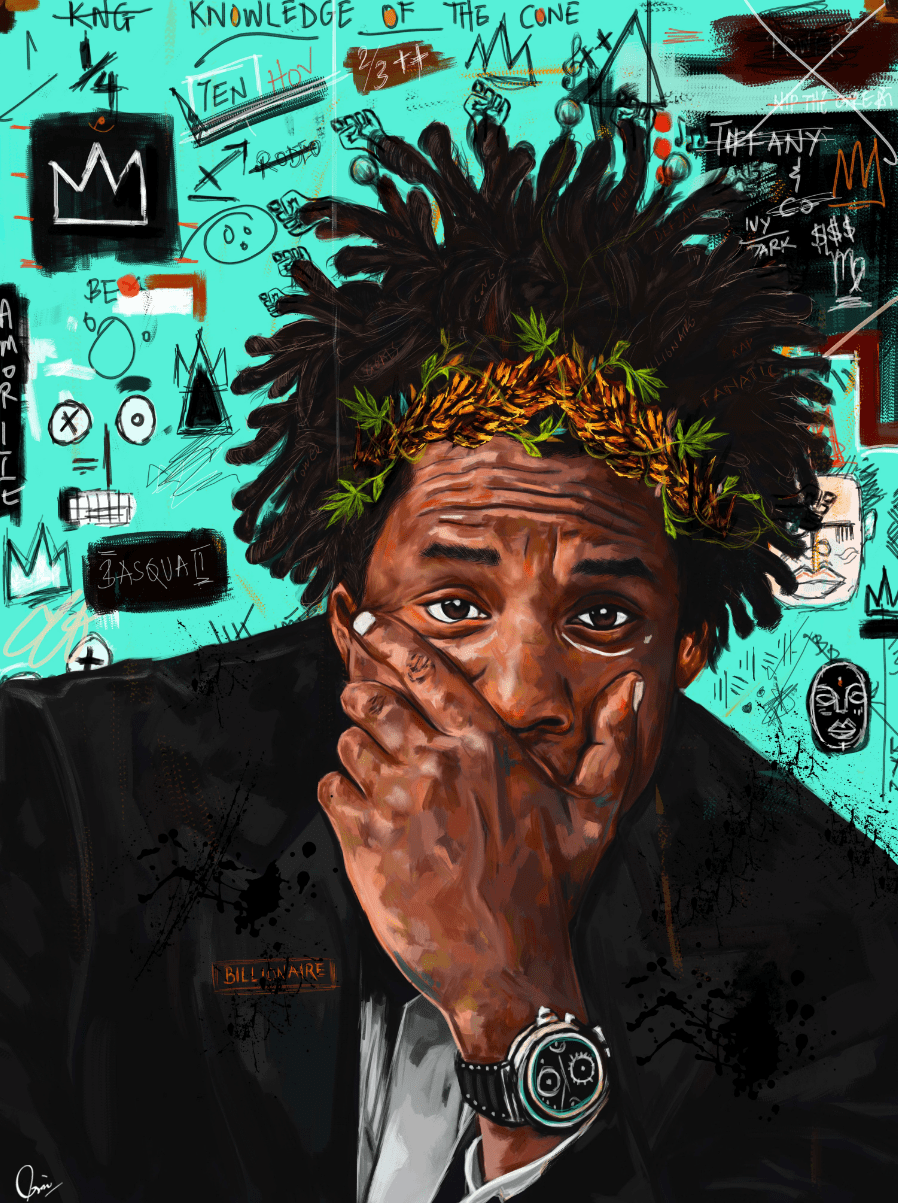 When did you mint your first NFT? What platform did you choose and why?
I minted my first nft in March 2021.
My platform of choice was Foundation
I chose it because at the time being a 1/1 artist, Foundation was the marketplace they posed as one of the top tiers to discover works like mine with high quality.
Can you tell us one thing you cannot live without? (and why)
My Mom, because she is my WHY after I lost my Dad on my birthday in 2020.
Who is your favorite artist(s) (Non NFT)? What about their style resonates with you
I have a couple of favorite from the Old Renaissance and this new age namely;
Basquiat, Alpay Efe, Kehinde Wiley, Bart Cooper, Wak Williams and Frank Morrison.
While they all have different art styles that varies across exploring visual emotionism, power, excellence, unapologetic beauty, body language and detail. The distinct difference however is always representation of people of colr.
Who is your favourite NFT artist? What makes this artist unique?
Anthony Azekwoh and NkJuls are my two favorite artists as I can't pick a single favorite and it has to be shared amongst both of them, I believe for me what makes their style unique is how they both tend to play with texture and visual emotionism while still keeping the narrative of the subject in focus, its just a beautiful perspective of art that I really love as an artist myself hence, why I relate with their style of art.
What made you pursue NFT art?
I've been an artist professionally before I got into NFTS, and I believe the number one core reason why I came into NFT was because I realized it was an open source for my art to become readily available to a new array of audience that loves art as opposed to my collectors in web2 accustomed to the traditional format of art collecting.
What is the one NFT you wish you had purchased but missed out on
Bored Apes and DeGods
If you could travel anywhere in the world where would you go? Why this location?
It would be Greece. The juxtaposition of its crystal clear waters, serene environment, safe islands, amazing people and standard of living is an ideal place for any creative to have a clear mind and be inspired by the rhapsody of existence.
What are your other passions besides art? Why?
I'm a 6ft 4 shy introverted artist who ideally loves writing, travelling and playing soccer, besides art these are passions of mine that clears my hand of the constant mojo jojo of that never ending creative idea running through my head for the next masterpiece.
Do you make other forms of art?
Currently I don't, but I'd love to involve myself in oil and acrylic art, I've always loved the flow and wild romance of colors and textures in its physical form.
Are you self taught or trained?
I'm a self taught artist
How did you come up with your specific style?
Practice, practice, practice.
Ultimately experimentation was a vital approach towards my discovery, but I believe its been my urge to always get better and make art that people easily relate with that eventually translated into my current style.
Being someone who loves to use color to experiment with visual emotionism on my muses, I got heavily influenced by Basquiat and how he emphasized hidden phrases and narrations on the context of his paintings via words and symbols.
I incorporated that into my semi realistic style of art and people really loved the approach, ever since then I've stuck with it while I still explore other perspectives.
How has your style evolved over the years?
All I can say is constant practice led to the evolution of my paintings up till this point, a career that started as a hobby translated into me becoming a graphic designer and eventually getting serious about getting my name out there, and taking it serious and going professional.
Its been a pretty amazing journey, but one evident narrative I would say about my art style is once I found a purpose for why I wanted to do the kind of art I currently do which was celebrating people of color and black excellence, that set the pace for my current style.
What is coming in the near future?
All I can say is a lot is coming in the future, I see my art in Sotheby's, on Time Square billboards, collab with big brands, my art in museums and living life large knowing fully well I've inspired a lot of emerging artist with my message.
If you could collaborate with one artist who would it be? (and why)
I feel in this creative journey, going alone is okay, but going faster and into rooms where you might not have access to is the lifeblood of collabs. ThankYouX has been one artist I've always wanted to collab with, as I love his unique style of abstract expressionism on his pieces a similar context to how I play with visual emotionism on my paintings.
What was your greatest failure and what did you learn from that?
I have a lot of regrets, so I'd just pick one which involves not getting into art professionally on time, but rather wasting 5 years of my life going to College to study for a degree I'd not use eventually. One prominent thing I learnt from that experience seeing where I am now is, life happens in seasons and its never an option to dwell on the experiences of past events as they are never a relevant compass towards what the future holds for your dreams.
What is your biggest piece sold
My biggest piece sold was a commissioned piece of Dave Chappele I did for a private collector depicting him as a renaissance subject.
How much did it sell for
11000
Do you have any upcoming drops?
Yes, I have a couple of 1/1 drops I plan on dropping in the next couple of weeks ranging from a renaissance Michael Jordan, TuPac Shakur, Kobe Bryant, and some pop culture pieces.
Social links and NFT marketplace links
Anything else you'd like to share?
The best advice I ever received on my career path as an artist was this ""never allow the contingencies of yesterday's denial derail you from accepting the fruits that a new day is yet to birth""
Follow us on Social Media