What bridges between two worlds of digital and physical is a common vision of a better future.
"Own the Color" auction, benefitting DonorsChoose, takes place June 20-24 exclusively via SuperRare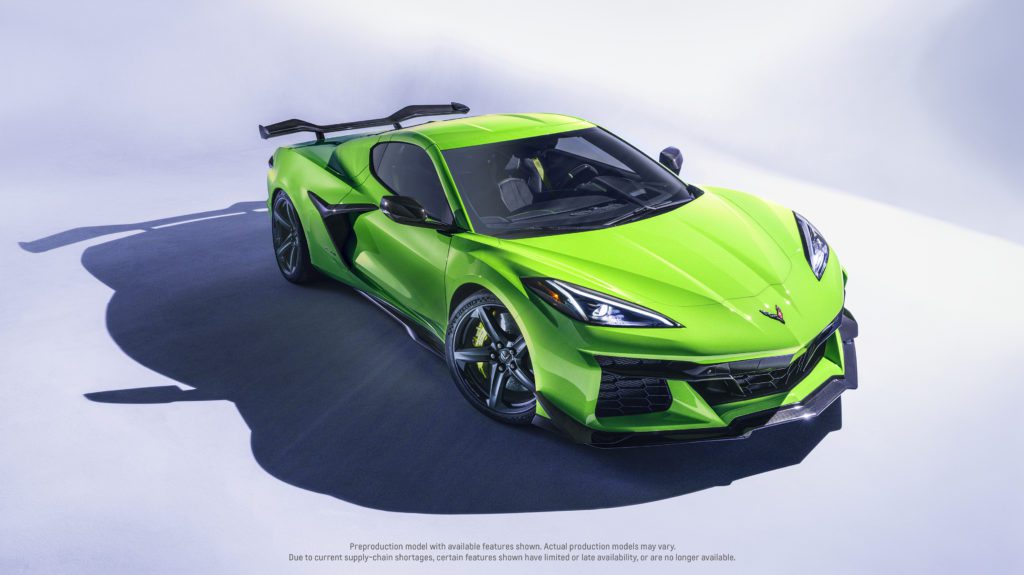 This amazing NFT will be available for auction on SupeRare during NFT NYC  and featured at the latest Crypt Gallery within DREAM Downtown NYC.
The first mid-engine Corvette Z06 continues its promise of putting the world on notice with Chevrolet's first entry into the Web3 space: a one-of-one 2023 Corvette Z06-inspired NFT artwork created by the artist xsullo. The upcoming "Own the Color" auction pairs the NFT with a custom-painted, real-life 2023 Corvette Z06 color-matched to the artwork. At the conclusion of the auction offered exclusively via SuperRare, the pioneering marketplace for unique curated NFT artworks, the winning bidder will be able to say they "Own the Color" — Minted Green, a reference to minting NFTs. The auction will be live to eligible bidders worldwide June 20-24 and those interested may only place bids in Ethereum.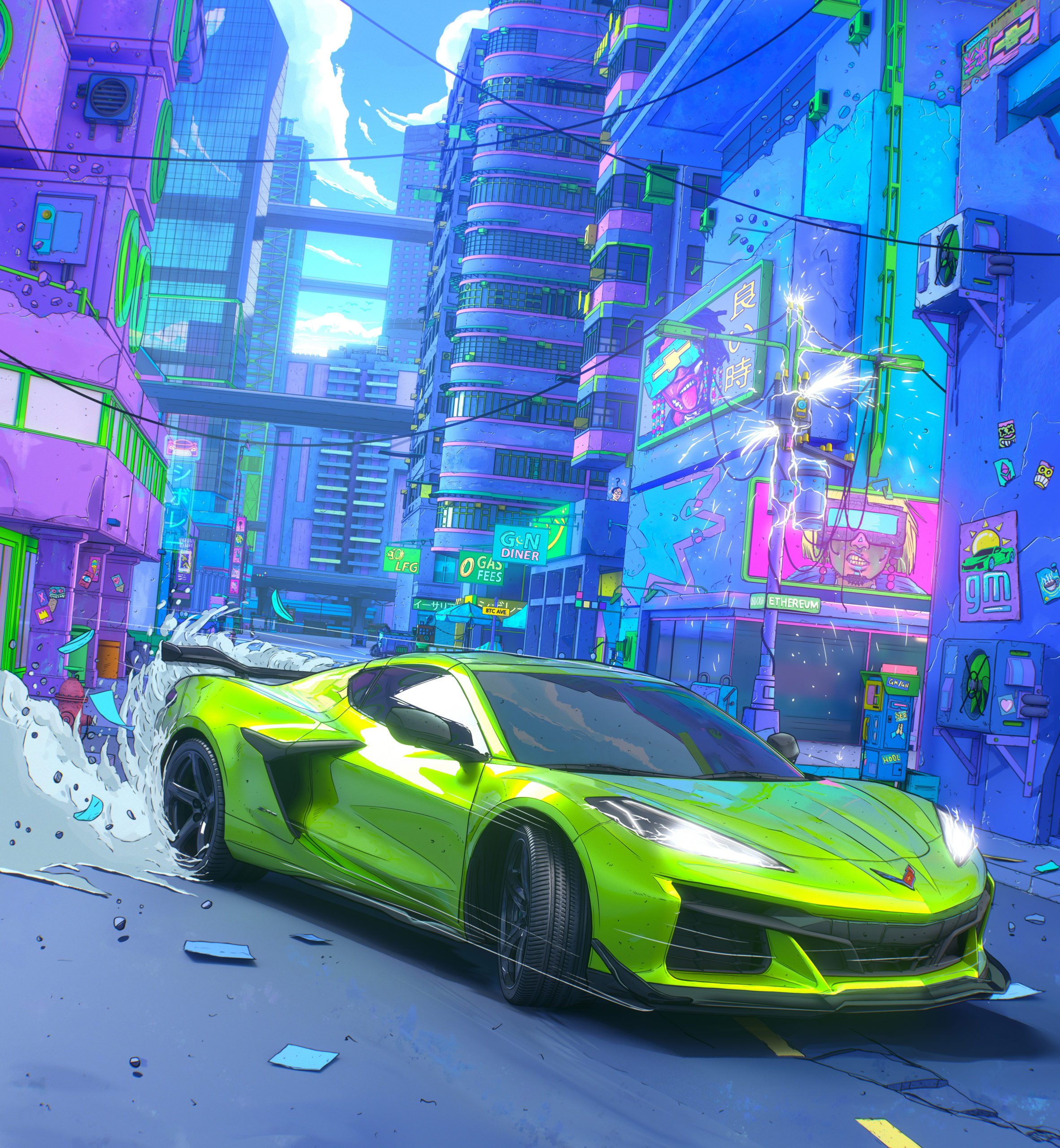 "Corvette is a halo at Chevrolet. It's the pinnacle of performance and staying cutting-edge means getting into new territories as a bit of a pioneer," said Steve Majoros, vice president, Chevrolet Marketing. "This is our company's first NFT. We see 'Own the Color' as an important stepping stone for Chevrolet into future digital initiatives for our customers."
All proceeds from the auction will benefit DonorsChoose. The organization's mission is to make it easy for anyone to help a teacher in need and move us closer to a nation where students in every community have the tools and experiences they need for a great education. Full terms and conditions of the auction, including limitations, eligibility and how to win are available at Chevrolet.com/CorvetteZ06NFTterms.
The vibrant work from xsullo continues to make waves across the crypto art and NFT communities as the "Own the Color" auction approaches, and numerous pieces from xsullo have sold on SuperRare.
"I've been wanting to combine my digital art with the physical world, so it's been a great opportunity to work with Chevrolet to bridge these two worlds," said xsullo. "The Corvette Z06 is an ambitious car that I totally vibe with. I'm drawn to how technology can make us feel, and I can tell the designers of Corvette Z06 draw from similar inspiration."
Source: Chevrolet
Complete Terms and Conditions ("T&C's") governing the acquisition and/or use of the NFT artwork and the 2023 Chevrolet Corvette Z06 physical vehicle can be found at: www.Chevrolet.com/CorvetteZ06NFTterms By placing a bid and/or acquiring the NFT, you agree to be bound by the T&C's. "Own The Color" is an original NFT artwork ("NFT") created by the artist xsullo. It features a 2023 Chevrolet Corvette Z06 in Minted Green, curated by the artist, a color also to be applied to a special edition 2023 Chevrolet Corvette Z06 physical vehicle ("Vehicle") as part of this auction. General Motors ("GM") will not commission another model year 2023 Chevrolet Corvette Z06 in the exclusive color Minted Green. The winning bidder of this auction will receive the NFT and will be eligible to take delivery of the Vehicle from a participating U.S. Chevrolet dealership of their choice after Vehicle availability. The time frame for Vehicle delivery is not guaranteed. To take possession, the winning bidder must be eighteen (18) years or older and must comply with all dealer delivery terms within sixty (60) days, or the winning bidder will forfeit all rights to receipt of the Vehicle. The paint color (Minted Green) will be applied by a third-party service provider to the Vehicle, and such paint will not be covered by GM's New Vehicle Warranty. Once the auction sale is final, the NFT and the Vehicle are no longer bound together and the NFT can be sold separately for personal use only, not as an investment. The proceeds of this auction (including primary sales and royalties on secondary sales) will be directed to the charity DonorsChoose as charitable donations. The winning bidder of this NFT is granted a limited, non-exclusive license to display the NFT for personal, non-commercial use as set forth in the T&C's. All intellectual property, including but not limited to, trademarks, service marks, trade dress (including vehicle body designs), and design patents, remain the exclusive property of GM.
About Xsullo
XSULLO's media is diverse, from analog to digital, creating innovative and strikingly refreshing visuals with a distinct recognizable style. While thematically explores a cybernetic post-gender Punk world with a focus on how technology effects the human body on a personal or social level. XSULLO NFT collection: https://superrare.com/xsullovault
ABOUT CHEVROLET
Founded in 1911 in Detroit, Chevrolet is now one of the world's largest car brands, available in nearly 80 countries with nearly 2.7 million cars and trucks sold in 2021. Chevrolet models include electric and fuel-efficient vehicles that feature engaging performance, design that makes the heart beat, passive and active safety features and easy-to-use technology, all at a value. More information on Chevrolet models can be found at www.chevrolet.com.
ABOUT SUPERRARE
Founded in 2018, SuperRare is a pioneering, curated marketplace for high quality NFT artworks, built on the Ethereum blockchain. More than $300M worth of NFT-based artworks, also known as 'CryptoArt', have been bought and sold on the platform, with artists earning revenue on both original sales and resales. A destination for digital discovery and with the unique proposal of only single editions, SuperRare was created with the goal of empowering the next generation of artists through technology and has facilitated artists and collectors around the world to sell and purchase digital artwork.
In 2021, SuperRare launched the new $RARE curation token, converting the SuperRare NFT marketplace into a community governed network of galleries, decided on by community vote.  To learn more visit: superrare.com/rare
Discover more at superrare.com
About The Crypt Gallery
Founded by King of Midtown, a collector, leader and innovator in the digital art community, we are the first NFT gallery in the hospitality industry. Bringing the digital marketplace to life, guests can experience IRL (in real life) events and participate in live auctions, art drops and secondary market sales. Emphasizing education and building organic, meaningful connections, both King of Midtown and The Crypt Gallery have developed relationships in multiple industries with the aim of increasing mainstream exposure and involvement in the NFT community. Our mission is to unlock the future of human creativity — by hosting live interactive events that bring digital artists, collectors, communities and fans together.
Follow us on Social Media