Today, Budweiser's exclusive NFT Collection, Budverse X FIFA World Cup™, is available for fans of legal drinking age to purchase and mint at
Budweiser.com/nft
. From now until December 18, 2022, fans of legal drinking age can purchase and mint the Live Scoreboard NFT for a specific FWC-participating country that will seamlessly transition from a penalty kick mini-game into a live, real-time score tracker once gameplay begins. The NFT will track the progress for the holder's specific country chosen at the time of mint and follow the team throughout the World Cup.
The program concept and creatives were developed in partnership with Web3 consultancy, Vayner3. This global collection combines designs inspired by FIFA World Cup™ and Budweiser's brewing history. NFT holders become active participants in the FIFA World Cup™ with the Live Scoreboard NFT and Mini-Game, which allows them to immerse themselves in the game through live data and Web3 technology. Holders will get exclusive access to benefits, rewards, and surprises only Budverse x FIFA World Cup™ can deliver for all age 21+ NFT holders.
The brand announced the Budverse x FIFA World Cup Collection to celebrate the FIFA World Cup and Budweiser's sponsorship for more than 30 years. Live Scoreboard NFTs will also come with a Budweiser soccer merch kit holders will be able to claim after purchase. Each mint of a Budverse x FIFA World Cup™ Live Scoreboard NFT costs $100 USD and includes an exclusive Budweiser x FIFA World Cup™ merch pack and eligibility to enter into a sweepstakes at purchase for a chance to win (1) 360 Pass Experience, for you and a guest. This premium hospitality package includes airfare, hotel, match tickets as well as VIP treatment.
FOLLOW 
YOUR TEAM

 THROUGH THE WORLD CUP™

Select and represent your team through your own Budverse x FIFA World Cup™ Live Scoreboard NFT. This is the first-ever NFT where you can see your team's progression to greatness in real-time.

Your Live Scoreboard NFT will also get you:
Entry for a chance to win a once-in-a-lifetime VIP 360 Experience
Exclusive Budweiser Football merch kit
Access to holders-only Discord channel for an always-on game time community
The Budverse Penalty Kick Mini Game
BUDVERSE PENALTY KICK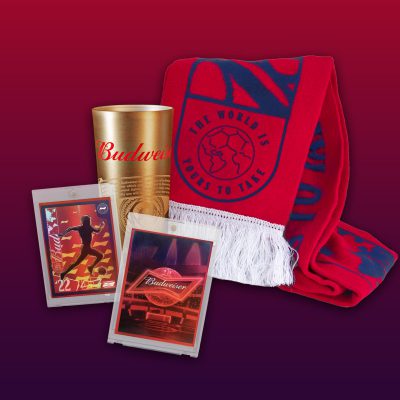 Leading up to the FIFA World Cup™, you can shoot for the high score in the Budverse Penalty Kick Mini Game.
Select your favorite team, create your player, and show off your score as you climb the leaderboard. The more you play, the more points you'll earn!
WATCH THE MATCH IN STYLE
Get ready to watch the World Cup™ in style when you claim your very own Budweiser World Cup Kit! Each kit includes:
1 Budweiser World Cup™ scarf
1 color changing Budweiser aluminum cup
1 Budweiser Football trading card
About Anheuser-Busch InBev and Budweiser
Anheuser-Busch InBev is a publicly traded company (Euronext: ABI) based in Leuven, Belgium, with secondary listings on the Mexico (MEXBOL: ANB) and South Africa (JSE: ANH) stock exchanges and with American Depositary Receipts on the New York Stock Exchange (NYSE: BUD). As a company, we dream big to create a future with more cheers. We are always looking to serve up new ways to meet life's moments, move our industry forward and make a meaningful impact in the world. We are committed to building great brands that stand the test of time and to brewing the best beers using the finest ingredients. Our diverse portfolio of well over 500 beer brands includes global brands Budweiser®, Corona® and Stella Artois®; multi-country brands Beck's®, Hoegaarden®, Leffe® and Michelob ULTRA®; and local champions such as Aguila®, Antarctica®, Bud Light®, Brahma®, Cass®, Castle®, Castle Lite®, Cristal®, Harbin®, Jupiler®, Modelo Especial®, Quilmes®, Victoria®, Sedrin®, and Skol®. Our brewing heritage dates back more than 600 years, spanning continents and generations. From our European roots at the Den Hoorn brewery in Leuven, Belgium. To the pioneering spirit of the Anheuser & Co brewery in St. Louis, US. To the creation of the Castle Brewery in South Africa during the Johannesburg gold rush. To Bohemia, the first brewery in Brazil. Geographically diversified with a balanced exposure to developed and developing markets, we leverage the collective strengths of approximately 169,000 colleagues based in nearly 50 countries worldwide. For 2021, AB InBev's reported revenue was 54.3 billion USD (excluding JVs and associates).
Budweiser is a medium-bodied, flavorful, crisp American-style lager. Brewed with the best barley mallet and a blend of premium hop varieties, Budweiser is an icon of optimism and celebration which is enjoyed in over 60 countries around the world and is committed to brewing every Budweiser with 100% renewable electricity.
About Vayner3
Vayner3  is a consultancy under the umbrella of VaynerX exclusively focused on guiding the world's leading enterprises and intellectual property owners in the next iteration of consumer behavior, and navigating the ground-breaking and ever-evolving world of Web3.
Follow us on Social Media