Ape Gang – Our Community Culture, Emerging as a Global NFT Brand 
About the project 
Brands and the communities that assemble around them have a symbiotic relationship. One  cannot exist without the other, with growth and cultural significance accelerating in parallel. A  global movement is underway that deepens the ties between brand and community, unlike  anything previously possible.  
This movement is so prominent in the NFT space, as brands deliver their communities the  opportunity to partake in ownership and the resulting economic and social prosperity derived  from the brand's growth and success. 
Ape Gang, a leading NFT brand in the space, has been steadily building with an understanding  of community culture since June 2021. Founders Rikong and Jokong launched the project with  universally appealing pixel art apes, and it has since grown into one of the strongest  communities in the NFT space. 
Their approach to brand building has always been from the ground up, establishing a solid foundation of diverse supporters and lovers of the Ape Gang characters. After all, this artwork will become the first impression to most outsiders and potential new community members as  Ape Gang grows in cultural relevance. 
The community ownership 
Ultimately, this is fractionalized brand ownership made available to a limited number of  community members via NFTs. This shifts the brand/community dynamic by decentralizing  ownership of IP, allowing more than just the Ape Gang core team to profit off of the success and  even impact brand decisions. Redistributing ownership to the community of fans establishes  strong bonds between everyone involved, as rising tides lift all ships.  
The Ape Gang collection comprises 10,000 unique pixel art ape NFTs, each with its own traits  and distinct personalities. Every single one of these apes is a piece of IP that exists in the form  of an NFT. So, as a community member, by collecting these individual NFTs, you are, in fact, partaking in fractionalized ownership of the brand. Ape Gang NFT owners have full commercial  usage rights for the ape(s) that they own, allowing them to feature their ape in merchandise,  videos, social content, derivative artwork, games, and more.  
This is a massive shift in brand ownership, as it transitions the power into the hands of the  community. As individuals, each member has seen the value in Ape Gang IP and the team at  the ship's helm. They believe that the brand will grow in cultural relevance and that the team will  deliver content, experiences, and merchandise that furthers this goal and increases value. This  foresight on behalf of the individual NFT holder is rewarded, and the community of individuals is  incentivized to support each other through inclusivity and positivity because that fosters a  healthy community overall.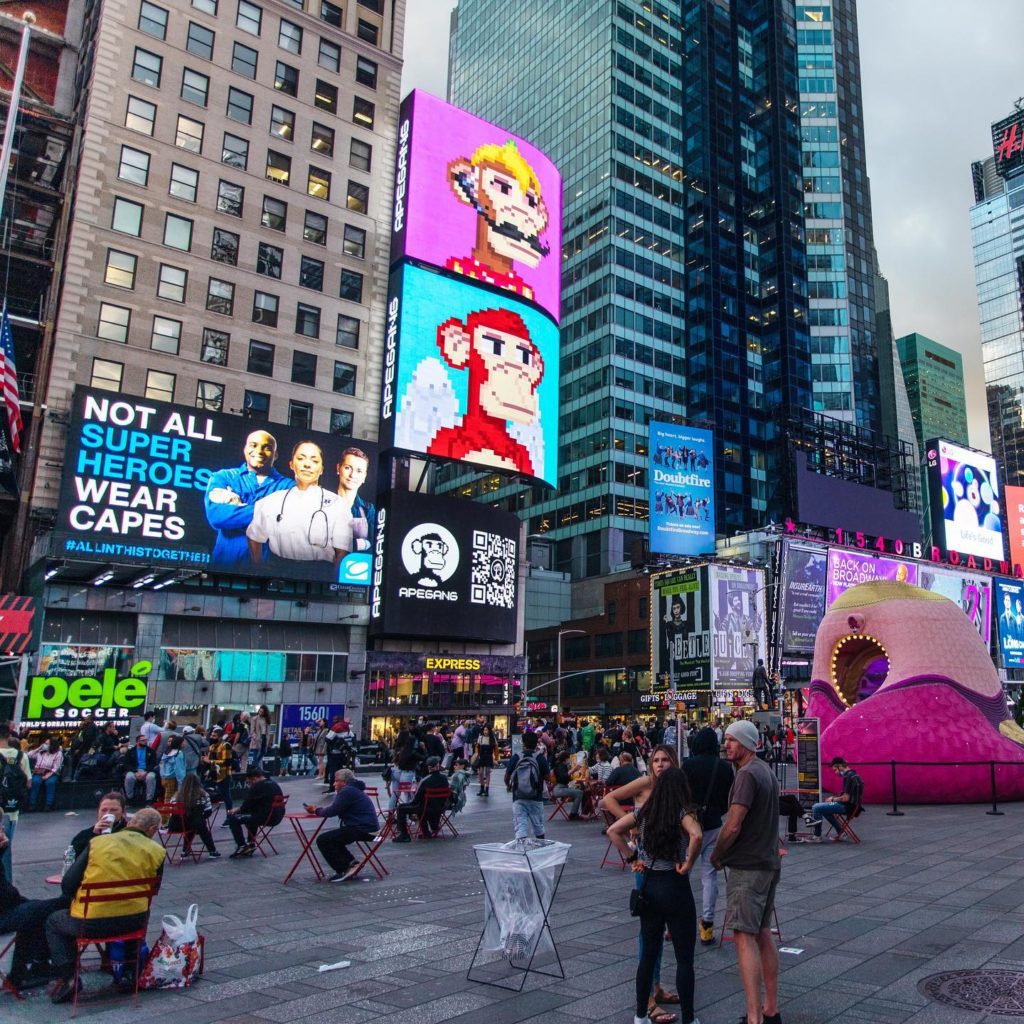 The future for Ape Gang 
Ape Gang delivers much more than just IP ownership to deepen its commitment to community  culture. These innovative NFTs have inherent traits and stats, which allows them to come alive,  team up with other owners, and play in the community game called "Gang Wars."  
Season 1 has just wrapped up, and season 2 is in development now. In Season 1, gangs of 50  apes led by intrepid Gang Leaders battled each other for supremacy and Jaguar NFT prizes in a 
text-based game on Ape Gang's discord. Each NFT owner participating in Gang Wars Season 1  will receive at least one jaguar coin, which can be converted to a Jaguar NFT. 
Ape Gang curates a real-time experience for their holders that grows with each passing month.  Most recently, in preparation for their upcoming NFT collection of Jaguar pixel art characters,  Ape Gang reached out to the community for help. Owners of existing NFTs provided 600 trait  suggestions for this new collection, a level of creative input that no other NFT project is  providing their community.  
As culture shifts into a web3 driven digital society, the metaverse will undoubtedly play a  massive role for community and entertainment. Ape Gang shares this vision with many of the  leading tech thought leaders, which is why they have been focusing on developing their own  custom 3D metaverse. This digital space will function as a social hub for Ape Gang to connect,  hang out and play together. All of this is to further the mission of cultivating strong community  culture. 
This is only the beginning, as Ape Gang's $GANG utility token and IRL utilities unlocks even  more ways for the community to immerse themselves in the ecosystem. All of this content  serves to benefit the growth of the Ape Gang brand and subsequently the community of owners  driving the revolution. The NFT owners get access to these experiences and profit socially and  economically off of the growth.
Why Ape Gang? 
With close to 4,000 NFT owners, > 43,000 discord members, > 48,000 Twitter followers, and >21,000 Instagram followers strong, Ape Gang is experiencing growth and increased brand  awareness daily. While the welcoming community is easy to fall in love with, the roadmap and  milestones are equally impressive. Already, Ape Gang has delivered a new collection of  Toucans to pair with each owner's ape(s), a significant billboard in Times Square, and a comic  book. 
Community culture is sure to become a driving force of emerging brands that follow in the  footsteps of Ape Gang's blueprint. An evolving and diverse brand built on a foundation of loving  and inspired community members, all active in the pursuit of a shared vision. A vision in which  Ape Gang becomes a household name and iconic global brand.  
Our Links 
https://twitter.com/apegangnft 
https://www.instagram.com/apegangnft/ 
https://www.facebook.com/ApeGangNFT 
https://vm.tiktok.com/ZM8mf2P3u/ 
https://www.youtube.com/channel/UCMw3BiTMAG87HJ1vO5vl7Pw 
https://www.twitch.tv/apegangnft
Follow us on Social Media