After months of speculation, the rumors are true. Ape Coin is here and all holders of BAYC projects are going to benefit. The claim will be open for 90 Days. What else is interesting is that in the press kit there were multiple screenshots including insights into two upcoming games. Benji Bananas (animoca brands) and nWay BAYC Blockchain Game.
Holders will be able to claim their tokens 3/17 at 8:30am EST.
Claim period is open for 90 days.
Bored Ape only – 10,094 tokens
Mutant Ape only – 2,042 tokens
Bored Ape + Kennel Club – 10,950 tokens
Mutant Ape + Kennel Club – 2,898 tokens
*Kennel Club Dogs are worth 856 but must be paired
Unused Bored Ape Chemistry Club serums do not qualify for token claim.
Culture has found new expression in web3 through art, gaming, entertainment, and events. The possibilities for blockchain's impact on culture are so endless that they can't possibly all be predicted yet. APE is a token made to support what's next, controlled and built on by the community. It will serve as a decentralized protocol layer for community-led initiatives that drive culture forward into the metaverse.
Introducing ApeCoin ($APE), a token for culture, gaming, and commerce used to empower a decentralized community building at the forefront of web3. 
ApeCoin is owned and operated by the ApeCoin DAO, a decentralized organization where each token holder gets to vote on governance and use of the Ecosystem Fund. Holding ApeCoin is the only requirement for membership in the ApeCoin DAO.
The DAO is supported by Ape Foundation, which was created to act as the legal steward of ApeCoin and administer the decisions made by the ApeCoin DAO community. (Basically someone needs to sign the checks.)
62% of the total supply of ApeCoin is allocated to the ApeCoin community, a portion of which (15% of total supply) will be available to claim starting tomorrow at 8:30 am ET.
The airdrop claim consisting of 15% of the total supply of ApeCoin will be made available to
NFT holders (Bored Apes and Mutant Apes, as well as #BAKC dogs paired with either #BAYC or #MAYC).
Stewards of the new Coin
The APE Foundation is the steward of ApeCoin. It is not an overseer, but the base layer on which ApeCoin holders in the ApeCoin DAO can build.
THE DAO
ApeCoin DAO exists because decentralized governance is critical to building and managing a globally dispersed community—and therefore critical to the success of the APE ecosystem.
The APE Improvement Proposal Process (see Governance) will allow ApeCoin DAO members to make decisions regarding Ecosystem Fund allocations, governance rules, projects, partnerships, and beyond. ApeCoin DAO membership is open to all ApeCoin holders.
ApeCoin is an ERC-20 governance and utility token used within the APE ecosystem to empower a decentralized community building at the forefront of web3.
As the open-source protocol layer of the ecosystem, ApeCoin serves several purposes:
The ApeCoin Board
Alexis Ohanion is a technology entrepreneur and investor. He currently serves as General
Partner and Founder of Seven Seven Six, a software-enabled venture firm focused on people,
culture, and community. Previously Alexis co-founded Initialized, an early stage venture capital
firm, and Reddit, the social news aggregation, web content rating, and discussion website. He's
also written a national bestselling book, Without Their Permission.
Amy Wu is Head of Ventures & Gaming at FTX Ventures, where she leads ventures, gaming,
M&A and commercial initiatives for FTX's $2 billion venture capital fund. Before joining FTX
Ventures, Amy was a partner at Lightspeed Venture Partners, a multi-stage venture fund, where
she led crypto and gaming investments, including the fund's investment in FTX. She was
previously an executive at Discovery, Inc., a global media company, where she led operations
and finance across Asian markets, digital businesses, and sports.
Maaria Bajwa, Principal at Sound Ventures, is an early stage venture investor in companies
across crypto, fintech, retail, consumer and healthcare. Prior to joining Sound Ventures, Maaria
spent 5 years at LA-based investment advisor, ICG Advisors, where she sourced and diligenced
opportunities across all different alternative asset classes, including venture capital.
Yat Siu is Co-founder & Chairman of Animoca Brands, a game software and venture capital
company. A leader in digital entertainment, blockchain, and gamification, Animoca Brands has a
portfolio of more than 150 investments in NFT-related companies and decentralized projects
that are contributing to building the open metaverse. Before co-founding Animoca Brands, Yat
founded Outblaze, a technology company that delivers digital entertainment, smartphone apps
& games, and Web 2.0 products. Prior to starting Outblaze, Yat set up Hong Kong Cybercity, the
first free web page and email provider in Asia.
Dean Steinbeck is President & General Counsel at Horizen Labs, a leading blockchain
development company that specializes in web3 tools and services. Dean has over a decade of
experience representing traditional VC-backed software development companies, most recently
serving as General Counsel to TigerConnect, a secure and regulatory compliant communication
platform used in over 4,000 healthcare facilities
Where can you buy APE Coin Today?
Options are limited especially in the USA.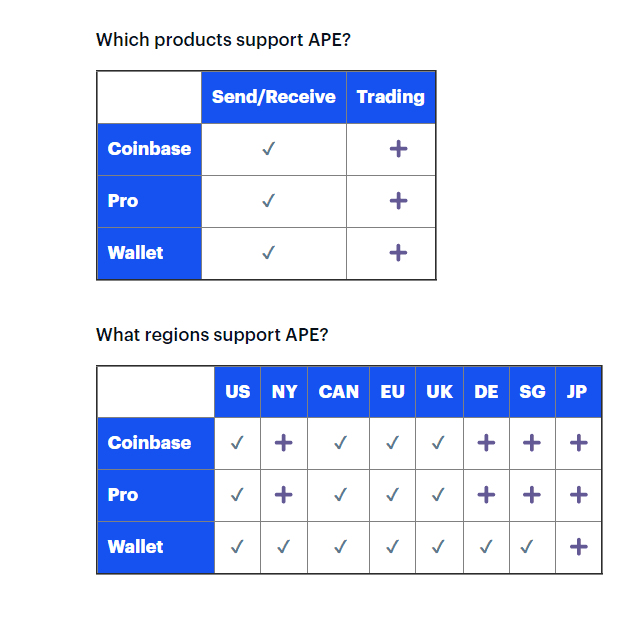 Follow us on Social Media