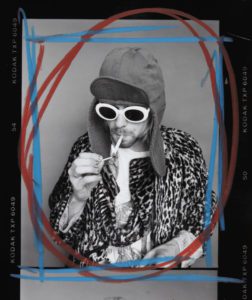 Rolling Stone just announced that famous photographer Jesse Frohman will be selling over 100 NFTs of Kurt Cobain's final photoshoot before Kurt's suicide in 1994. Titled the "Last Session" the collection includes over 100 images that will be sold as a single bundle to the winner.  The starting bid for this auction is 27.27 ETH (Kurt and Other Famous Artists died at 27) which is nearly $75,000 as of this post.
Additionally, the photographer is releasing 10 1/1 Editions titled the "Nevermind Editions" which are 10 quadriptychs (the famous Warhol style) that will be listed for auction starting at 2.7 ETH each.
Finally, there will be 20 NFTs titled "In Utero" starting at 1 ETH each.
The auction will run from May 3rd through May 7th and will likely fetch far greater interest as we near the auction date.
The good news is this that a portion of the sales from this drop will be donated to the JED foundation (a non-profit organization designed to protect emotional help and prevent suicide in teens and young adults.
In addition to the 104 iconic images, contact sheets, and polaroids, the auction winner will receive one print of their choosing from the collection and the opportunity for their own photoshoot with Jesse Frohman.
From Jesse's Website:
Jesse Frohman NFTs

Over the past 27 years, The Last Session images have grown into the memorial artefact of Kurt Cobain, an intimate moment with one of the last great rock stars, a hero to the disaffected, and an enigma that will never be fully understood.

And while Jesse Frohman's work features in permanent collections at MoMA and the National Portrait Gallery, The Last Session has proven to be his definitive work. The Last Session NFT collection includes images, polaroids, and contact sheets with Frohman's original markups, some of which have never before been seen. The landmark NFT release offers those who celebrate Kurt's legacy a chance to share ownership of a moment that is etched deeply upon the soul of music and culture.