Beeple has been teasing his next drop for a short amount of time.  Today the tease reached critical mass with a 90 second clip set to Watch the Throne track featuring Kanye West and Jay-Z.
SPRING COLLECTION 4/30 @niftygateway ✨🌺🌴 pic.twitter.com/eAobRs6lcr

— beeple (@beeple) April 23, 2021
In proper Beeple NSFW fashion he attached an image that highlights the path to success.
F*ck checkcing facebook again
F*ck that pic you just saw on instagram
F*ck worrying about how many people liked your last post
F*ck the news
F*ck that person you really should email back
F*ck your self doubt
F*ck whatever happened yesterday
F*ck starting tomorrow
F*ck will people like this
F*ck will this be good enough…
F*ck all of your excuses
sit the f*ck down and do your work
Beeple is well-known for his eloquent combination of swear words and conveyed succinctly what drove his success.  Beeple is well known in the art world and gained notoriety even before his entrance into NFTs because of his dedication to the craft and committing to the concept of Everydays, where he created and published a piece of art every single day for over 13 years straight.  We've discussed this before, but it took Beeple over 13 years to become an overnight success. We will see what the future holds, but watch this drop closely.
Beeple NFT Drop Details
Friday 4/30

January 1st, 2021

1/100 Drop
$1.00
*Required Correct Quiz Answers To Enter
7 PM EST

Rebirth

1/100 Drop
$1.00
1 Minute Open Edition
8PM EST

Saturday 5/01

Gigachad

1/100 Drop
$1.00
*Required Correct Quiz Answers To Enter
7pm EST

Sunday 5/02

Biological Collectible

1/100 Drop
$1.00
*Open To Beeple Collectors only
4pm EST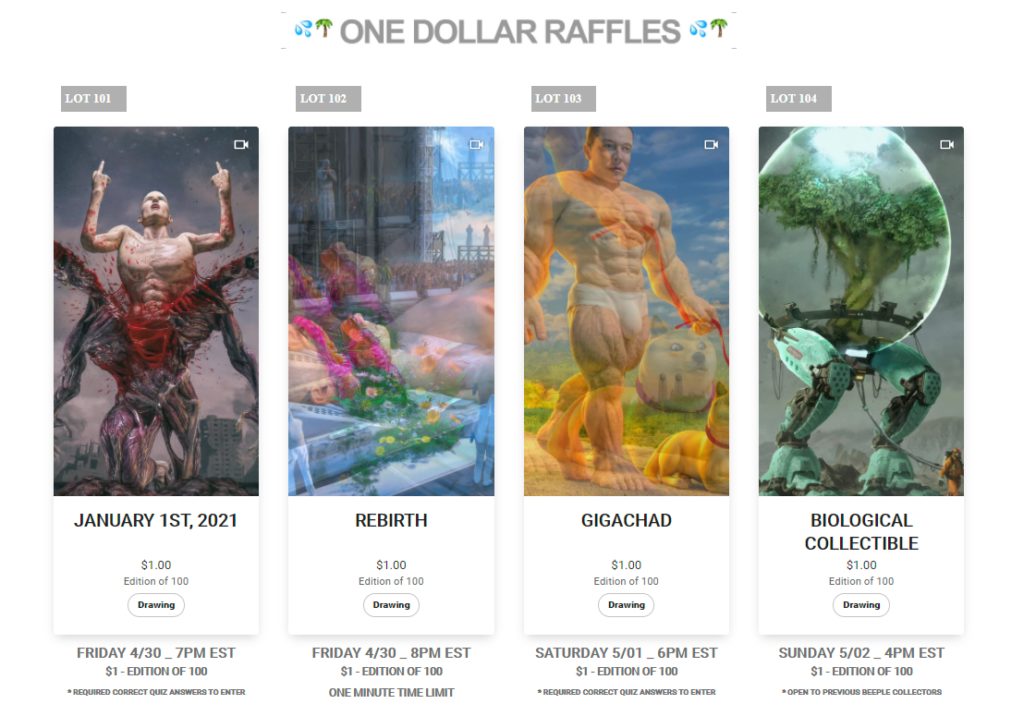 Follow us on Social Media