UPDATE 3/30/21 : Takashi Murakami has published his first NFTs  read about it here.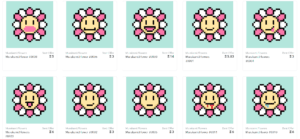 *Please note, this article is purely hopeful speculation that one of our favorite artists enters the NFT realm.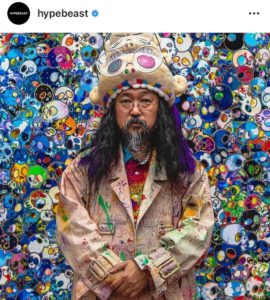 As the NFT space continues to explode into the mainstream, we thought it would be an interesting idea to start speculating about artists that haven't published an NFT yet but are likely going to test the space in the near future.
The lines between digital and non-digital art continue their inevitable coalescence. With Beeples insanely successful entrance onto Traditional Art Auction house Christie's. and the numerous examples of proven traditional artists finding success in the NFT world (The most notable of these artists is Trevor Jones), it makes sense for other artists to test the NFT space.
Enter Takashi Murakami NFTs
Takashi Murakami is one of the worlds most well-known artists.  The Japanese contemporary visionary has been influencing the world through his art for 30+ years and is well-known as the originator of the popular art term "Superflat"
The theory posits that there is a legacy of flat, 2-dimensional imagery from Japanese art history in manga and anime. This style differentiates itself from the western approach in its emphasis on surface and use of flat planes of color. Superflat also served as a commentary on postwar Japanese society in which, Murakami argues, differences in social class and popular taste have 'flattened,' producing a culture with little distinction between 'high' and 'low'.
In western culture Murakami is likely more well-known for his incredibly successful collaborations with brands like Louis Vuitton, Kanye West, Kid Cudi, Billie Eilish, and Perrier.
These collaborations give us a hint that he may Murakami's NFT entrance is closer than ever.
Why Takashi Murakami Creating NFTs makes sense
Unlike many of his contemporaries, Murakami is incredibly comfortable navigating the inter-connected socially driven world.  On top of collaborating with leading visionaries, he is already releasing drops on the popular Mobile only app NTWRK  (NTWRK is a mobile-first video shopping platform that seamlessly blends entertainment and commerce, giving our global audience unprecedented access to exclusive products from world-renowned artists, brands, and personalities.) and is a frequent speaker on the fastest growing social network Clubhouse.
This comfort at the intersection of digital an non-digital shows that Murakami has likely already considered if an NFT drop is right for him.
Takashi Murakami Flower NFT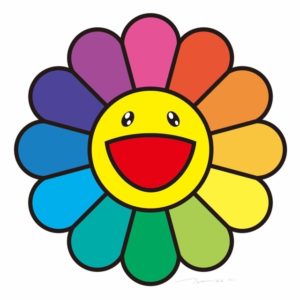 If we were to make a bold guess on what his first NFT release would feature, it would have to be the recognizable flowers that the world has come to embrace.  The simple and elegant flower would make the perfect NFT drop and an amazing centerpiece to an NFT collection.
If we were to bet, we'd say that it's a question of when, not if Murakami creates his first NFT.  We believe he will do some release in 2021 unless there are outstanding licensing or other issues we're not privy to.
The main question remains:
Takashi Murakami NFT Drop: Drawing, Limited, Silent Auction, or Open Editions?
When Murakami does decide to drop a piece of art, we believe it will likely be on NiftyGateway or Makersplace given their successful (and sometimes unsuccessful) ability to scale the platform to meet demand.  The real question will be the drop type.  We hope he will do a mix of Silent Auction, Drawing, and Open Edition.  Murakami has a history of accessibility and an Open Edition would allow his fans to collect his art worldwide.  We also know that he believes in scarcity and has a history of only producing numbered pieces of prints, so a limited drawing would also make sense.  Finally, for a bit of vanity, we could see a silent auction NFT piece being created by the master himself.  This piece may not break Beeple records, but we suspect that it could come close as a figure titled My lonesome Cowboy, 1998 (NSFW) sold for nearly $14 million dollars over a decade ago by Sotherby's New York.
Final Thoughts
Takashi Murakami has been described by many as this generations Warhol.  As an incredible ambassador at the intersection of art, pop culture, and social media, A Takashi Murakami NFT drop would be an incredibly exciting thing to see and would help to further legitimize the NFT space to the broader world.  We hope we're lucky enough to see a drop sometime this year.
Follow us on Social Media