Today, Lindsey Lohan joined Soulja boy and Mark Cuban on Rarible releasing her first NFT art titles "Lindsey 'Lightning" Lohan.'  She's asking 33 ETH or roughly $60k for her still frame image.  Bids have already expired, but the top bid has already reached 10 WETH.
Lindsey describes her NFT with the following:
I believe in a world which is financially decentralized and the power of dreams to be the core lightning network of humans. Here is my first Digital Collectible from which I shall donate to charities that accept Bitcoin to empower younger generations in order for them to adapt and learn about this revolution that humanity is witnessing.
This is another example of celebrities beginning to test the market around cryptocurrency and now NFT art.
Celebrity NFT art isn't entirely new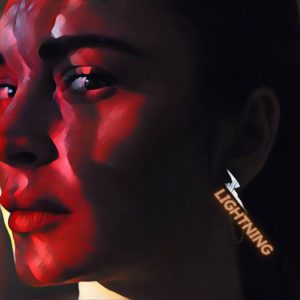 While the rarible marketplace is gaining the majority of attention from celebrity entrants, it isn't the first place celebrities have created art.
Nifty Gateway has already released numerous celebrity art pieces with notable drops from Deadmau5 x Mad Dog Jones,  Lil' Yachty. and other artist partnerships and portraits from artists like Hipworth.  Additionally, some of the big names in street art and traditional art have already dropped on Nifty Gateway and while they may not be as famous in popular culture, they each have massive followings in the broader art category.
This is just the beginning for Celebrities trying out NFTs
One of the uniquely awesome things about Rarible is that it's a completely open market places.  Celebrities can begin creating art whenever and however they want.  It's the perfect medium for artists to drop whatever they want whenever they want.  It's an interesting dynamic between the direct-to-consumer approach vs. the refined drops of Nifty Gateway and Super Rare.
NFT Culture thoughts on the influx of Celebrities to NFT art.
Some artists are rightfully hesitant to embrace the celebrities as they create art as it doesn't always provide the best light on the medium.  The beautiful thing is that this happens with all art.  We believe that this is ultimately great for the industry as a whole, it raises general awareness and comfort with art and non-fungible collectables as a whole.  We can't wait to see who's next?
Here is a link to Lindsey's Announcement
Bitcoin is the future, happening now. Support my vision of empowerment by collecting this 1 of 1 NFT from @rariblecom https://t.co/0JvU0d1tNI

— Lindsay Lohan (@lindsaylohan) February 10, 2021

https://www.deviantart.com/lionarea86/gallery
Follow us on Social Media