Although we are huge fans of many forms and styles of art.  Drawings have a special place in our heart.  In fact, one of the founders of NFT Culture grew up dreaming of one day becoming an animator at Walt Disney.  Seeing Super Freak enter the NFT world meant we had to pursue an interview ASAP. Super Freak is an Artist & Commercial Illustrator from the UK who has captured worldwide attention as the creator of 'Spanky'… A friendly hand inspired by old cartoons and pop culture.
Super Freak and Spanky officially teamed up back in 2017 and since then have worked with an impressive catalogue of clients such as VANS, Burger King, Budweiser, Levis', Dr Martens, The New York Times and many more.
Super Freak, Thank you for agreeing to the NFT Culture Interview. Please provide any details about your background and how you started pursuing art: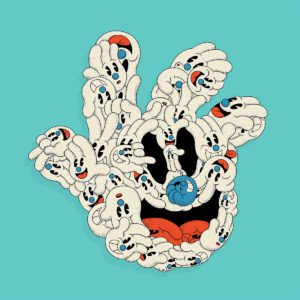 I am Super Freak and I come from Birmingham, UK. I grew up admiring my dads drawing skills from a very young age. He had a folder which had a Mickey Mouse print on the front which contained all of his insane pencil drawings from his art class in school. I was madly obsessed with this folder and I would just sit every evening after school trying to recreate all his drawings! It all started from that folder I guess… From there I kinda just naturally gravitated towards all the creative subjects in school which is where I decided I wanted to be some kind of visual creative when I grew up. I then went to university and studied Graphic Design cus I thought it was the 'safer' career path to go down but I ended up just drawing cartoons the whole 3 years and graduated struggling to find a full time job as an agency Illustrator. Spoiler alert… They don't really exist! So I went to work at an advertising agency for 2 years where I worked as an Animator & Social Media Content Maker. I knew it wasn't what was I was supposed to be doing but I had bills to pay and needed to build up my rep as an artist so I'd be working 9-5 then getting home at around 7pm and start working on any illustration commissions I had going on. It was TOUGH! Which is why I'm always super humble to be here now.
What made you pursue NFT art?
When I first heard about NFTs it completely changed my outlook on the art world and what it actually means to be an artist. 80% of my work is made on the computer and I've been brainwashed into believing I wasn't an artist for this reason which is CRAZY! I even started large paintings over lockdown because I've been so determined to get my work into galleries for the first time so I could hopefully be viewed as a 'real' artist. The uprising of NFTs has blew this stupid perception right out the water and I finally feel validated and excited to keep creating. The community surrounding NFTs is mostly to thank for this though. Everyone is incredibly supportive and kind to each other which is something the world has been lacking the past year. For me it was a no-brainer as an outsider needing to get involved with something so positive and exciting!!
How did you come up with your specific style?
It kinda just happened gradually. I've always loved old cartoons and the influence and appreciation of good character design naturally creeped its way into my work over time. Just drawing every day and trying to get better is the not-so-secret, secret.
How has your style evolved over the years?
The most important thing that happened with my work is the introduction to my character 'Spanky' who features in most of my art now. I invented the concept of Spanky, cartoon hand, back in 2017 and since then it's just become more detailed/refined and ambitious. I'm always trying to think of new ways I can visualise Spanky and I'm so excited to see where we go in the next few years!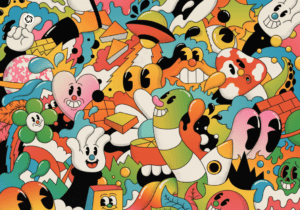 Who is your favorite NFT artist?
Oh man there's way too many. I only recently discovered the work of XCOPY (XCOPY is one of NFTCulture Favorites as well) and was instantly addicted… Their art is completely hypnotic and makes me feel all twitchy and alive. LOVE IT!
Also got so so much admiration for Daniel Crossan, Peter The Roman, Daniel Taylor, Julien Rivoire and Tuomo
What is the one piece of NFT art you wish you had purchased but missed out on?
A cryptopunk!! I want one of the little buggers SO bad.
Who is your favorite artists (Non NFT)?
This changes on a weekly basis but right now it's Picasso. Every budding young artist's hero at some point ha! But lately I've been trying to explore new combinations of colour to apply to my work that feel organic but wild and vivd at the same time and Picasso has been a great source of inspiration for this!
Rapid Fire Questions
If you could travel anywhere in the world where would you go?
Japan (Japan is the most popular answer to this question!)
One thing you cannot live without?
Cheese sandwiches!!!
What are your other passions besides art?
Music & fashion
Do you make other forms of art?
I've been making music & playing guitar in bands ever since I was about 14 years old
If you could collaborate with one artist who would it be?
Would love to work with Filip Hodas to create a dystopian & decaying version of Spanky. Imagine that!?!?
What is coming in the near future?
So much… Can't talk about a lot of it due to NDA's but I can tell you there's some HUGE brand collabs on the way. I've also been developing a soft plushie Spanky which is now in production and will be available in a few months!
But more importantly, on the subject of NFTs – I'm currently working with an unbelieeeeevable  animator, Ryan Brotherston, on a collection of NFTs. It's gonna be some of my best and and most loved work to date so I can't wait to put it out there!
Do you have any upcoming drops?
No specific dates planned yet. I want my next drop to be extra special so I'm just going with the flow and taking my time to reflect on the space
What was your greatest failure and what did you learn from that?
Allowing big corporations to dictate the future and direction of my work. After years of good & bad experiences as a commercial artist, I've finally learnt to value and cherish my work.
Anything else you'd like to share?
Thank YOU for being so welcoming and reaching out so early in my NFT journey! And a huge shout out to all my wonderful collectors out there <3 You guys rule and I can't wait to grow in this space alongside you all!!!!!
 Link to Website:
 www.super-freak.co.uk
Social links:
Insta: www.instagram.com/super___freak
Twitter: https://twitter.com/5uperfreak
NFT marketplace links:
https://foundation.app/superfreak
Link to any pieces you want to highlight in the piece (and prices if necessary)
https://foundation.app/superfreak/spanky-don-t-feel-so-good-23438
Follow us on Social Media