Showdeer! Thanks for agreeing to this interview. we absolutely love your style and stewardship of the NFT space!
Please tell us about your background and how you got into this space!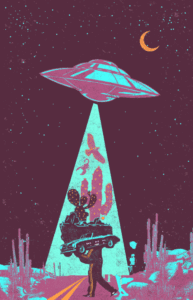 Hey! Thanks for letting me do this! I grew up in Southern California but have been living in Portland, Oregon for over twelve years now. I was living in Boise for the last three to get a new perspective and now I'm back.
I've been making art and drawing for as long as I can remember.. Since I was a little kid it's always been my passion. Growing up in the 80s/90s in Southern California I was glued to cartoons and video games and I would draw incessantly. In my early 20s I started experimenting with painting and digital art on Photoshop on a Power Mac G4. Now I have been painting and creating digital art professionally for eight years.
How did you come up with your specific NFT style?
Might sound cliché perhaps, but I didn't come up with it.. It revealed itself to me. I found it through years of experimentation and consistent work. I always wanted my own "style"… After designing 200+ digital gig posters on the house for the music venue I was booking at here in Portland, the pastel/vintage/surreal style started to emerge.. I have the whole story written on my website. 🙂
How has your style evolved over the years?
It has evolved quite a bit and is fun to look back at these older pieces and see my style evolve over time. The choices I make now/today are different and more refined. I feel I have nearly perfected my color palette which I choose at will and am now able to confidently use the same palette on my paintings and mix paint as I go which evolved out of all the digital art I have made. Now with the freedom and creativity Procreate allows me I see my style evolving even more as well with my actual physical paintings. Perhaps by getting a bit looser, having more fun and just not being so rigid and precise.
What made you pursue NFT art?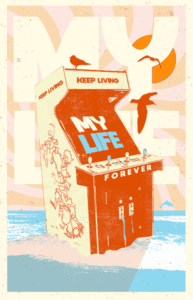 My fellow Portland artist friend Pop Wonder posted something on Instagram about him creating his first NFT and I was just like; "What the hell is an NFT?" So I had to look and I fell down the rabbit hole. Been down here ever since. It's nice. 
Who is your favorite NFT artist? There are so many and that list is constantly growing… XCOPY, Jon Noorlander, Melissa Mathieson, DeeKay, Pop Wonder, Subtle Bubble, etc..
Who are your favorite artists (Non NFT)? Salvador Dalí, Van Gogh, Vermeer, Mark Ryden, Clayton Brothers, Joe Sorren, Warhol, and Basquiat
Do you make other forms of art? Yes I do. My main love is painting. I paint murals and large-scale pop surrealistic paintings in studio. As well as the digital collage art and now experimenting drawing/painting on Procreate for iPad.
What are your other passions besides art? Wow.. you stumped me… I had to ask myself this question three times outloud… I don't have other passions really. It's art and always has been. I'm already deep in.. no going back now! I love music and nature but art is it.
What is one thing you cannot live without?
Organic Earl Grey Black Tea. Not sure I could function in this world without it. I'm sure most people agree, especially people who love their coffee!
What is the one piece of NFT art you wish you had purchased but missed out on? Jon Noorlander's "Fiat vs Bitcoin: Smashing"
If you could travel anywhere in the world where would you go? Man that's a great question. Especially right now during covid… Probably the pacific coast beaches of Costa Rica… Just to chill on the beach worry free and have a beer… ahhhh 🙂
What is coming in the near future? I have a lot planned for the very near future! I recently moved into my first art studio and it's very exciting! I am going to be working on many paintings for collectors and galleries. As well as new digital art pieces and start to experiment with animation. I also want to also get into 3D and mess around!
If you could collaborate with one artist who would it be? I'm not really into collabs that much but if I could collaborate and make some art it would be with either The Clayon Brothers or Basquiat if he was still here. To me that would be more of a spiritual experience though than a collab.
Do you have any upcoming drops? Yes! I usually drop @ShowdeerArt pieces on Wednesday afternoons and I have that new Showdeer series dropping soon on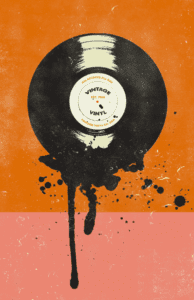 Foundation as well as some digital painting pieces on my @ChrisBigalke account.
Biggest piece sold? Literal biggest piece and/or price wise? My first painting "St. Alice of Portland" 2020, 64×99 inches for five figures or the "Musical Stairway" NFT sold to Mark Cuban for only $100… Secondary market?? haha
What was your greatest failure and what did you learn from that? I understand the question but I don't really see "failures". Everything I do and have done are just steps in growing and learning. Even mistakes aren't really "mistakes" especially in art because I believe there are no rules. I think most people are afraid to follow their dreams or try to make art for a living because of their idea of "failure". This time in history is the perfect time to be an artist and believe in yourself and just try. The possibilities are endless.
If I had to choose "my greatest failure" it would be trying to paint in my early 20s. The paintings were pretty bad but I still had shows at cafe shops and sold some. My greatest failure then would be just trying.
OpenSea.io/collection/showdeer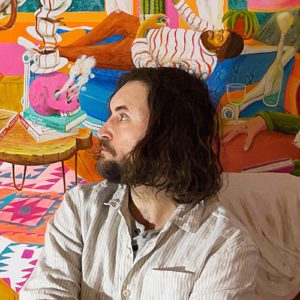 Link to Website: www.showdeer.com / www.chrisbigalke.com
Social links:
NFT marketplace links: OpenSea.io/collection/showdeer / OpenSea.io/collection/bigalke
Follow us on Social Media