Pixelord is a Russian musician and artist that has taken the NFT world by storm collaborating with a number of popular NFT artists and now creating his own NFTs on various platforms.  His aggressive style combined with unique, throbbing beats, make his art stand out in any collection.  We want to thank Pixelord for the time to do this interview and look forward to seeing his future drops and collaborations.
Pixelord thank you for agreeing to this interview, please share a bit about your background.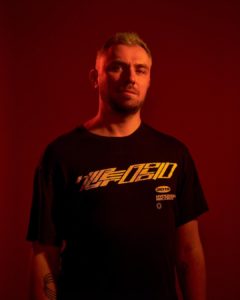 I was born in Novosibirsk Russia and lived therefor a long time, today I live in Moscow. My background started as I used to work in Alias Maya (the program) in the game industry. From there,  I started working on TV shows and ADs as 3D designer, then I started sound design and experimenting with making music. Today, I have combined it all and now do all these for my own projects and some commercials too. Art always been in me, since my mother brought me into children school of animation, I did some basic stuff and got interest in creating own worlds.
Who is your favorite artists (Non NFT)?
As a musician, my favorite artists are usually also musicians.  I love, Aphex Twin, Hieronymus Bosch . Additionally, I am a huge fan of Lu Xing( he's a scifi writer, but writing is also a form of art too right?)
Who is your favorite NFT artist?
Antoni Tudisco
What made you pursue NFT art?
I saw its as a way to get back to creating artworks, maybe to learn more animation. i use to make vapourware and post internet web punk art in 2013-2016 and then switched more to music, didn't have much time and motivation. and this new NFT hype and possibilities made me to get interest again and learn new things like Cinema4D, and also i see sense it this now as i don't need to make full CG video for my music, it can be short loop with my visuals and music and its already enough to exhibit virtually and probably sell.
If you could travel anywhere in the world where would you go? What are your other passions besides art?
I would like to go to Japan finally! so much cyberpunk and Japanese art around, its all very unique and also more classical Japanese art is interesting, also mad cool music from there. i want to go someday and experience it from inside, not online. my other passions is actually video games. i think in future, soon, we probably can create interactive NFT art as a small games and sell it as well! lots of possibilities in NFT this is exciting, i hope its not gonna be forgotten or regulated somehow, abandoned. this market looks real big now and growing.
Do you make other forms of art?
I do paint in real world. I also make music and sound art
How did you come up with your specific style?
My style is still in dynamics, its not certain, im developing it. but still i can be whatever and have few styles. now its mostly some surrealistic 3D arrangements, something that i want to subtitle say as a massage, im a big fan of classic surreal art such as Dali and Bosch. that's very cool this dada and surreal ideas is emerging again in new forms of art and even music.
How has your style evolved over the years?
Well my style depends on the current cool things that surrounds me. back in 2013 i liked post retro internet a lot, and loft nostalgia as well. all this reflected in my old arts, and now its more 3D because of NFT and new computer possibilities, i can make more complex things and still use my way of combining stuff. this is mostly like a playing with lego parts, i can make new things from unexpected objects. same stuff surrealists did they just didn't have 3D software, they had to paint objects and see how they look in unexpected environment.
What is coming in the near future?
I don't know, decently more 3D collages and combined techniques. and of course more sound/visual art collaborations with other artists who actually can animate like crazy. im not yet in animation
Where can Collectors learn more about your art?
Link to Website: https://behance.net/pixelord
Social links:
https://instagram.com/pixelord.live/
NFT marketplace links:
https://www.hicetnunc.xyz/tz/tz2FpLFALuty8v3ZY6tqdQpabzBP1stZmtp9
on sale: https://rarible.com/token/0x60f80121c31a0d46b5279700f9df786054aa5ee5:626716:0xa666ff0f89545a39d917dc47304934ae3ea4bbfd
Follow us on Social Media