Giovanni Motta has an incredible drop tonight March 17th. We were lucky enough to sit down and interview him about his art, the cryptospace and the incredibly popular upcoming jonnyboy drop.  Thank you Giovanni Motta and team for agreeing to this interview. You can find his drop tonight on SuperRare titled "Alter Ego" at 6pm!!!
Giovanni, thanks for agreeing to this interview. Your JonnyBoy character is awesome and translates incredibly well to the NFT space.  Can you provide collectors some insights into the origin of the character and how you came up with him?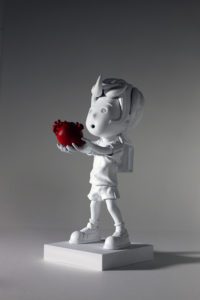 JonnyBoy is a character from Anime of life, he is the inner child, he is the subject with whom I explore the dynamics of the human being who, as he grows up, tends to forget his child and lose contact with it. forget his child and lose contact with him. JonnyBoy is in my paintings, in the form of sculpture, sketch, 3D file, he is everywhere, always in my head and partly he is me. in my head and partly it's me. Thanks to Jonny who will hopefully become a video game, I continue to allow people to become children again. Picasso understood this concept very well. Jonny always has the same expression that encompasses 3 different states of mind, fear which fear, which has a negative meaning, wonder, which has a positive meaning, and amazement, which is intermediate. intermediate. The viewer (or collector), depending on their mood, is mirrored in Jonny and feels understood. understood, or at least that's what I would like to see happen, hahaha. 
Thats awesome.  What helped you polish this style?
I arrived at this style through a lot of research and contamination. I've always tried to answer one question: "what do you like to represent and how do you want to represent it?" By answering this question I was able to find my own original style. 
How has your style evolved over the years? 
Change is systematic, research is evolving and new information is always coming in so I'm always on.  The most important change I made was when I moved from a hyper-realist technique to today's technique, which is less precise but more expressive. 
So with systemic change, what made you pursue NFTs?
I got to know this world thanks to the Hackatao who taught me everything. Then I deepened and was swept away like a hurricane. I felt like an artist who had a task, that of ferrying the classic vision of art to a new dimension. I felt a strong desire to ride the two worlds and to be one of the future protagonists.
Wow, Hackatao are the OG's. We ask our interviewees who their favorite NFT artists are, but we likely already know the answer.
That's right! I love Hackatao's work for their poetics, unmistakable style, I really like Dangiuz with his futuristic sets, Federico Clapis for his ideas and Alessio DeVecchi for his mysterious research on the human being. 
I would like to collaborate with Hackatao, Dangiuz and Federico Clapis if the opportunity ever arose.
What is the one piece of NFT art you wish you had purchased but missed out on?
I would have liked to buy a work by Alessio DeVecchi, I hesitated and lost it, moreover its prices are now very high. 
What are your other passions besides art? 
Art covers most of my life along with my family. I love painting and reading whenever possible, Marcel Proust is my favorite author.  Other than that, I really enjoy traveling 
If you could travel anywhere in the world where would you go?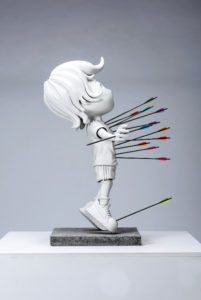 I would go to Japan again which is a country I love deeply. If I could, I would also live there for a while. The Japanese people fascinate me and I feel very close to me their culture and their kind way of offering themselves to people. Also I would like to take a solo trip to China. I would like to walk among the scattered villages and meet the locals and listen to their life stories. 
What is coming in the near future? 
Thanks for asking, I am incredibly excited about a solo exhibition in Shanghai and the creation of a video game with my characters.
Do you have any upcoming drops? 
Wednesday, March 17 "Alter Ego" comes out on SuperRare at 6pm!!!
Thanks for your time, How can our readers find you? 
Link to Website:
www.giovannimotta.it
Social links: 
Instagram: www.instagram.com/mottagiovanni 
Facebook: https://www.facebook.com/giovannimottaofficial 
Twitter: https://twitter.com/mottagio1971 
SuperRare.co: https://superrare.co/giovannimotta 
Pinterest: https://www.pinterest.it/giovannimotta/_created/ 
Linkedin: https://www.linkedin.com/in/giovanni-motta-03395788/ 
NFT marketplace links: https://superrare.co/giovannimotta 
Follow us on Social Media