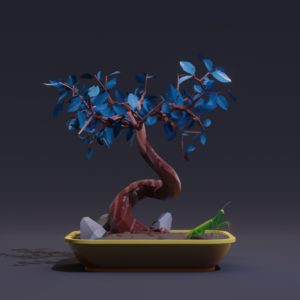 Hold on to your horses, folks, because NFT project mania is back into full swing. Perhaps driven by reduced ETH exchange fees, lower gas prices, many new entrants into NFT collectibles, or just all the media around crypto as of late, NFT projects are booming. The latest project to drop is ZENFT, a project that sells procedurally generated AR & VR Bonsai trees.
Watch the NFT Culture Team discuss this project here:

The project consists of 8888 procedurally generated, unique trees that were distributed at a flat .08 ETH. Each tree grants the owner membership into the Zenft Garden Society, a club that presumably offers ongoing rewards to hodlers. One cool aspect of ownership of your Bonsai, is that you actually own it. The artwork comes a with a grant of full commercial rights. In addition to membership in the club, and the above perks, 8% of all proceeds are promised to be donated to a philanthropic cause: Via Campesina. This added nicety is a neat perk to owning one of the trees.
The Garden Society admin excitedly announced the rapid sellout via discord: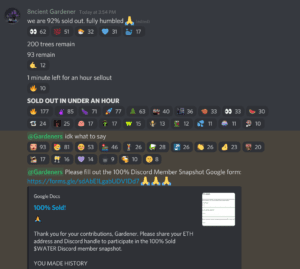 The sellout of 8888 trees occurred in less than an hour after launch. Many people made multiple purchases, as the low cost of entry and low gas fees, along with the visually attractive artwork, led people to hoard the pieces.
In the future, the Garden Society has teased an "Eternal Garden" project, as well as an ERC-20 token called $Water that enables enhancements to existing NFTs. NFT Culture staff is very excited to see how this project progresses and is received by the larger community.
Follow us on Social Media