When NFTs become more than art
A project for ukraine by jr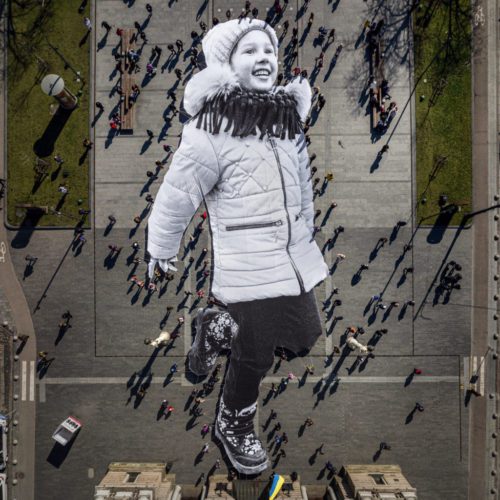 "I was in Ukraine last week and we decided to gather people around an art project. We printed the image of Valeriia, 148 feet (45 meters) tall and carried it around Lviv with over a hundred volunteers. During the process we met amazing people. When we left the country we realized how the conflict impacts people and how the long lines at the border make it very difficult for women and children who are the ones fleeing. We want to bring help at the different border crossings. If you'd like to participate, we are launching an NFT Project in the next few days for this. Can art change the war?
-JR
A SOLIDARITY PROJECT FOR UKRAINE
NFT Culture is likely best known for two things, our web content and our private community for token holders. With over 100 thousand unique monthly visitors, our content, from artist interviews to project overviews, breaking NFT news, and more, we have become one of the most trusted NFT exclusive media sites in the industry.  Add to that, our private community has become a trusted and consistent location for the NFT Community to engage, learn, and educate eachother. 
NFT Culture is more than that. What started as a small idea and a side hobby has turned into something that is having a positive impact on the world. NFT Culture Labs is the brainchild of NFT Culture cofounder Mike.  The goal of Labs is to innovate the web3 space with cutting-edge smart contracts that combine the latest features and unique ideas the push the boundaries for projects to explore new ways for communities to interact and grow.  
Over the last year the Labs team has grown from one person to include a number of developers that are both working on innovation for the NFT Culture token (if you are a token holder we promise updates soon 😊) as well as experimenting with new ways to innovate the category. 
Fact: much of the code being written by the team is accessible in our public facing repositories on github.  
Luck, timing, and skill presented the team with a once in a lifetime opportunity to work with one of the biggest artists in the world on a cause that is critically important to the human experience. The war in Ukraine.
You can join the JR discord to learn more about this project and how your contribution will be used. 
NFTs are still a new medium. Most new mediums come with critique. Often times this critique comes from ignorance and misunderstanding.  While NFTs aren't a perfect medium and some critique is justified, NFTs are uniquely positioned in certain instances to do amazing things. Social causes are one of them.  When you think about the ability to deploy a smart contract in a limited amount of time, collect funds, and deploy those funds to serve a purpose, NFTs become a superpower. 
The NFT Culture team is honored to have been selected to do the smart contract and front-end work to help JR's team with such an important cause. Every single person who chose to become a member of the NFT Culture community helped contribute to this. We wouldn't be able to help projects like this hopefully make the world a better place.  To the NFT Culture community, we say thank you. 
JR has the largest art gallery in the world. Thanks to his photographic collage technique, he exhibits his work free of charge on the walls of the whole world – attracting the attention of those who do not usually go to museums.
Originator of the 28 Millimeters Project which he started in and around Clichy-Montfermeil in 2004, continued in the Middle East with Face 2 Face (2007), in Brazil and Kenya for Women Are Heroes (2008-2011), the documentary for which was presented at the Cannes Film Festival in 2010 (Critics' Week).
Follow us on Social Media