Can you tell us about your background and what lead you down the path to becoming  an artist and ultimately experimenting with NFTs?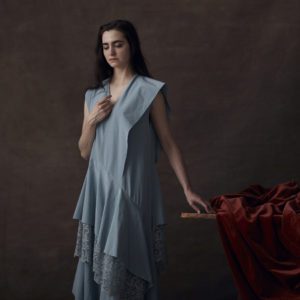 I come from a modest background; my family was not involved in the world of photography or filmmaking at all. Nevertheless, ever since I was a child, I have had an innate craving  for storytelling and art. Being an avid reader (especially in my formative years) was  instrumental in my journey of becoming an artist, since it helped me develop a wonderfully wild  imagination. I also experimented with my grandfather's video camera and spent my teens  photographing my two younger sisters as nineteenth-century heroines. Because of my  fascination with period drama, I decided to pursue a Film (BA Hons) degree in Edinburgh.  In my final year, I created a short costume film titled 'The Dark Box', which follows an unhappily  married woman in the 1860s England, who finds solace in the art of photography. I now live  and work in London; for the past few years, I have been focusing on conceptual self-portraits  exclusively. It is a medium that feels most organic and therapeutic to me. 
NFTs are a natural progression for me. I've been publishing my work online for over seventeen  years – despite a remarkable progress in technology (including the rise of social media  platforms), not much has changed in terms of respecting intellectual property, such as digital  pieces of art. This blasé attitude towards correct attribution, consensual use and compensation  has no place in 2022; my piece 'Exploitation' is a critical comment on this issue. 
Furthermore, I'm drawn to the NFT art community with its open-minded and rebellious spirit,  especially since the mainstream social networks of web2 are becoming more and more puritanical. Biased censorship is rampant. For instance, according to Instagram, my artistic  portrayals of the female body are equivalent to 'soliciting sex'. 
When did you mint your first NFT? What platform did you choose and why? 
I minted my first piece 'Innocence Lost' on SuperRare in April 2021. Around March last year,  I had been privately approached by a brilliant SR curator, who was looking to onboard a select  group of photographers. As scarcity is important to me, I loved the idea of 1/1 editions.
Biggest piece sold?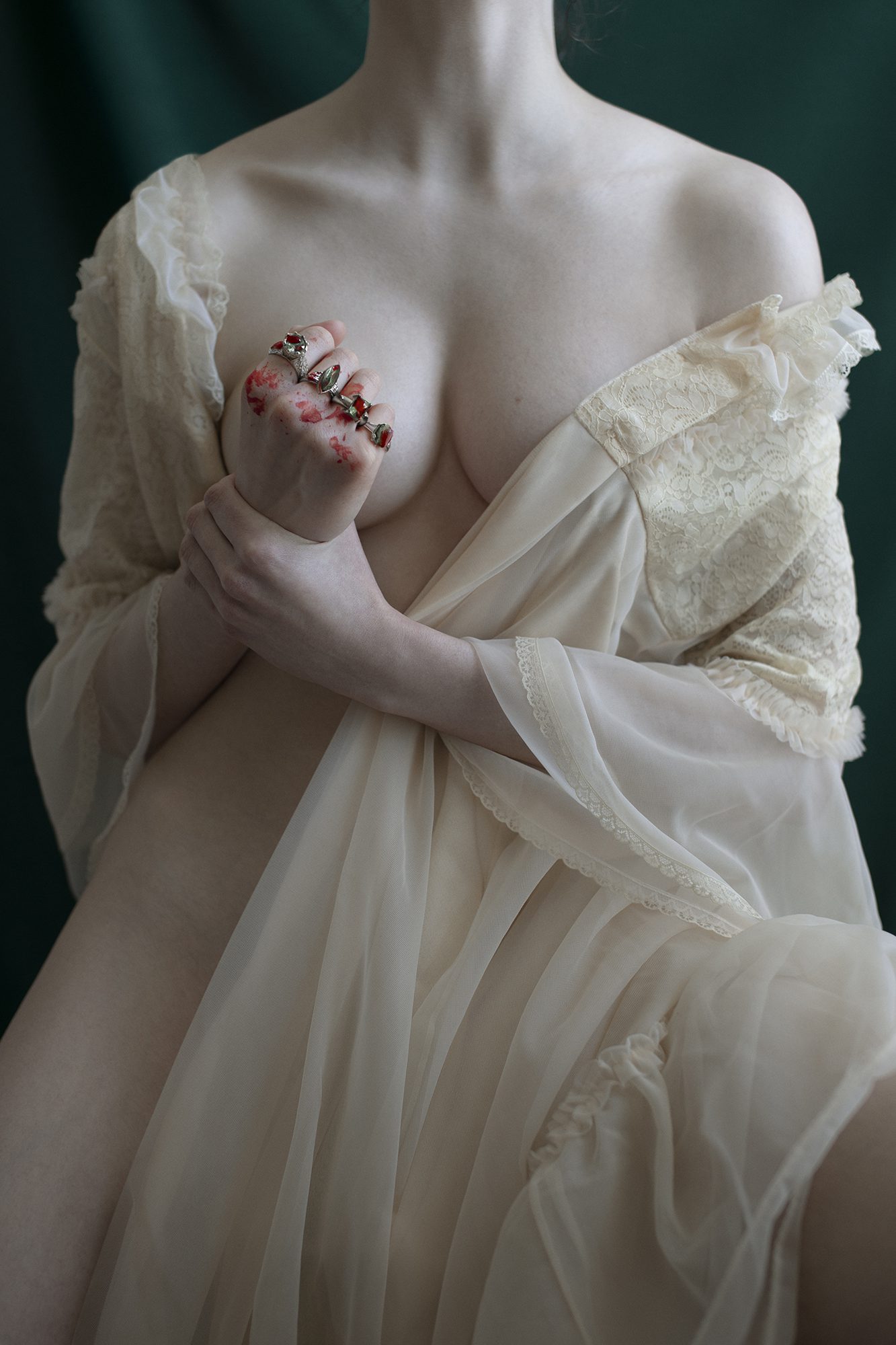 'Revenge', 4ETH
Who is your favourite NFT artist? What makes this artist unique? 
I'm drawn to work that is both meaningful and visually accomplished. I admire Tiffany Cole,  Henrik Uldalen, Kristian Levin, Federico Clapis, Alessio De Vecchi, Peter Tarka, Dromsjel…  There's just so much talent in this space. 
Who is your favorite artist(s) (Non NFT)? What about their style resonates with you? 
Julia Margaret Cameron (1815–1879). She was not afraid to explore the expressive qualities  of photography and use soft focus, although it was unjustly criticized as a lack of technical  skill. For me, storytelling is also at the core of what I create. 
The Pre-Raphaelite Brotherhood (founded in 1848). They dared to fight against  the mundane predictability of the British art of the time, even if it involved falling into disfavour.  The Pre-Raphaelites got into a lot of trouble with their tutors at the Royal Academy, as well  as the general public (Charles Dickens' ruthless criticism must have been a huge blow  for young aspiring artists). 
Frida Kahlo (1907–1954). I adore her wonderful imagination and fierce spirit. Frida's devotion  is impressive; she relentlessly painted from her bed, despite having her fractured spine  immobilised by various medical corsets. I feel attached to the idea of transforming hidden pain  into art; exposed, disturbing and beautiful. 
What projects are you excited about? 
I'm excited about two upcoming film projects I'm helping fund by donating two self-portraits. 
'Minted', the first-ever documentary on NFTs within the realm of art:  https://www.mintedfilm.com/ My piece 'Exploitation' is still available on SuperRare: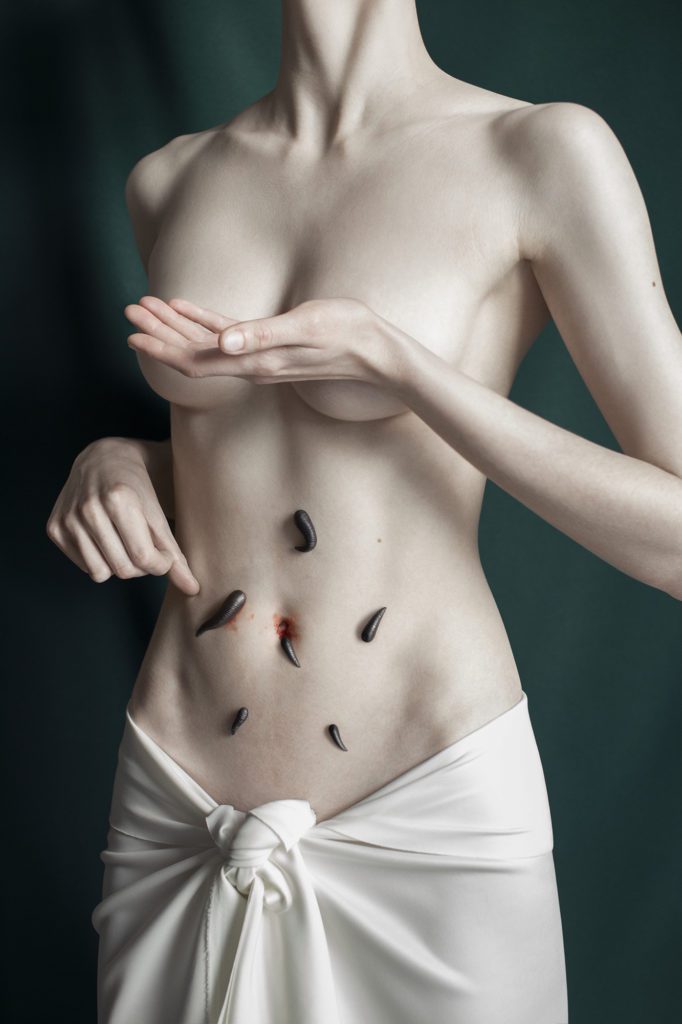 My pal Miguel Faus is also directing the first feature-film to by funded entirely by NFTs:  https://www.calladitafilm.com/ As a film school graduate, I'm so excited to see how this  technology will change the future of filmmaking and give the power back to the creators. My  self-portrait 'Cinderella' can be viewed on OpenSea: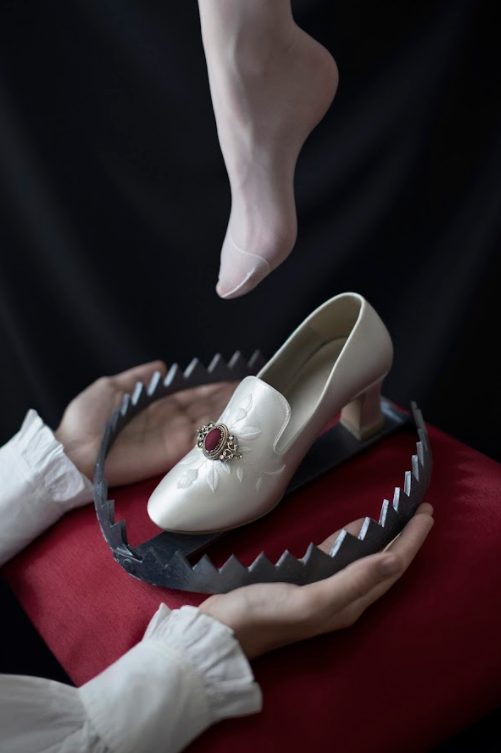 When it comes to physical exhibitions, I'm delighted to be exhibiting alongside Helmut Newton  at FotoNostrum in Barcelona (May '22), and my partner-in-crime Tiffany Cole at Benjamin Eck  Gallery (July '22).
Where can collectors find your work? 
Link to Website 
Profile image by David Eustace
Follow us on Social Media