Renowned artist and activist DEREK HESS has unveiled a stunning new artwork titled "Kyiv – Castle Keep" that was created to benefit Ukraine. The piece will be made available as a limited edition print, accompanying apparel and an NFT, which marks HESS' first offering in the meta-universe.
"Kyiv – Castle Keep" is a striking image that portrays a person crouched holding the Ukrainian flag, illustrating the heartbreaking struggle and the unwavering bravery of the Ukrainian people during the current wartime atrocities. Proceeds from the sales of the artwork will be divided up among various charities that will directly support the people and causes for Ukraine.
Purchase: https://derekhess.com/products/kyiv-castle-keep
Commenting on the new work, HESS states:
"This piece is about the resilience of the people of Ukraine in the face of tremendously lopsided odds. The term "castle's keep" means a stronghold from where a last stand can be mounted against a siege. My prayers are with the people of the Ukraine, and for a successful resistance against Putin's war." – Derek Hess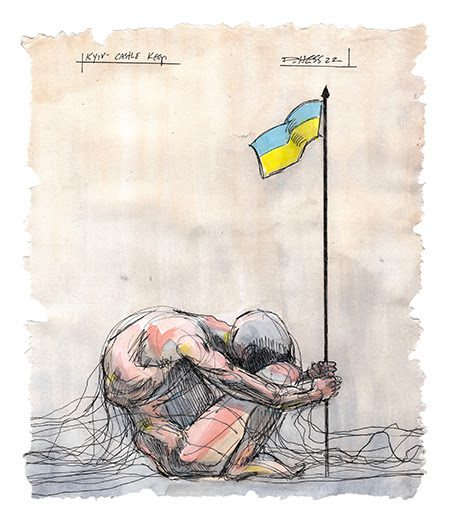 "KYIV – CASTLE KEEP" NFT:
Auction at OpenSea: https://bit.ly/3sVGY2D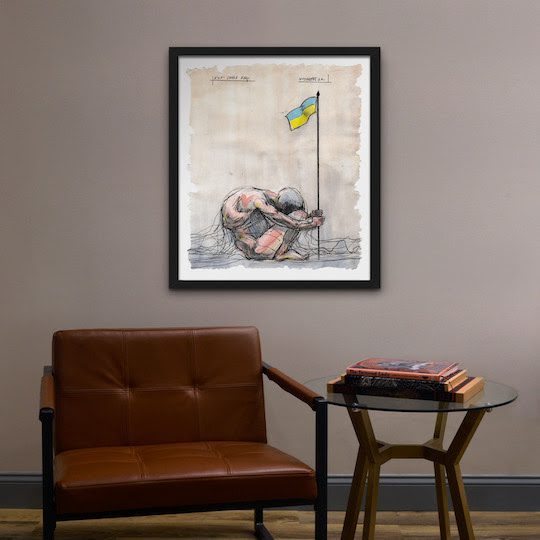 "KYIV – CASTLE KEEP" PRINTS:
Profits from the prints will go to help benefit IFAW International Fund for Animal Welfare and the work they are doing in the Ukraine.
About DEREK HESS:
From concert posters to politically charged fine art pieces, Cleveland-based artist Derek Hess has tested the waters of both the music and art world for over 15 years. Always a fan of music, Hess began creating promotional flyers for shows in Cleveland using his own unique vision and a play off the bands names and genre. These flyers soon garnered the attention of countless bands as well as both the Rock and Roll Hall of Fame and the infamous Louvre in Paris, who both have Hess' art in their permanent collection.
In addition to posters for bands such as Pantera, Thursday, Clutch and Pearl Jam, Hess has also created CD covers for bands like Of Mice & Men, Converge, Tommy Lee, Sepultura and Unearth. He has also been featured on television show and in magazines – TLC, The Food Network, MTV, Fuse, VH1, Alternative Press, Vice, Newseek and Juxtapoze as well as many others.
In 2015 Hess was the subject of the award winning documentary "Forced Perspective" created by filmmaker Nick Cavalier.  In the film Hess opens up about his artistic process as well as his ongoing trials with alcoholism and bipolar disorder. Through his intensely expressive mixed media art, Hess not only works through his demons, but also inspires his fans from around the world to do the same.
Follow DEREK HESS:
https://derekhess.com/
https://www.facebook.com/derekhessart/
https://www.instagram.com/derekhess
https://twitter.com/derekhessart
Follow us on Social Media