DappRadar is one of the leading defi application providers in the industry.  With over 9,000 dapps across 30+ protocols, its hard to not run into DappRadar. In fact, they currently support an audience of over 1m users across teh globe.  With that DappRadar has announced $RADAR:
Our aim is to broaden our coverage, become faster at listing emerging projects, provide timelier, more accurate listings, build better portfolio tools, and offer reporting with greater insight. RADAR is at the center of all of that.

RADAR, the native token of our ecosystem, represents an opportunity to directly contribute to the future of DappRadar. Together with you, we want to bring Web3 adoption & decentralization to new heights. Contributors, curators, and creators earn RADAR for their support in growing the World's Dapp Store.
The goal of this utility token is to allow $RADAR holders to start contributing to the future of the business.  With the launch Collectors already have access to DappRadar PRO, the ability to stake their $RADAR, and Governance that is outlined in their whitepaper.  Additionally, in the near future they will release curation and contribution elements as well.
$RADAR Governance
RADAR represents an opportunity to directly contribute, govern and shape the future of The World's Dapp Store. Be it discussing ideas with the community in Discord, proposing initiatives for development or putting your vote against the projects that mean the most to you, as a community let's start scaling DappRadar to new heights, together.
$RADAR Drop Availability
It is important to note that currently, the Airdrop of $RADAR is unavailable in the united states.  Please review your local laws and regulations before claiming. Other prohibited countries include: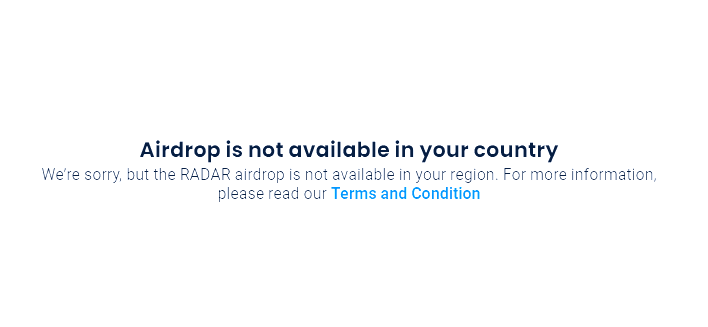 Cuba

Democratic People's Republic of North Korea

Islamic Republic of Iran

Libya

People's Republic of China

South Sudan

Sudan (North)

Syria

The Crimea

The United States of America

Any jurisdiction in which the entry into these T&Cs or the ownership of the Tokens is prohibited by Applicable Law

Any jurisdiction which is subject to United States, United Nations or other applicable sanctions or embargoes
$RADAR Drop Distribution
Currently distribution of the airdrop falls into the following categories:
40% to the Community
25.25% to the Team and share holders
24.75% will go to the Treasury
10% will be released in the airdrop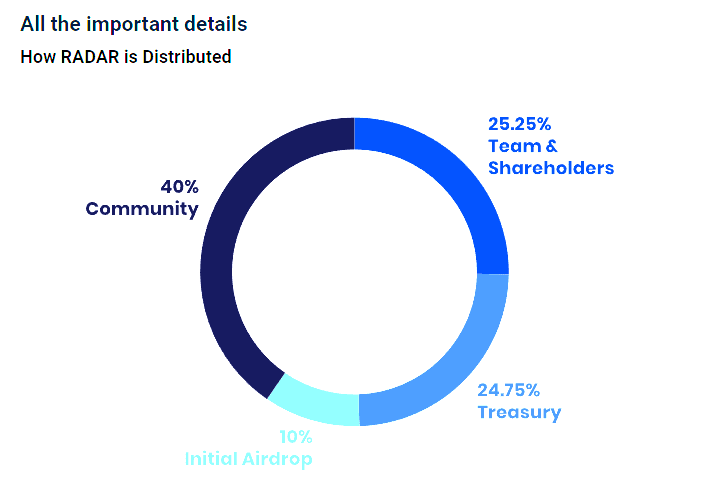 Follow us on Social Media