Presenting NTO, A Game Changer For The NFT World – Interview With Vladimir Gorbunov, CEO Of Choise.com
NTO (NFT token offering) is a new type of token distribution presented by Choise.com, a crypto firm and earn marketplace. NTO introduces a new asset class concept—NFTs overcollateralized by tokens and is accompanied by Chobies NTO Collection, the first of its kind. Each Choby has unique features—almost a quarter of them come with perks—and 1,000 popular CHO tokens inside that could be minted for a price five times lower than a market one.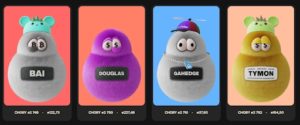 We reached out to Vladimir Gorbunov, Founder and CEO of Choise.com, to discuss the nature of the company's innovation and how it intends to introduce new standards and revolutionize the NFT market.
In simple terms, what is NTO? How is it different from existing solutions on the market?
The NTO is a unique form of token distribution, combined with NFT minting, which is used for secondary market sales of valuable tokens. 
I would say the main difference between NTOs and other existing solutions is that in NTO NFTs are backed by tokens that are already successfully traded on the market. It means that each NFT provided via NTO has actual value behind it. And in our case, each NFT has a delayed unlock and accrual horizon, but also, the same perks that occur during minting allow you to reduce lock-ups and vesting.
I believe this is a truly revolutionary idea. When selling NTO, the user can now refer not only to the price of distinctive artistic NFT features but to the overall price of art and tokens embedded inside the NFT, making NTO absolutely unique.
What inspired you to create this product, and who is it aimed at? 
We consider ourselves pioneers—we fancy experimenting and launching new products in the NFT world, as this is a market Choise.com has a lot to contribute to. We already had a successful launch—the CHO NFT Sale in April. The community welcomed the idea, and we were impressed by the results: the Collection was sold out in less than 24 hours. 
By launching our first-ever NTO, we aim to change the distribution market for tokens and NFTs and create unified mechanisms that will become the standard for the entire market, the NFT community, and hundreds of companies.
At this point, we already completed the first stage of the NTO, raising $750,000. This demonstrates clearly that our idea has succeeded in grasping the interest of the community. Now we have entered the second stage of the NFT token offering, which will continue until January 18th.
The NFT market fell 97% in 2022, yet you decided to launch an NFT-related product under such conditions. Why this timing? 
It is important to clarify which NFT market fell. Indeed, we saw a major downturn in the NFT world that was presented in an art form with various unique collections. The reason is simple: estimating and determining its value is difficult. One day the price of your NFT can drop tenfold. And NTO, with its revolutionary approach, can solve this issue and act as a technological tool for delivering value to NFTs.
In addition, as history shows, crypto winter is a time when promising companies and products enter the market, introducing game-changing technologies and mechanics. This is an ideal timing and an opportunity to make an NFT product that will be in demand. During the crypto winter, companies need liquidity, and the launch of such a product as NTO provides an opportunity to attract additional investments.
What benefits would people and businesses receive from this first NTO Collection? 
Besides familiar cash or perks, the main benefit for the NTO minters is that tokens inside NFTs have more value than at the market (at least five times more, to be precise). Each Choby has 1,000 native CHO tokens inside, and minting an NFT starts at $150, growing by $50 at each stage. And the price of a thousand CHO tokens on the market has reached $900 while I'm speaking.
Each Choby has a colorful, unique style and naming that could be personalized and, as a result, increases in price even more. Every fifth Choby comes with additional perks. You can win up to 100,000 USDT in Choby NFTs or get cashback of up to 100%. Plus, you can get one of our plastic and metal crypto cards inside a Choby NFT. Tokens are packed with different lockup and vesting terms, starting from zero days.
Choise.com is launching the NTO with the opportunity to mint what you call a Choby NFT. What makes these Choby NFTs stand out to potential buyers?
Choby is the first NTO project where the user receives NFT backed 3 to 6 times with traded CHO tokens. The tokens in the NFT have a lockup and corresponding vesting, as well as a large number of prizes. Our prize pool is $5 million, some of which are hidden in NFTs. 
This initiative can create an enormous secondary market. And thanks to the mint-to-earn model embedded in NTO, the first Choby owner can receive a lifetime royalty of up to 5% on each NFT resale on the secondary market. 
Plus, as a bonus, each Choby can be physically produced, and NFT owners could have the opportunity to get a real-life individual collectible Choby.
How can NTO be scaled up and used by other companies? What do you see as its potential?
Launching NTO is, first of all, a solution for ourselves as a company with our own CHO token and a grand scaling plan. However, our future plans for this product are much more far-sighted and extend to the entire market.
We bear in mind the market needs and present NTO for other existing companies to help them scale up and raise liquidity and investments by launching new NTOs based on their tokens. And our goal is to increase the number of companies we can help with the mechanics and future NTO launches.
If we understand correctly, Chobies are the first in a line of NTO-related developments. What are your plans for future product-related launches? 
Our vision includes the introduction of our NTO Launchpad and, after that – the NTO Marketplace.
As I previously mentioned, our goal would be to provide other companies with tools to launch their own NTOs. And the NTO Launchpad can become that opportunity for other companies to create NTOs with our support. Together, we can determine the parameters – the number of coins, vesting, lock-up, number of stages, total sales volume, and the number of NFTs. 
And I see our NTO Marketplace as a platform where Choise.com's NTO and external NTOs, created through our launchpad, can be traded. The uniqueness of our marketplace is that all NFTs are backed by tokens that are already traded on the market and have value besides artistic originality.
Do you believe the NTO can change the NFT market and make it better? 
When people purchase art NFTs, they face one problem – the value of art is difficult to estimate. Such art can be rare or unique, and digital products can cost up to $100K today, but tomorrow they can drop in price to $1. And NTO solves this issue of unpredictability. The NFTs within the NTO are over-backed with tokens that already have their own base value associated with the token capitalization.
Our solution will allow the NFT community to receive benefits regardless of the state of the market and, along the way, form a new market trend and tools that companies worldwide will begin to employ over the next 5-7 years.
What, in general, do you expect from the NFT market going forward?
As for the NFT market in general, I believe it can become a great tool for tokenization of various creative and financial assets. And now is the time for new categories of NFT products, not simply art collections. I'm very excited that Choise.com has launched the first NTO, as it will become an important milestone for the development of the entire market.
Follow us on Social Media