The Age of SAM is a multi-project play-to-earn experience with extended utility for 12 partner SOLANA projects.
We have been participating in Solana NFTs since Solpunks, the first project to ever mint out. Degen Apes followed, then Bold Badgers, Thugbirdz, Aurory, Frenchies and many, many others. We were hooked. We fell in love with Solana. The logical next step was to build our own project. We didn't want to do yet another pfp NFT. We were looking for something that would bring our love of Sci Fi and video games together and bring multiple communities together. Sprinkle a little Lemon Haze on top and the AGE of SAM was born. 

What Makes this project unique? 
We are the first ever project to extend utility in a play-to-earn experience to other projects. By holding a SAM NFT and a matching partner NFT, the holder significantly increases their chance of success when competing in our weekly Moon Missions. 
We will bring together the communities of 12 unique Solana NFT projects, introduce them to each other and effectively increase their number of holders and drive floor prices up. 
How Big is the team and what are their roles?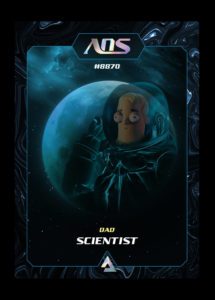 We have a sizeable team spanning multiple industries. Our 2 founders have over 20 years experience in web/app design and development. We are partnered with a AAA video game studio. Our devs have successfully deployed 10+ projects on Solana and our marketing team have extensive experience in both paid and organic advertising as well as Influencer marketing.
 
What is the price? 
To be announced
Why is that price fair?
What is the Mint Size? 
10,000
Are there any mechanics we should know about? 
Please review our Lightpaper
Links to discord, social, etc.
Discord: https://discord.gg/ageofsam
Twitter: https://twitter.com/ageofsamnft
Website: https://ageofsam.io/
Follow us on Social Media