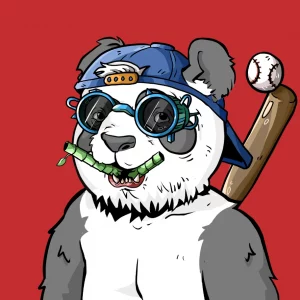 Panda Dynasty is an elite clan of 8,888 Pandas ruling on the Ethereum blockchain. They rocketed to Earth from the Crypto Space Station. Now they're heading to the Moon again just for kicks. 🚀 All are unique and super strong, but some have super rare costumes, roles, and environments. Meet the sold-out crew via their serialized comic, blasting discord, or OpenSea.
How did you come up with the idea for this project? 
I'm a lifetime gamer, and for a long time I dreamed of making my own games inside an original story world. I learned that this was all possible via NFTs, though it would be very challenging. Luckily with the help of my childhood friend, Golem, consulting on the technical aspects of the project, I was able to take on the story, roadmap and community. We set a due date of September 4th, 2021, right before the historic NFT auction at Christie's. Though there was extensive groundwork laid before, once we set our goal we were able to produce and drop the project within 3 weeks.
What Makes this project unique? 
Definitely the community engagement! Pandas are the perfect embodiment of cuteness and ferocity. They're badass, and so are the people in the community. After the drop, the community of pandas really began to reign, and I took responsibility for helping them navigate. From choosing what happens next in the Panda Dynasty serial comic to what is produced in the merch store, everything comes from the community, and it's a daily blast to interact with everyone.
How Big is the team and what are their roles?

We just created our organization chart (and released it on Discord and Twitter)!
I, Ganondorf, started the project. Golem consulted on tech. Lady Ann did the artwork. I met Lady Ann while working in the gaming business, and she turned Panda Dynasty NFTs into reality and is now working on the serialized comic!
Our team has grown exponentially and you can find all of our responsibilities here:

What is the price? 
8,888,0.05 ETH/panda at drop. It varies now on OS.
We wanted to make panda accessible to everyone, while still including a full roadmap of utilities and surprises.
Are there any mechanics we should know about? 
We might have a few surprises in the future, but can't release any statements about them now.
Follow us on Social Media