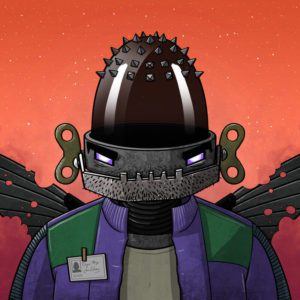 Pre-sale for Mint Pass Holders is on December 2nd, 9 PM UTC
Pre-sale for Whitelisted users is on December 3rd 2021, 9 PM UTC.
Public sale starts on December 4rd 2021, 9 PM UTC
Welcome to the world of the Eggtomatons! It's wild and fun, but you might have noticed that these hardcore space dwellers aren't your typical colonists.
What started as a mission to spread humanity into the far reaches of the universe soon became one of desperation and confusion. Colonists had settled down on a seemingly habitable planet and even befriended the local race, only to soon discover that their human bodies were failing. No dirty details here, but suffice it to say – the deterioration was rapid. Compassionate with the plight of newcomers, the locals came up with a solution.
NFT ERC 271 collectible with cool theme as PFP projects, future companions, charity aspect, future tokenizazion-staking mechanics and after all this steps P2E game and Indie Game Jams. Mint pass for book lovers and early adopters of our projects, 2 different contracts
How did you come up with the idea for this project?
It was a brainchild of AviTavi and his brother, the project artist Mlamuta.
They've been working on the concept for months, before finally settling on the EGGTOMATONS – Automatons with egg-shaped heads.
4 months ago, started devoloping it fully with team of 5 2 months ago. Now we are expanding the team, currently there are 7 of us.
How big is the team and what are their roles?
Currently, we have 8 team members.
ZeeZee.eth – co-founder
AviTavi – co-founder
Mlamuta – artist and the mind behind EGGTOMATONS
Mezmerize – project advisor and project investor
NiftyLabs – web-developer duo, consisting of NEEDELMAN & FREEGAS
Jamie Hawke/Justin Sloan – author, writing both the lore and upcoming novels
Vernerius – social media outreach, marketing advisor.
Stomp – social media outreach, marketing advisor.
What Makes this project unique?
We went with all around approach, we implement a lot of things from other projects and improve them. From selling standpoint we do not over promise, we wanna take it slow and easy and adapt over time with low risk involved.
How Big is the team and what are their roles?
Explained on our site in detail: www.eggtomatons.gg
What is the price?
0.04 ETH on Pre-sale
0.05 ETH on Public Sale
Why is that price fair?
Our originally intended mint price was 0.08ETH.
Since the ETH skyrocketed recently (~3k to 4.5k+) we've adjusted the price to be more in line with our original plans.
What is the Mint Size?
7007.
Each of the 7 Legendary EGGTOMATONS leads a faction of 1000 EGGTOMATONS.
Are there any mechanics we should know about?
Just regular tokenomics, on mint pass for 0.2 ETH, people get 1 eggtomaton plus 7 novels (only gas needed), good deal for flippers long term hodlers
Links to discord, social, etc.
eggtomatons@gmail.com
https://www.eggtomatons.gg
https://discord.gg/eggtomatons
https://twitter.com/eggtomatons
Follow us on Social Media