FIRST INDEPENDENT ONLINE AUCTION PLATFORM CREATED BY A GALLERY TO OFFER  NFT AND DIGITAL WORKS BY INTERNATIONALLY ACCLAIMED ARTISTS  
SITE WILL AUCTION FIRST-EVER OPERA NFT WITH COMPOSER MASON BATES'  THE (R)EVOLUTION OF STEVE JOBS 
INAUGURAL NFT AUCTION NOW OPEN FOR BIDDING: RENOWNED VISUAL ARTIST FRANCESCO CLEMENTE WITH COMPOSER/PIANIST PHILIP GLASS  FRIDAY SEPTEMBER 24 – MONDAY OCTOBER 4  
AT  
WWW.ARTOFFICIAL.COM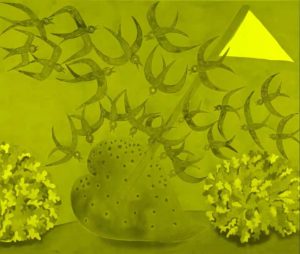 New York…Vito Schnabel, Founder and Principal of Vito Schnabel Gallery, announced  today that the gallery has collaborated with Gary Vaynerchuk, Chairman of VaynerX,  CEO and Creator of VeeFriends and CEO of VaynerNFT, to launch ArtOfficial, an online  platform to exhibit and sell original works by foremost artists exploring new mediums,  including digital artworks and NFTs.  
The first wholly independent online auction platform created and operated by a  commercial gallery, ArtOfficial's name plays upon the word 'artificial', suggesting a  challenge to entrenched hierarchies that have long privileged painting and sculpture  over the many other experimental forms of expression embraced by contemporary  artists. ArtOfficial aims to broaden the experience of digital art and make its  acquisition more accessible and transparent for the public.  
ArtOfficial was developed by Vito Schnabel with the support of Gary Vaynerchuk and  AJ Vaynerchuk, CEO of VaynerSports and Co-Founder of VaynerFund. Owen Laub is  Director of ArtOfficial, overseeing the platform's daily operations.  
Inaugural Auction  
ArtOfficial launched at 9AM EST today, Friday, September 24, 2021, with its first  auction of NFTs for original digital works created by renowned visual artist Francesco  Clemente (b. Naples, Italy, 1952). Open for bidding through October 4 at  www.artofficial.com, this auction offers four unique NFTs, the first such digital works  ever created by Clemente, who came to prominence in the late 1970s and cemented a  global reputation with his participation in the 39th edition of the Venice Biennale in  1980. Clemente is most closely associated with the Transavanguardia movement in Italy and recognized as an influential figure of Neo-Expressionism in the United States.  His work is prized by collectors, curators, and critics worldwide for its vivid, enigmatic  exploration of metaphysical questions of spirituality, mysticism, and the nature of the  self.  
Powerfully lyrical, Milarepa's Dream addresses the central anxiety our times: the fragile  future of a world presently in crisis. Rather than expressing helplessness or  resignation, however, Clemente signals with Milarepa's Dream toward hope and  resilience: a white flag pierces a human heart surrounded by sparrows, harbingers of  rebirth, as the atmosphere enveloping the scene cycles through a series of visual  effects to arrive at the full clarity of dawn.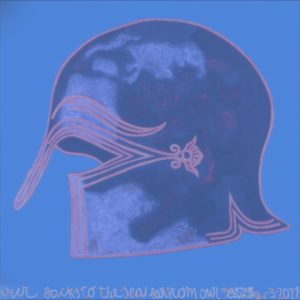 The buyer of Milarepa's Dream also receives a live portrait session with Francesco  Clemente for a watercolor painting, redeemable within one year of purchase.  Clemente's sitters for such portraits have included global luminaries spanning the  cultural landscape, including such authors as Toni Morrison, Salman Rushdie, Allen  Ginsberg and William Burroughs; artists Jean-Michel Basquiat, Keith Haring, Kiki Smith,  and Robert Mapplethorpe; and a range of popular media figures, from New York writer  Fran Lebowitz, to supermodels Christy Turlington and Linda Evangelista, to opera stars  Natalie Dessay and Karita Mattila.  
ArtOfficial's inaugural auction also includes a new NFT series: Our Backs to The Sea Far  From Our Native Lands, with music by American composer and pianist Philip Glass,  widely regarded as one of the most influential composers of the late 20th and early  21st century. As with the auction of Clemente's Milarepa's Dream, ArtOfficial's non fungible tokens will be accompanied by live experiences with the artists whose works  are auctioned.  
Upcoming Auctions and The First-Ever Opera NFT  
In coming months, the platform will exhibit and auction NFTs for new works by Vito  Schnabel Gallery artists Jordan Kerwick, Spencer Lewis, Robert Nava, Ariana  Papademetropoulos, Julian Schnabel, and Gus Van Sant, as well as a range of  artists not represented by the gallery who are working in different mediums.  
In Fall 2021, ArtOfficial will also present and auction the first NFT ever offered for an  opera — a new visual and aural work by Mason Bates, acclaimed composer of the  Grammy-winning opera The (R)evolution of Steve Jobs. Born in Philadelphia in 1977,  Bates is known for imaginatively transforming the way classical music is created and  experienced as a composer, DJ, and curator. His symphonic music is the first to receive  widespread acceptance for its unique integration of electronic sounds, and he was  named the most-performed composer of his generation in a recent survey of American  music. His current projects include The Amazing Adventures of Kavalier & Clay for The  Metropolitan Opera, and Philharmonia Fantastique: The Making of the Orchestra, for  animated film and live orchestra. The first composer-in-residence appointed by the  Kennedy Center for the Performing Arts in Washington, DC, Bates has also composed  for film, scoring auteur Gus Van Sant's The Sea of Trees. 
Vito Schnabel commented:  
"Nina Simone famously said that 'an artist's duty is to reflect the times.' For the many  artists we work with across our gallery's extended community, the times we live in now  are being shaped by powerful new tools in the digital realm. These artists are eager to  adapt and take chances. We're taking our cues from them, embracing their ambition to  expand the channels for presenting their work, and finding new ways to place it in the  wider world. It's been a terrific adventure to collaborate with Gary and the Vayner  team over the past year to develop ArtOfficial in the pioneering spirit of these artists.  We're delighted to be launching this new platform together with them." 
Gary Vaynerchuk commented:  
"This is a profound moment in the evolution of art history, with digital art and NFTs  ushering in a paradigm shift. For me, the opportunity to team up in this moment with  Vito, who I view as one of our generation's most compelling professionals in the  contemporary art space, is particularly exciting. By merging our very different but  complementary talents and areas of expertise, we're creating a platform that can  deliver the greatest value to artists and the community that collects and enjoys their  work, as well as many new collectors. I'm thrilled we are launching ArtOfficial and can't  wait for our future to unfold."  
Transactions  
ArtOfficial accepts cryptocurrency (Ether) as a payment option for the works it sells.  
PRESS CONTACTS  
For ArtOfficial and Vito Schnabel  
Andrea Schwan, andrea@andreaschwan.com +1 917 371.5023  
For Gary Vaynerchuk  
Maha Abouelenein, maha.abouelenein@vaynermedia.com +1 612.850.8495  Lara Taki, lara@digitalandsavvy.com +1 310.999.9974  
EDITORS NOTES  
About Vito Schnabel  
Vito Schnabel is the owner of Vito Schnabel Gallery in New York and St. Moritz. Born  and raised in New York, Schnabel organized his first exhibition at the age of 16, a group  show in New York in 2003 titled Incubator. Two years later, Schnabel presented a solo  show of Ron Gorchov's paintings. Gorchov's work had not been shown in over a  decade, and the exhibition led to a resurgent interest in the artist's work, including a  solo exhibition the following year at MoMA PS1. Other early exhibitions presented by  Schnabel include a show of Terence Koh's work at Richard Avedon's former studio in  New York in 2008, several exhibitions of Rene Ricard's paintings in New York, Los  Angeles, and London, and an exhibition of Laurie Anderson's paintings and drawings in  New York in 2012. Schnabel has organized several major group exhibitions in  temporary exhibition settings, such as DSM-V, curated by David Rimanelli, at the Farley  Post Office in New York in 2013, and First Show / Last Show, presented in 2015 at the  Germania Bank Building on the Bowery, which had not been open to the public since  the mid-1960s.  
Schnabel organized over 30 exhibitions internationally before opening galleries in New  York in 2013 and St. Moritz in 2015, and another location in New York in February 2021.  The gallery works with Laurie Anderson, Francesco Clemente, Jeff Elrod, Urs Fischer,  Walton Ford, Jorge Galindo, Jordan Kerwick, Spencer Lewis, Caitlin Lonegan, Markus  Lüpertz, Robert Nava, Ariana Papademetropoulos, Sterling Ruby, Tom Sachs, Julian  Schnabel, Pat Steir, Gus Van Sant, and the estates of Ron Gorchov and Rene Ricard.  
About Gary Vaynerchuk  
Gary Vaynerchuk is a serial entrepreneur, and is the CEO and Creator of VeeFriends. He  also serves as the Chairman of VaynerX and the CEO of VaynerMedia. Gary's NFT  project, VeeFriends, is being featured in a special collection at Christies. Following the  success of VeeFriends, he created VaynerNFT to help individuals, brands and  associations develop their own NFT strategies and projects. Gary is considered one of  the leading global minds on what's next in culture, relevance and the internet. Known  as "GaryVee" he is described as one of the most forward thinkers in business – he  acutely recognizes trends and patterns early to help others understand how these  shifts impact markets and consumer behavior. Whether its emerging artists, esports,  NFT investing or digital communications, Gary understands how to bring brand  relevance to the forefront. He is a prolific angel investor with early investments in  companies such as Facebook, Twitter, Tumblr, Venmo, Snapchat, Coinbase and Uber.  
Follow us on Social Media