An exciting milestone awaits VeeFriends as it ventures into the physical realm, giving fans a tangible experience with their favorite characters. Partnering with Jazwares, a renowned company known for soft plush collectibles and impressive collaborations, VeeFriends is elevating its character IP to new heights.
We can't wait for you to meet these Squishmallows and welcome them into the VeeFriends family. Continue the journey into the VeeFriends Blog for a full breakdown of the announcement, timeline, & VeeFriends holder benefits.
Meet the Adorable Lineup:
Adventurous Astronaut
Humble Hedgehog
Intuitive Iguana
Karma Kiwi
Product Details:
Price: $24.99
Size: 12" Plush
Supply: Limited
When and Where to Purchase:
Mark your calendars for the grand release of the Squishmallows x VeeFriends collection on August 7, 2023, at 12:00 PM EDT. In the United States, domestic buyers can purchase directly from Jazwares' e-commerce website, while international fans can get their cuddly companions from the VeeFriends store.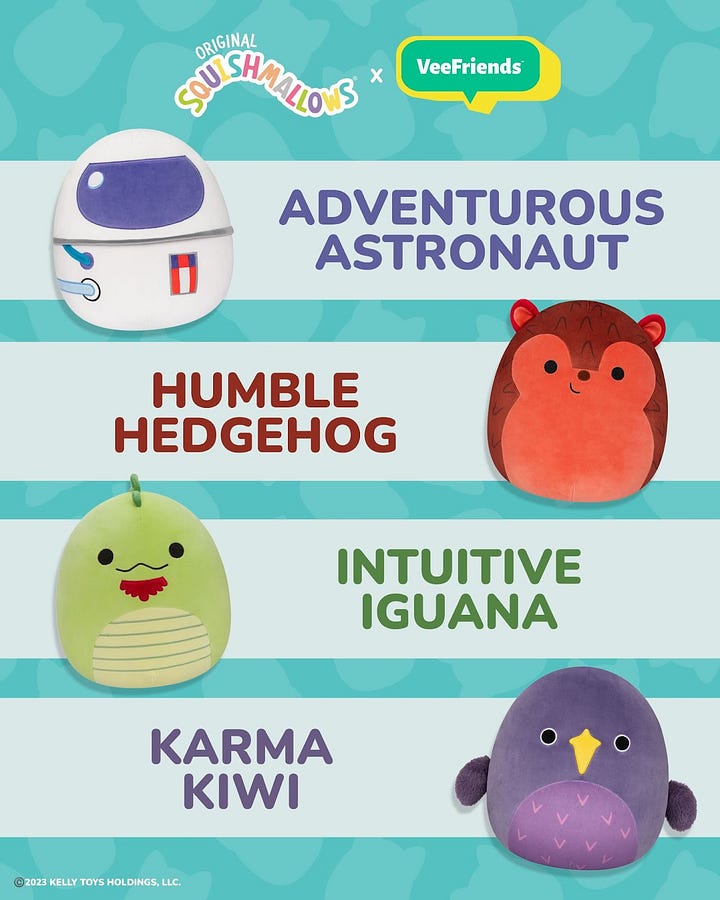 VeeFriends Token Holder Benefits:
Series 1 holders of these four characters will be treated to one Squishmallows plush for each character they own. The claim links will be live from July 26 at 12:00 PM EDT until August 2 at 11:59 PM EDT.
Be Part of the Fun:
Join the highly-anticipated YouTube livestream on July 31st, 2:00–3:00 PM EDT, featuring Jeremy Padawer, Chief Brand Officer of Jazwares, and Gary Vaynerchuk, CEO & Founder of VeeFriends. They will discuss all things Squishmallows x VeeFriends and Jeremy's insights about the toy industry.
FAQs:
How many products are available in this collaboration? Four different Squishmallows products, each featuring one of the VeeFriends characters: Intuitive Iguana, Humble Hedgehog, Adventurous Astronaut, and Karma Kiwi.
What are the prices of the Squishmallows x VeeFriends plush? Each plush is priced at $24.99, excluding taxes and shipping.
Is there a purchase limit? No, you can buy as many Squishmallows as you want!
How exclusive is this collection? Very exclusive, so don't miss out on your chance to own these adorable Squishmallows.
Can I purchase internationally? Absolutely! The VeeFriends store offers international shipping, ensuring fans worldwide can cherish these delightful Squishmallows.
Get ready to embrace your favorite VeeFriends characters as they leap from the digital realm into your arms as Squishmallows! Don't miss this unique opportunity to experience the magic of VeeFriends and the cuddly joy of Squishmallows. Mark your calendars and prepare to claim your beloved plushies starting July 26!
Follow us on Social Media