July 27, 2022 – New York, NY: Billboard recently announced an exciting collaboration with artist Victor Langlois, who goes by the artistic pseudonym FEWOCiOUS, on an exclusive digital collectible for Billboard ChartStars. For his second collaboration with global music authority, Billboard, FEWOCiOUS has reimagined a version of the magazine that would exist in FewoWorld, featuring one of the artist's most popular characters, Mr. MiSUNDERSTOOD on the cover. The custom Billboard magazine issue featured in the NFT is filled with articles about FewoWorld loaded with Easter eggs and exclusive audio. Fans are encouraged to join the Twitter Spaces with FEWOCiOUS, Billboard, Unblocked, and Dapper Labs on July 27th to learn about the ambitious new project as well as a new ChartStars Pride drop with FEWOCiOUS and various special guests.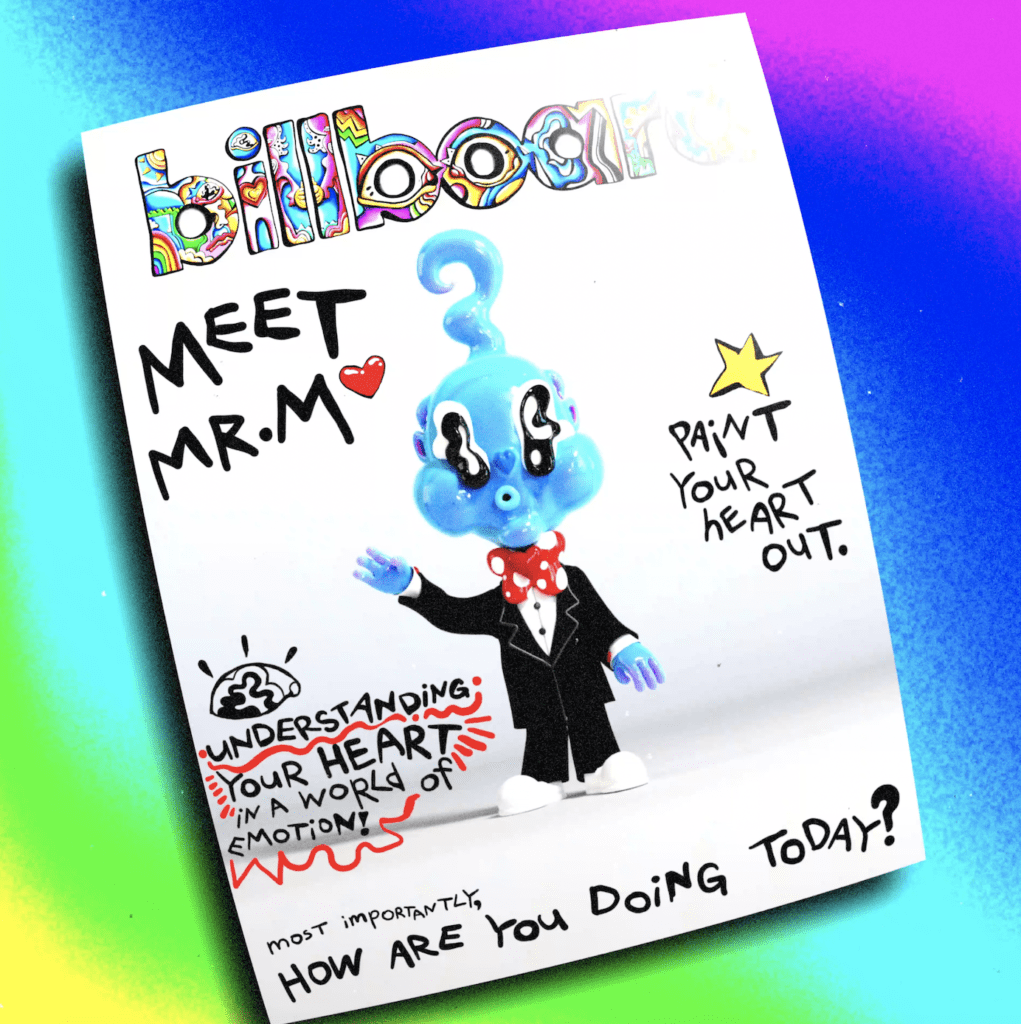 The exclusive drop will be available starting Friday, July 29th and will grant owners two tickets to one of Billboard's biggest events during the calendar year ending June 2023, and access to a private Billboard ChartStars Discord channel. The exclusive drop will consist of 250 unique pieces priced at $250 each. Billboard and FEWOCiOUS are partnering with The Trevor Project to donate partial proceeds from the drop to the charitable organization. The Trevor Project is the world's largest suicide prevention and mental health organization for LGBTQ young people.
The 19-year-old transgender NFT star has made waves in the last two years with his bright, colorful style of creation and mission-oriented approach to curating digital artwork. The upcoming drop marks the artist's second partnership with Billboard, after previously serving as guest illustrator for the publication's annual Pride issue cover.
As previously announced, Billboard ChartStars is a music digital collectibles project created in partnership with Universal Music Group (UMG) which is comprised of artist-focused digital artwork that commemorates achievements and milestones on the Billboard Charts. These collectibles feature officially licensed art and creative including short visual clips from music videos, album photography and more. UNBLOCKED continues to serve as Billboard's official NFT technology partner for ChartStars and users can sign up with just an email address and a credit card.
If you want to learn more about Billboard ChartStars, you can register now to reserve your username and be in-the-know about future releases.
###
About Billboard
Billboard is a global music media brand, with a renowned authority among artists, fans, and the industry at large. Billboard powers the ultimate global music destination and magazine, featuring unrivaled reporting on music news, issues, trends, and the industry's definitive charts, encompassing the most complete and well-respected database of charts across all music genres. Billboard also produces elite conferences and events which regularly convene influential industry stakeholders and consumers around important conversations.
About FEWOCiOUS
"I love art." It's something you will hear FEWOCiOUS say often, and if there's one thing you need to know about the 19-year-old rising star of the art world, that's it. Representing snapshots of his memories and a mirror into his heart, his passion for creating shines through every piece, all of which exude vibrancy and symbolize the strength of feeling. Now living in New York, FEWOCiOUS first started creating art at 13 in his hometown of Las Vegas. His foray into digital art was born as a refuge and escape for the young transgender artist. FEWOCiOUS sold his first painting at 17, and within a year of that, was able to move to his dream city of Seattle to continue creating, through a series of successful NFT drops.
In June of 2021, he hosted a groundbreaking and record-breaking auction with Christie's Auction House in celebration of "Pride Month" which sold for $2.16mm. In March of 2021, he collaborated with RTFKT, the next-gen sneaker and collectible creators who merges the realities of fashion and gaming. In the auction each NFT came with a real-world pair of shoes or other fashion piece, generating over $3mm in sales within seven minutes. Additionally, FEWOCiOUS' drop "Fabricated Fairytales" released in early 2021 in collaboration with best friends parrott_ism, odious and Jonathan Wolfe.
Most recently, FEWOCiOUS hosted his FEWO WORLD "paint drop" through Nifty Gateway, consisting of a limited 24-hour public sale of NFTs which generated a staggering $20mm. This drop attracted collectors from around the world and marked the third-highest auction in the history of the NFT marketplace. Prior to this, he was featured in Sotheby's Contemporary Art Day Sale in London, auctioning off his first ever life-sized physical sculpture of a handmade and hand painted suit encased in an acrylic box. The sculpture was the genesis piece from the FEWO WORLD metaverse fashion and generative customizable character drop and sold for $2.85mm.
FEWOCiOUS has amassed nearly $50mm in sales for his art thus far, solidifying his place among the most popular NFT artists today and arguably making him one of the most influential artists of this generation.
About Unblocked
Unblocked is transforming the future of music and entertainment with bespoke NFT experiences. By linking brands and artists with their biggest fans and supporters, Unblocked is able to build new connections both online and in the real world. As part of the Flow blockchain, Unblocked is also committed to maintaining a sustainable and environmentally friendly ecosystem in Web3. With steadily growing interest in digital spaces, Unblocked seeks to create long-term value for brands of all sizes by encouraging community development and utilizing the power of NFTs.
About The Trevor Project
The Trevor Project is the world's largest suicide prevention and mental health organization for lesbian, gay, bisexual, transgender, queer & questioning (LGBTQ) young people. The Trevor Project offers a suite of 24/7 crisis intervention and suicide prevention programs, including TrevorLifeline, TrevorText, and TrevorChat as well as the world's largest safe space social networking site for LGBTQ youth, TrevorSpace. Trevor also operates an education program with resources for youth-serving adults and organizations, an advocacy department fighting for pro-LGBTQ legislation and against anti-LGBTQ rhetoric/policy positions, and a research team to discover the most effective means to help young LGBTQ people in crisis and end suicide. If you or someone you know is feeling hopeless or suicidal, our trained crisis counselors are available 24/7 at 1-866-488-7386 via chat TheTrevorProject.org/Help, or by texting 678678.
If you or someone you know is feeling hopeless or suicidal, our trained crisis counselors are available 24/7 at 1-866-488-7386 via chat TheTrevorProject.org/Help, or by texting 678678.
Follow us on Social Media