Shibuya to Put a Creative Spin on Storytelling & TV Show Developments
February 1st, 2023 – Steve Aoki (@SteveAoki) and Seth Green's Stoopid Buddy Stoodios join forces with Shibuya (@Shibuyaxyz) to usher ReplicantX into a new era of interactive storytelling. Never settling to simply release content, Aoki is careful to foster a community and breed advancement around each new project. In this next chapter, Aoki pioneers a new stop-motion production model in partnership with Replicant X PFP holders, Stoopid Buddy Stoodios, and Shibuya.
Continuing the moment of the Dominion X stop-motion short film that launched in August 2021 and sold out in under seven seconds, the duo is teaming up with Shibuya (@shibuyaxyz), the Web3 creator platform dedicated to reimaging how long-form content is created and consumed. Combining elements of choose your own adventure with "Mad Libs" style improv, fans will directly influence the next chapter in the Dominion X storyline.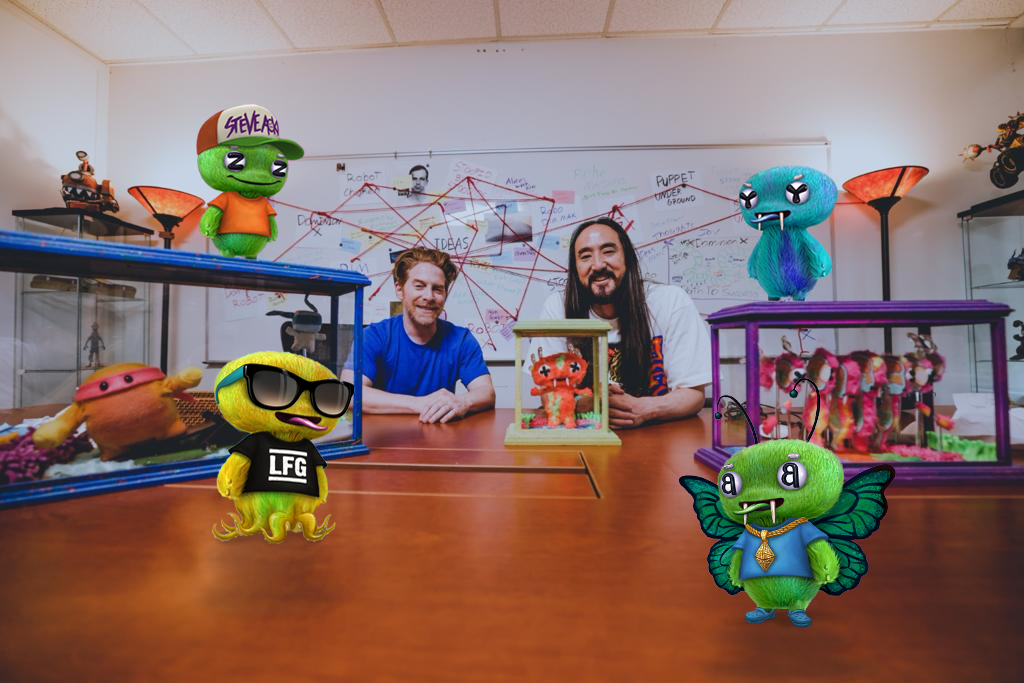 To participate, ReplicantX NFT holders can stake their NFTs at Shibuya.xyz to vote on the direction of Dominion X: Level 2, the first stop-motion film co-directed by a community of NFT holders. Over the course of 6 weeks, the Stoopid Buddy team will produce the short film while allowing the Replicant X community to vote on the end of a new scene each week, all in real-time.
Seth Green, creator of Robot Chicken and co-founder of Stoopid Buddy added, "As creators it's thrilling to have these new tools to bring fans right into our writers room so they can participate in the creative process with us. The approach with Replicant X is designed to maximize fan input into the story, and more importantly, create comedic sequences that we would never have dreamed up on our own." – Seth Green
"We're excited to see the first stop motion film co-directed by a community of NFT holders come to life, " said Emily Yang, CEO of Shibuya. Our platform provides tools to close the gap between creators and communities and ReplicantX is an exciting example of interactive content enabled by web3 technology."
As a reward for participating, at the end of the 6 weeks, voters will receive a memorial NFT of varying rarity depending on the level of participation. By offering a chance to help write an animated series before it goes into production, this collaboration brings some of the most exciting aspects of Web3 to a narrative. Maintaining the incredible visuals from Stoopid Buddy Stoodios and infectious music from Aoki, this is an exercise in community co-creation, uniquely enabled by Web3 technology.
"Since debuting in my very first NFT collection, Character X has truly become my web3 ambassador. From his own blockchain short film to surprise appearances in other NFTcollections, his journey in web3 has mirrored my own. I am excited to be working with Stoopid Buddy Stoodios and Seth Green as we guide Character X through this next evolution into Replicant X, bringing the community along for the ride." – Steve Aoki
While a ReplicantX NFT is required to participate in voting, the content will be free to view on Shibuya's platform.  It's not too late to join in the fun!
ABOUT Replicant X
Replicant X is a PFP collection that will act as an Aoki mascot as he continues to establish himself in the NFT world. A derivative of the Dominion X community, the collection will feature a series of animated loops with original Aoki beats that will invite viewers to partake in the gamified storytelling as it develops in real time. Created alongside actor/producer/director Seth Green and his Stoopid Buddy Stoodios, Replicant X is sure to be a catalyst for how storytelling is approached in web3, and how creators interact with their fans across all genres and forms of media.
Web: replicantx.xyz/
Twitter: @DominionX_NFT
Discord: https://discord.com/invite/steveaoki
ABOUT Steve A0ki
Boasting a 77 million average monthly reach across all his platforms and nearly 4 billion streams to his name, 2x-Grammy-nominated music producer, artist, fashion designer, entrepreneur, and NFT visionary Steve Aoki is one of the most successful cross-genre artists in the world. The DJ/Producer and Dim Mak Records founder holds the world record for Most Traveled Musician in a Single Calendar Year and has been described by Billboard as  "one of the most in-demand entertainers in the world." As a long-time collector and "an unabashed futurist" (Fortune), Aoki has been at the forefront with his NFT collaborations, generating over $4 million with the launch of his first NFT, the Dream Catcher series. He also co-created the first blockchain-based episodic series with Dominion X, partnered with Sotheby's on their Contemporary Curated series, and recently partnered with comic book legend Todd McFarlane to create OddKey, an NFT marketplace on the Solana blockchain for comic artists to freely showcase and sell their original digital artwork. Most recently, Aoki created the A0K1VERSE, an NFT membership community, powered by the Passport, that welcomes his fans to both virtual and real-world experiences. In whatever space he enters, Aoki offers a community for those who need it most.
Twitter: @SteveAoki 
Instagram: @SteveAoki
ABOUT Shibuya
Shibuya is a game-changing web3 content studio and creator platform. Unlike traditional streaming platforms, Shibuya is built with decentralization as a priority and uses blockchain technology to securely distribute and monetize content. Intent on building a range of tools and resources to help creators produce high-quality content, and provide them with direct access to their audiences, Shibuya facilitates the creation of never-before seen drops and projects. This can empower creators to build deep connections with their fans and create a loyal following that helps drive the growth of the platform. As NFTs provide a new business model for content monetization, Shibuya aims to fill a gap in the market for long-form content monetization using web3 technology, dedicated to making long-term changes surrounding how content is created, owned, and consumed.
Twitter: @shibuyaxyz
ABOUT Stoopid Buddy Stoodios
Stoopid Buddy Stoodios is an artist-friendly collective that houses some of the finest talent in animation and entertainment. They've got a knack for creating unique visuals and telling character driven stories with an uncanny and irreverent sensibility. The Stoodio is home to the longest running stop-motion show on TV, the multi Emmy Award-winningChicken, as well as Crossing Swords on Hulu, Marvel's M.O.D.O.K., Ultra City Smiths on AMC, and several others. Stoopid Buddy's "Builds" division is behind the Emmy Award-winning costumes on FOX'S Masked Singer, and their "Spots" team has delivered commercials for clients ranging from LEGO to Pepperidge Farms. Upcoming projects include Justin Roiland's Gloop World, Dominion X with Steve Aoki, a web3 documentary featuring NOUNS, and series in development with Nickelodeon, HBO Max, adult swim, Disney, and Hulu.
Follow us on Social Media