How did you come up with the ideas
The idea for Sombra came from myself after discussing NFTs in 2020 with my friend and partner on Sombra, Demian Gordon. He is a vfx legend responsible for creating the VFX pipeline for the Matrix films and so many others as well as top level games
like Resident Evil and more. Together we wanted to create something that brought his years of experience in motion capture and cinema as well as my background and existing award winning VFX studio (bonfire.nyc) to the world of web 3 and NFTs. From that I started Sombra and began to build our NFT marketplace, our token infrastructure and NFT storyline. SINS, our NFT storyline and NFT multiverse was born from our live of cyberpunk culture and immersive storytelling.

What Makes this project unique
Our project is unique because:
 We are creating a VR television show that allows you as a user to walk through the show and immerse yourself in the action. The NFT avatars that are minted become characters in our TV show and grant rewards to the owners. Community can vote on the storyline as well as the avatar owners. The more you participate the more you're rewarded and if you happen to own a character in the show you might have hit it big time owning an actor of what we hope is the first hit NFT TV series.
We have our own utility token that trades on 3 chains – BSC / ETH / POLYGON with a cross chain bridge via multi chain
We are award winning VFX artists who own our own company and staff. We have infrastructure and existing success bringing companies from 0 to $10,000,000 in revenue a year. We are professionals who understand deadlines, client and community expectations and have the experience to execute.
We have a P2E game that uses all the avatars in the mint and users can earn rewards and cash in a player and vfx artist based economy.
 We treat out project like a business and expect revenue to keep it sustainable, profitable and rewarding to our community through giving back.
 We love cats. A lot. Seriously we really like them.
How Big is the team and what are their roles?
Brendan ONeil – Founder of Sombra and Bonfire VFX
Demian Gordon – Head of Mocap / Partner
Jason Mayo – Head of Sales and new Business / Partner
Aron Baxter – Creative Director / Partner
Michal Finegold – Head of Software Dev / Partner
Chris W – Lead Blockchain Dev
David Gin – Lead Web Dev
Silver – Blockchain Senior advisor
Monika Cara – Head of Community
Crypto Zin – Marketing Strategy
Gene Nazarov – Creative Director
Carmine La Monte – CG artist
Hee Hey Moon – CG Artist
Keaton Tips – Motion GFX and CG
Kait Neil – Charity Coordinator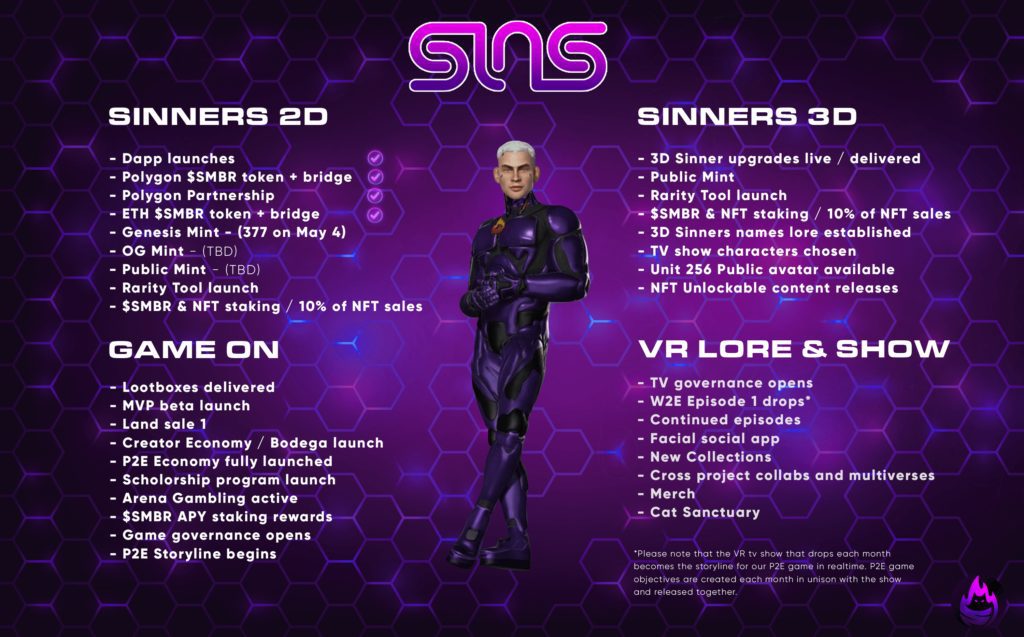 What is the price?
Genesis = .1 ETH Main Mint = .07
Genesis = .1 ETH ($300) – This comes with free 3D upgrade when you buy 2 which is the max out of 477
Main Mint = .07 ($200) –
What is the Mint Size?
Genesis = 477
Main Min = 5000
Are there any mechanics we should know about?
– We have 10% back to the community when staking their SMBR tokens – NFT staking on ETH yields a boost to your rewards from the NFT 10% – P2E game thats a counterstroke / openwork with GTA vibes mash up – TV show has easter eggs that people can find for rewards
– ONLY Genesis NFTs can be characters in the show
– A select amount of Genesis will be available in public mint and released in special ways
– Loot boxes for buyers for different things
Where can collectors learn more?
https://discord.gg/nST4vfFw
https://twitter.com/sombranetwork
https://sinsofshadow.io/
Follow us on Social Media