Highly viral, digital artist Slimesunday (@slimesunday) has been redefining the collage by constructing surreal and unsettling compositions out of digital photographs. His works themeatically confront major topics like censorship, consumerism, and sexual identity. He's made waves in the NFT space with projects like What The Fork? and ACIDW@SH, and his latest project will open collaboration of his  NFT works with his community, offering a suite of creative assets that feature Slimesunday's iconic style to his fanbase. SLIMESHOP, will premiere on September 8, 2022. In collaboration with OpenSea, SLIMESHOP offers a one-of-a-kind online destination that brings Slimesunday's unique style straight to his community, allowing people to create their own digital collages à la Photoshop' – get it?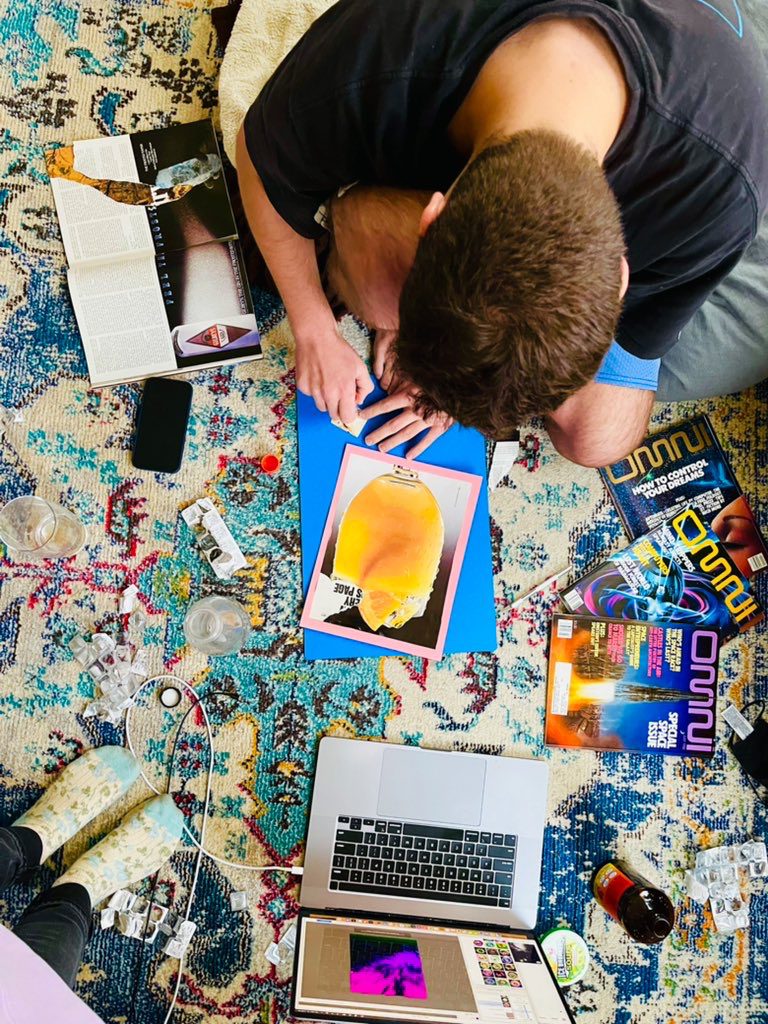 "This year I made it my goal to open up the art process to everyone. I've been a collage artist for most of my life now and one of my favorite things about art is the fun of actually creating it. Finding the perfect magazine clipping or photograph to incorporate into a piece, the search for something unique and reimagining it in a way no one has thought of before. The first step in this new journey was Fuck Up This Wall, an event we threw during NFT.LA where anyone could come and draw whatever they want on a piece of mine, spray paint all over it, even a torch was used. We did this again at NFT.NYC (Fuck Up This Floor) but by then we'd already set in motion an even bigger project, SLIMESHOP."  Slimesunday
Have you ever wanted a custom piece by your favorite artist? SLIMESHOP breaks ground in this area, giving you the opportunity to create a custom Slimesunday digital collage in collaboration with Slimesunday originals. Acting as his unique spin on a PFP project, SLIMESHOP introduces the idea of interactive fine art and customization to the world of NFTs. In the current era of Web3 where NFT projects are competing against each other, trying to offer the loftiest perks to their holders which many ultimately cannot deliver on, SLIMESHOP is incredibly refreshing. But this is more than just art for art's sake. With this launch, Slimesunday offers the space as a tool that puts community engagement and interaction first – encouraging trading, collaborating, and co-creating.  Through SLIMESHOP, Slimesunday will propel himself from artist to provider and community builder, establishing a fanbase that is involved and totally immersed in his cutting-edge work from the frontlines.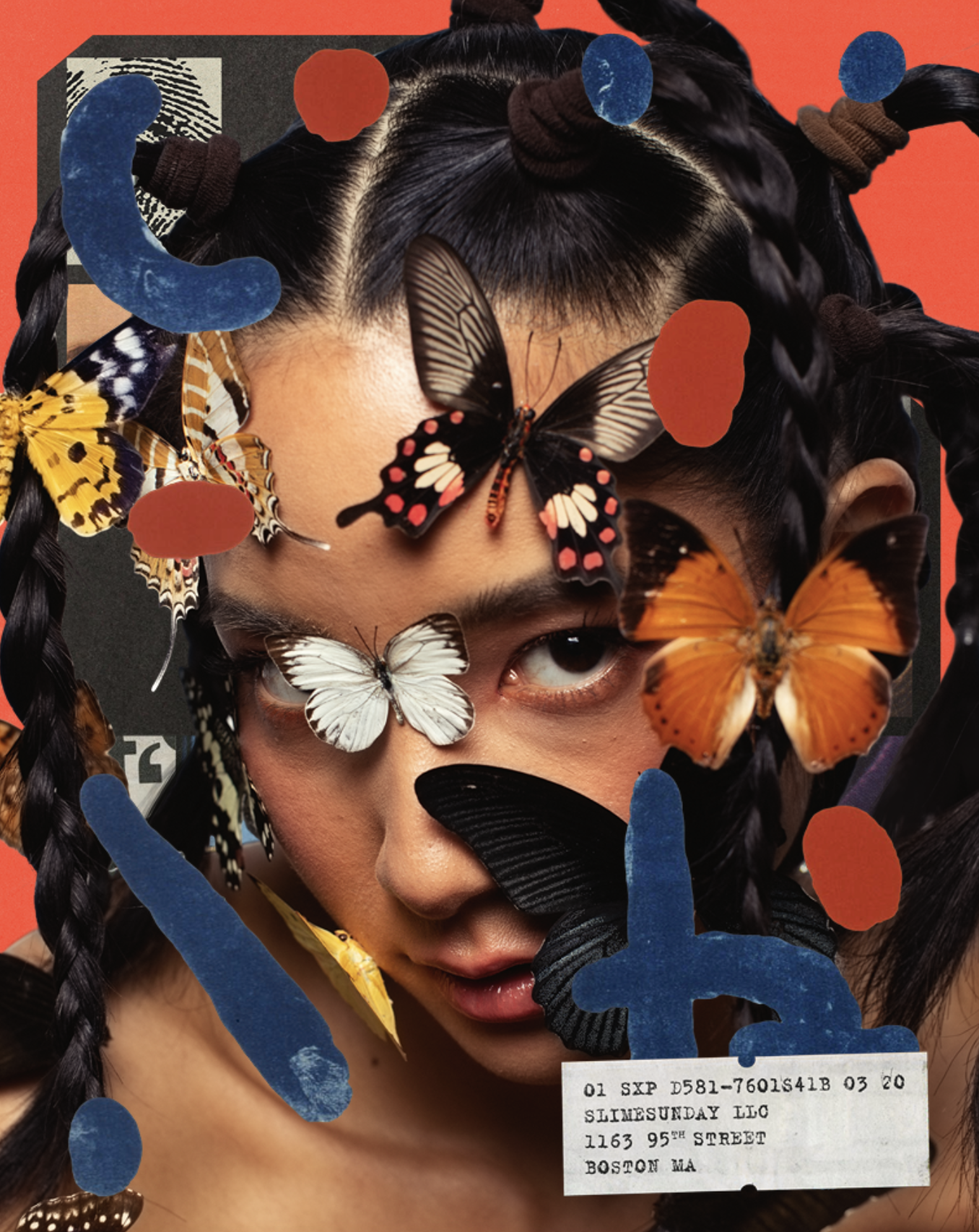 "With SLIMESHOP the idea was to build a tool that would encourage people to have fun and get their hands dirty (digitally) and make their own version of a Slimesunday collage, truly interactive art. We knew this could only be achieved using the world of Web3 and thanks to OpenSea, SLIMESHOP is here and ready to be experienced for the first time. The basis of each SLIMESHOP collage will be one of nine portraits we shot in LA. Then hundreds of layers I made over the last 8 months can be added, (backgrounds, borders, textures, and more) however is desired. I can't wait to see what people create and hope they have a ton of fun exploring all the possibilities of SLIMESHOP!"  Slimesunday
Slimesunday has dedicated his focus and energy to this project for the past eight months, designing hundreds of elements and assets from scratch. OpenSea collaborated on a custom platform built from the ground up with the artist directly. With 5,555 NFTs to choose from, the SLIMESHOP collection will be prominently featured on OpenSea for two days, bringing exclusivity and covetability that will drive fans to participate in the interactive project with fervor. Fans will have the ability to mint a "SLIMESHOP Pack," allowing them to begin their artistic adventure with a background, portrait, and five layers to play with. Slimesunday VIPs will have special access to the SLIMESHOP allowlist, which will enjoy a special mint price on their SLIMESHOP Pack. Additionally, each of the first 500 people to mint will receive a digital signature from Slimesunday to add to their custom piece.
Visit the landing page today to learn more about SLIMESHOP, how it's going to be released, and how to join the allowlist to ensure you have topline access to Slimesunday's suite of creativity.
ABOUT Slimesunday
Slimesunday (@slimesunday) – a.k.a., Mike Parisella – is a viral digital collage artist who constructs surreal, unsettling and strangely satisfying compositions out of digital photographs. His work broaches major societal topics like censorship, consumerism, and sexuality. His What The Fork? Collection, which debuted in New York with the Phillips auction house in August 2021, was his first project to utilize imagery that was directed, shot, and licensed specifically for his creative vision. He was also the brains behind ACIDW@SH on Nifty Gateway, an experimental collection that married the limitless possibilities of computer-generated art to the metaverse. Today, Slimesunday is the 8th highest earning artist in the NFT space, with his work featured in the likes of Playboy, Hunger, Vice, Plastik, and Glamour Magazine. He's also collaborated on projects with major celebrities like J.Cole, Lana Del Rey, Katy Perry, J Balvin, and Beck is the art director for 3LAU, and half of audio visual project SSX3LAU.
Web: slimesunday.com/
TW: @slimesunday
IG: @slimesunday
ABOUT OpenSea
OpenSea is the world's leading peer-to-peer marketplace for NFTs. We're on a mission to help the world's creators, collectors and collaborators own and shape their relationships directly. We're building the world's most trusted and inclusive NFT marketplace with the best selection – making minting, purchasing and selling NFTs frictionless and friendly, and offering unmatched selection and multi-chain options for creators and collectors of all kinds. Headquartered in New York, the OpenSea leadership team comes from Google, Palantir, Lyft, Uber, Stanford and Berkeley. Investors include a16z, Paradigm, Coatue, YCombinator, Founders Fund, Coinbase Ventures, 1Confirmation, and Blockchain Capital.
Web: opensea.io/
TW: @opensea
IG: @opensea
Follow us on Social Media