BOSTON — In partnership with laCollection, the Museum of Fine Arts, Boston (MFA), is launching its second NFT collection of rarely exhibited French pastels from the 19th century, by artists including Claude Monet, Edgar Degas, and Jean-François Millet. Ahead of the drop in February, laCollection will offer a freemint of Degas' painting Racehorses at Longchamp (1871, possibly reworked in 1874) from January 5–30, 2023. Collectors of the freemint will gain access to preferred prices during a presale of the digital collectible collection as well as a chance to win tickets to the Museum, discounts at the MFA Bookstore and Shop, a behind-the-scenes visit to the Museum's imaging studio
to see how artworks are digitized, and tickets to a Frieze art fair.
The freemint's release on January 5 coincides with the announcement of the Samsung x laCollection TV app at the Consumer Electronics Show (CES) in Las Vegas. laCollection's fine art app within Samsung's NFT Hub—a TV-based NFT explorer and market aggregator—will allow collectors to browse, purchase and display digital collectibles of works from the MFA's collection on their TVs.
On sale in February, the NFT collection is based on 11 artworks from the MFA's holdings, including:
– View of the Sea at Sunset (about 1862), a landscape that may have been presented by Monet at the first Impressionist exhibition in Paris in 1874
– Five pastels by Millet, including Dandelions (1867–68) and Farmyard by Moonlight (1868)
– Dancers in Rose (about 1900), one of Degas' famous representations of ballerinas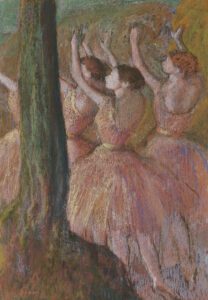 The MFA's partnership with laCollection is a pilot project that leverages new technology to bring the Museum's rarely exhibited pastels to life for a new generation of collectors and art enthusiasts. In the first drop that took place throughout the summer of 2022, the Museum and laCollection issued NFTs of 12 pastels in editions of 30 to 50, with nearly 250 sold. As with the first collection, proceeds from the sales will support MFA conservators' study and treatment of two paintings by Degas: the double portraits Edmondo & Thérèse Morbilli (about 1865) and Degas's Father Listening to Lorenzo Pagans Playing the Guitar (about 1869-72).
Eric Woods, Chief Operating Officer at the MFA:
"We're excited to continue our partnership with laCollection and begin the second phase of sharing our Treasures from the Vault. Phase one surpassed our expectations in many ways, generating far-reaching engagement with thousands of people from 200 countries participating. An added bonus was that we could support the care of our collection in the process. With this next drop, we continue to experiment with new ways of offering NFTs with the expectation of broadening our reach even further and providing new gateways for our collection. We hope art enthusiasts everywhere will start their digital collections with the MFA freemint."
Jean-Sébastien Beaucamps, CEO and Co-Founder at laCollection:
"laCollection is thrilled to pursue its partnership with one of the world's largest museums in the world. The first collection has proven that Web3 can help museums share their incredible collection of works with a global community. With this second collection, MFA enthusiasts will be able to discover other rarely exhibited Impressionist pastels from the MFA's renowned collection through a new way of collecting artworks that changed the course of art history."
For further information please contact:
Pauline Tremsal, laCollection: pauline.tremsal@lacollection.io
Karen Frascona, MFA: kfrascona@mfa.org
About laCollection
laCollection offers collectors new ways to discover, experience and own exceptional art on the blockchain from the world's best museums, and leading digital artists. Each NFT is authenticated, approved by the relevant museum, gallery or artist, and secured on the blockchain. Collectors will be able to create their own cross-museum galleries of digital art, forging a new community of people with a passion for art and innovation. laCollection has joined forces with sustainable forestry tech company EcoTree.green to launch a 60-year nature-based climate-positive plan., and tracks its carbon footprint with Green Element, a B-Corp climate and sustainability audit firm offering net-zero
solutions to major international brands, in alignment with the STBi criteria (Science Target Based Initiative) as defined by the United Nations.
About the Museum of Fine Arts Boston
The MFA brings many worlds together through art. Showcasing masterpieces from ancient to modern, our renowned collection of nearly 500,000 works tells a multifaceted story of the human experience—a story that holds unique meaning for everyone. From Boston locals to international travelers, visitors from across the globe come to experience the MFA. Through both art and audience, the Museum brings together diverse perspectives—revealing connections, exploring differences, creating a community where all belong. Plan your visit at mfa.org.

Claude Monet, View of the Sea at Sunset, about 1862
Pastel on paper, 15.3 x 40 cm
Bequest of William P. Blake in memory of his sister, Anne Dehon Blake
© Museum of Fine Arts, Boston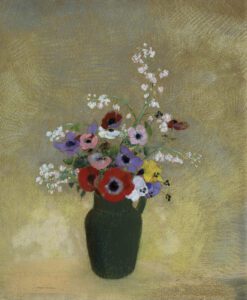 Odilon Redon, Large Green Vase with Mixed Flowers, 1910-12
Pastel on paper, 74.3 x 62.2 cm
Bequest of John T. Spaulding
© Museum of Fine Arts, Boston
Follow us on Social Media