THROUGH EXCLUSIVE RELEASES WITH VEVE
 Initial NFT Drop Featuring Artwork from Popular Film Franchises Back to the Future and 
Bill & Ted's Excellent Adventure to be Available During Comic-Con@Home July 23 – 25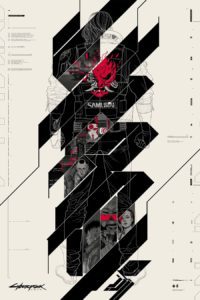 New Zealand, July 20, 2021 – VeVe, the largest mobile-first digital collectibles platform, has announced a partnership to create a debut series of NFTs from Mondo, best known for creating limited posters, soundtracks and more based on pop culture past and present.
The initial NFT offering from Mondo will feature 2D artwork inspired by fan-favorite classic films Back to the Future and Bill & Ted's Excellent Adventure. Digital collectibles from the series will be available exclusively on the VeVe app during Comic-Con@Home, taking place July 23 – 25.
"Mondo has collaborated with the top film studios in the entertainment industry and continues to provide exciting, new, movie-based collectibles to fans all around the world," says David Yu, CEO of the VeVe platform, "We are very excited to have Mondo as a partner to create top-tier digital collectible content that fans will enjoy and cherish for many years to come."
With VeVe, fans can showcase their digital collections through the app's customizable virtual showrooms, as well as virtually visit, comment on and like showrooms from other collectors. Beyond virtual showrooms, users can buy and sell with each other in the VeVe secondary marketplace, share their collectibles on VeVe's in-app social feed and interact with collectibles using VeVe's innovative augmented reality features.
"We'd been looking for the right partner in the NFT space for the better part of the year, and we couldn't be happier to land at VeVe. From the very first time we talked, it just felt right. We are so excited to be part of their thriving community, and we look forward to many releases together," says Mitch Putnam, Co-Founder & Creative Director of Mondo.
VeVe NFT digital collectibles are minted on the blockchain, which allows for an immutable record of authentication and allows fans to collect their digital products in a fun and engaging experience. Since last December, the VeVe app has been downloaded more than 380,000 times and has sold over 600,000 NFT digital collectibles to avid fans, and on the Google app store is one of the top apps in the entertainment category.
In March 2021, VeVe committed to 100% carbon neutral NFTs and provided $7+ million in
grants to environmental nonprofits to raise money for causes through NFT promotions. VeVe
uses a distributed ledger technology, which is over 99% more energy efficient than using the
Ethereum blockchain.
To learn more about the VeVe app, please visit the official website here.
About VeVe:
Founded in 2018, VeVe was created by collectors and for collectors to bring premium licensed NFT digital collectibles to the mass market. With over 350,000 active users and 600,000 NFTs sold, VeVe is the largest mobile-first digital collectibles platform and one of the top grossing Entertainment Apps in the Google Play and Apple stores.
Utilizing both blockchain and augmented reality technologies, VeVe offers premium licensed collectibles from leading brands including DC Comics and Warner Bros, Cartoon Network, tokidoki, Ghostbusters, Back to the Future and more. For the first time, these brands can provide customization to collectibles after their initial sale, creating endless revenue possibilities for products both new and previously offered. In addition, VeVe's 3D augmented reality photo mode allows collectors to interact with every digital collectible, as well as share their collectibles through VeVe's in-app social feed, or on external social platforms including Twitter, Instagram, TikTok and more.
In March 2021, VeVe committed to 100% carbon neutral NFTs and provided $7+ million in grants to environmental nonprofits to raise money for causes through NFT promotions. In addition, VeVe uses Ethereum's layer 2 scaling protocol, Immutable X, which provides instant trade confirmation, scalability (over 9,000 trades per second), zero gas fees, and a 99.9% reduction in environmental footprint.
The VeVe Digital Collectible app is available on both iOS and Android.
Learn more: VeVe.me | Twitter | Discord | Facebook | Instagram | Medium
About Mondo:
Founded in 2004, Mondo is a small group of fans, family, & friends headquartered in Austin, Texas, but with a global staff. Mondo works with incredible artists who share a passion to create posters, soundtracks, toys, apparel, books, games and collectibles for classics — pop culture past & present.
Follow us on Social Media