24 Hour Live Auction Starting 18th January 6 pm est on Nifty Gateway
Join King's Twitter Space, January 18th at 12 pm est, to hear directly from curator, artist and gallery 
With the start of a new year, King of Midtown is kicking off 2023 by not only curating an artist of new heights, but by also sharing a message to the community that is embodied through her artwork and personal story.
Introducing Angela Nikolau, world's first female rooftopper.
After first noticing her work, King immediately grew admiration for Angela's fearlessness, beauty, adventurous spirit and determination to constantly redefine the possible.
Coming from a humble beginning and overcoming obstacles that would have broken many, Angela's journey symbolizes how the 'impossible' only appear this way when we place limits upon ourselves, allowing circumstances to overpower our ambitions and dreams. Angela not only emulates this message and life motto through her thoughts and actions, but more importantly through her art.
Also experiencing a unique childhood, this message instantly resonated with King, building a deeper and more meaningful connection. From respecting her artwork, execution, personality, engagement in the community and more, King genuinely believes Angela will be one of the leading and long term artists innovating this space. Curating her first drop on Nifty Gateway, this is King's way of showing his belief in Angela's trajectory and to introduce more collectors to her work through a new marketplace and first edition release (Angela has currently only minted 1 of 1 artwork).
Releasing this drop alongside Angela as his first curation of 2023, this collection is a reminder to everyone still here that: all our dreams are possible, we can not let circumstances define us, there are no limits to where this journey will take us and, most importantly, in moments of darkness, have faith, have hope, and find deeper connections through community and art that will guide you to the light.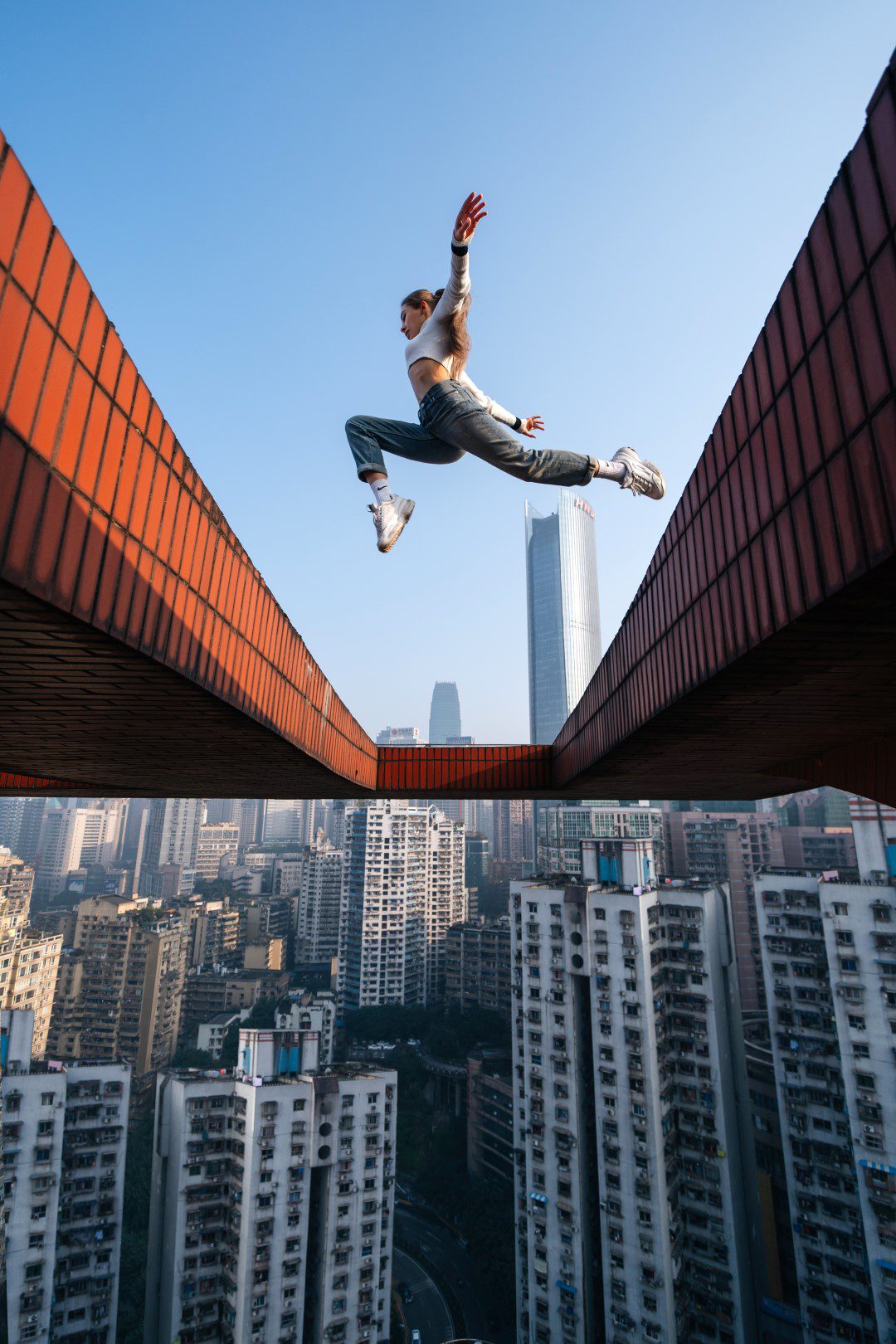 Artwork Information
Ultimate Freedom

There are no limits really, only the ones that we choose for ourselves. Your impossible might be possible for someone else just because they see it this way.

Things are impossible if you limit yourself to it. This art is about breaking free and letting your spirit reach new heights. 

The circumstances will try to ground you – don't let them.

You can do this.

And you will.

Shot in Chongqing, China
Released as an edition of 10, this piece will be available here as a 24 hour ranked auction.
Auction begins on January 18th at 6pm est, ending on January 19th 6pm est
IRL at The Crypt Gallery
Exhibitions are currently live at The Crypt Gallery, world's first NFT gallery in the hospitality industry. Make sure to visit either of their locations in Los Angeles or New York City to experience the art IRL. Both locations are also the first to showcase Angela's most recent record breaking climb of Merdeka 118 in Malaysia, world's second tallest structure.
Exhibits Open 24/7
Dream Hollywood
6417 Selma Ave, Hollywood, CA, 90028
Dream Downtown
355 W 16th St, New York, NY, 10011
ABOUT ANGELA NIKOLAU
Angela Nikolau is the world's first female rooftopper and world's most extreme roofer girl on the version of the British media. She has been performing her rooftop stunts for over ten years and has been featured in such magazines and newspapers as The Times, The Guardian, GQ, Harper's Bazaar, Cosmopolitan, Elle, 9GAG, Red Bull, The Straits Times etc. She has also participated in two documentaries about rooftoppers.
Angela has started her NFT journey in August 2022 and has already reached 55+ eth in sales. Her works are listed for 3+ eth on the secondary market. She has been among the top three artists of Foundation multiple times. Her works have been already collected by the most prominent collectors in the NFT space, such as Punk6529, sendr0ck and GigaChadPepe.
Angela comes from a poor circus family and she had earned her way up completely by herself. She is also a professional painter and artist and she had her personal art exhibition in Moscow.
Currently Angela is traveling the world creating new NFT collections at incredible heights. Her NFTs have been already displayed in Art Basel Miami 2022 and will be displayed at NFT NYC 2023.
ABOUT KING OF MIDTOWN
King of Midtown (KOM) is a New York City collector who has established himself as a major influencer and curator within the community. In July 2021, King launched The Crypt Gallery, an exhibition space aiming to bring the digital marketplace experience to life while educating a new audience and increasing collector participation.
Throughout this process, King continues to support artists, calling them the "new celebrities". With the initial launch of The Crypt Gallery in Dream Hollywood, a showcase at Christie's, the recent NYC launch at Dream Downtown, and the acquisition of a basketball team in the Big 3 League, King has attracted major media to the space including Forbes, Haute Living, KTLA and Business Insider.
Follow us on Social Media