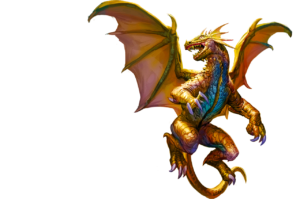 Girls Robots Dragons (GRD) has just announced their integration of Chainlink's Verifiable Random Function (VRF), a random number generator (RNG) used to help ensure fair and verifiable NFT minting for all GRD NFT minters.
Girls Robots Dragons is a fantasy & sci-fi NFT card collection made up of 15 unique characters (5 girls, 5 robots, and 5 dragons) in front of 2 randomly selected layers. The collection was created by Zoltan Boros and Gabor Szikszai, a duo known for their work drawing and painting card decks for Magic the Gathering, monsters for Diablo, illustrations for Dungeons and Dragons, and creating some of the best-known graphics for World of Warcraft and Star Wars.
"Chainlink VRF is the best solution for NFT projects needing a secure source of randomness," said Szikszai. "By helping increase transparency and enabling the generation of provably random outcomes, Chainlink VRF gives our team peace of mind and inspires confidence from our community that we truly believe in creating a fair Girls Robots Dragons NFT mint."
Boros and Szikszai established their international careers in Budapest at a fantasy book publisher, and have been involved in creating cover art for hundreds of sci-fi and fantasy books. As a tribute to the artists' decades-long history, the back of every NFT will showcase one of their classic artworks.
The GRD NFT minting for their first public sale is ending June 28, with the first 3,000 GRD NFTs receiving DUST tokens equal to the original price of the NFT. GRD NFTs are unique as they're purchased via credit card, with no crypto address required.
According to the GRD team, some holders will also be able to redeem extra benefits with their NFTs, such as the ability to collect bonus art, get their initial purchase price back, meet with the artists online, or win ETH or merch.
Chainlink news continues to roll in. On Wednesday, Chainlink Price Feeds went live on the Moonbeam Network, and the week before saw Chainlink VRF (often used in blockchain gaming and NFT minting) and Chainlink Keepers go live on Avalanche. Several weeks ago Chainlink Price Feeds also went live on Solana mainnet. 
The network continues to expand its services to various blockchains, while Chainlink's Cross-Chain Interoperability Protocol (CCIP), which will provide a universal, open standard for developers to build secure services and applications, is expected to be available later this year.
Follow us on Social Media