Fraktal is solving the NFT ownership problem.
The utility layer for NFTs launches fractionalized ownership in their new marketplace.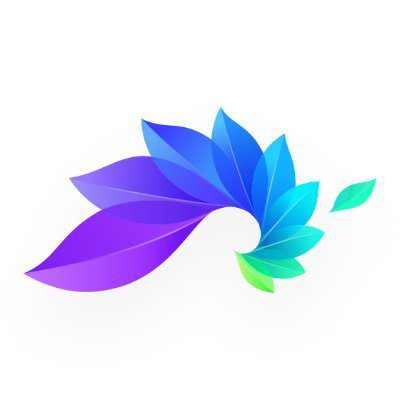 On March 7th, NFT platform Fraktal will launch their marketplace, enabling creators and collectors to sell and own a fractionalized interest in NFTs. The diverse, global, and decentralized team aims to truly democratize the NFT economy by making it accessible to all.
Fractional ownership solves two big problems for NFT collectors. The first is for current holders of blue chip NFTs, who are sitting on hundreds of thousands in paper gains, but have no access to those funds unless they sell the entire asset. Fraktal allows these HODLers to sell fractional ownership of their digital asset to one or multiple people. Now holders can have their NFTs and sell them too. The second problem solved is for buyers who are priced out of the most valuable collections, such as the Bored Ape Yacht Club. Now individuals can own pieces of an Ape and take part in their future success. In fact, entire communities can get together to buy a whole Ape, while verifiably, transparently, and trust-less-ly, splitting the ownership.
The other problem fractionalization solves is for NFT creators. Smart contracts were what originally enabled artists and builders to interact with communities in a trust-less and peer-to-peer way, but in their current form have failed to solve for one thing…collaboration…the foundation of a decentralized world. In the physical world it's easy to draw up a contract that says "you own 50% of this art we created, and I own the other 50%", but smart contracts could only be linked to one owner. Meaning at some point someone had to be trusted to send someone some funds. You can see how this could end up being an issue. Now by fractionalizing the ownership over the creation of an NFT, Fraktal creates an opportunity for collaborators to jointly own and benefit from their work, in a transparent, trust-less, and decentralized way.
"Fractionalizing NFTs is our first milestone in creating an NFT experience that is truly decentralized and accessible for all", added Ian, Co-Founder. "Once we've built the market, we're going to begin offering ways to build on top of it, becoming the utility layer for NFTs."
The utility layer for NFTs
The ultimate vision for Fraktal is to become a platform to be built upon. With the release of $FRAK—their governance token, they'll be able to implement DAOs, AMMs, and builder tools that enable innovative creators to do things Fraktal hasn't even imagined yet.
Fraktal is a community first project, with a mission to empower artists to be in full control of their work and have unlimited creative freedom. To learn more, visit https://www.fraktal.io/.
Fraktal Unlocks the value of NFTs for all participants in the Ecosystem.
Artists can easily and securely work on collaborative pieces with multiple creators and all share in the ownership, royalties, and other income that comes with NFT ownership. In addition, all royalties are paid on-chain in a transparent and secure method to ensure payments are not lost in a 'black hole' as is very common in the current creative industry.
Collectors benefit from instant liquidity from NFT AMM implementations of the Fraktal Protocol. In addition, the new auction style format created by Fraktal which allows NFT owners to sell pieces or full amounts of their NFTs to a broad community in an uncapped ICO-style sale where every participant receives a piece is anticipated to vastly increase the value of NFTs as seen with the PleasrDAO Doge NFT . This format, paired with traditional fixed-price sales, enables collectors to benefit from liquidity without having to part ways with their full NFT. They can simply sell pieces of it when they require any liquidity.
A whole new wrold of NFTs is open to Investors and Degens. Fraktal Protocol creates on-chain pricing and liquidity which unleashes countless use cases to monetize idle NFT collections, ranging from DeFi, Yield Farming, custom AMMs, and tons of new innovation potential to build crazy, new NFT monetization schemes. We are extremely excited to see the developments in this space.
Tokens Airdrop
As part of the Fraktal Marketplace launch, 150,000,000 FRAK (15% of total supply) will be airdropped to active NFT users. 10% is allocated based on trading volume and 5% to launch partners based on participation in making launch a success. Read on to see how you can receive your FRAK.
Eligibility is based on activity on OpenSea during 2021 (from Ethereum Block 12642194 on 16th Jun 2021 to Block 13812868 on 16th Dec 2021).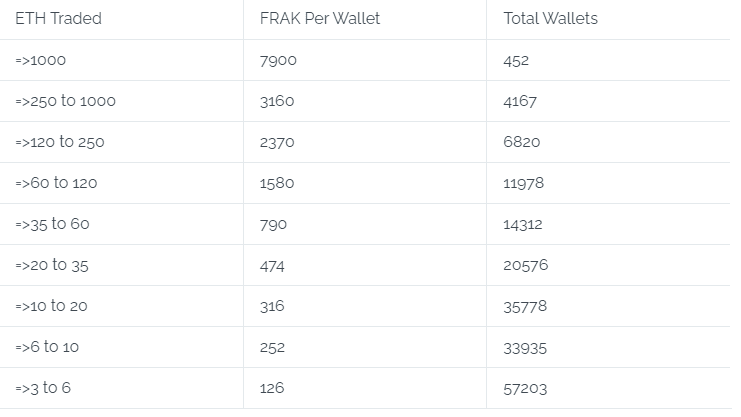 Follow us on Social Media