Seoul, South Korea — 4th August 2022 – 8am EST — EPIC LEAGUE, a web3 games development studio, has announced its global strategic partnership with Polygon, an Ethereum scaling platform onboarding millions to Web3 to launch a suite of web3 games. This partnership combines EPIC LEAGUE's industry-leading blockchain game development services with Polygon's next-generation technology dedicated to building a new economy and society without borders.
In conjunction with the strategic partnership, Polygon Ventures has also made a strategic investment in the company. EPIC LEAGUE recently secured its strategic and private round at a $60M and $100M fully diluted valuation, respectively, and has added Polygon Ventures to its roster of prominent investors, which includes Griffin Gaming Partners, Netmarble Company, Neowiz, WEMADE, YGG SEA, GBIC, and others.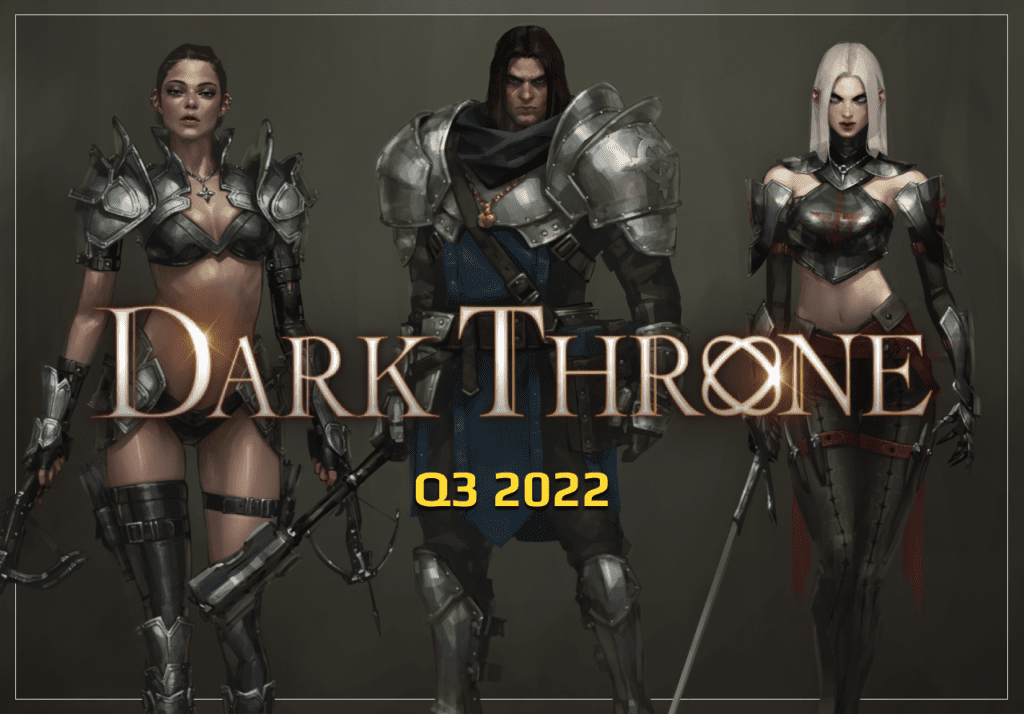 The first game to be launched on Polygon is the AAA action role-playing game DARK THRONE, a hack-and-slash action RPG that allows players to explore dungeons and battle a variety of monsters.
DARK THRONE boasts the striking and dramatic visuals of Art Director Jeehyung Lee (ArtStation-Jeehyung Lee), a cover artist for both Marvel and DC Comics. The team invested a great deal of time developing the UX, enabling players to enjoy dynamic gameplay (Preview Movie) with simple controls. The game also supports multi-platform, so users can play across PC and mobile devices using a single account.
Urvit Goel, VP Global Business Development for Gaming at Polygon, said: "Epic League has the potential to bring new users to Web3 through its gaming ecosystem. The team's prior experience working with major gaming and entertainment firms bodes well for its future. We're delighted to bring Epic League into the Polygon ecosystem, and we can't wait to see the impact it makes with the release of its first gaming title."
Polygon recently attained carbon-neutral status and has pledged to go carbon negative by the end of 2022. As a result, all services building on Polygon will become carbon neutral by default.
With over 19,000 decentralized services ranging from decentralized finance to gaming, including Zed Run, Skyweaver by Horizon Games, Decentraland, and others, Polygon is fast becoming the de-facto platform for Web3. The network is already working with major global brands and companies, including Meta, Stripe, and Adobe, as they start to explore Web3 functionality.
Providing further details on this announcement, Jay Kim, Executive Director of EPIC LEAGUE, said, "when the full version of DARK THRONE, Epic League's first game series, is launched in Q3, 2022, in addition to exploring dungeons PvE, new gaming features such as PvP arena mode and boss raid mode, as well as an NFT rental service and marketplace will be introduced. At EPIC LEAGUE, we strive to make blockchain games easily adaptable for those who are not familiar with Web3 games as well as conventional blockchain gamers, enabling them to enjoy quality games and experience more advanced blockchain GameFi services. So, we resonate with Polygon's vision of an open and borderless world. We have collaborated with them as strategic partners in aggregating scalable, interoperable, and secured solutions to embrace the diversity of gamers."
DARK THRONE, launching in Q3, 2022, completed a successful beta test in June 2022, demonstrating a notable 67.8% retention rate among its players on the seventh day of the beta test.
EPIC LEAGUE Business Executive Sinhae Lee said, "After the beta test, we began collaborating with Polygon and spoke with investors who recognized the game's market viability. Currently, we are totally occupied with preparations for the official launch at the end of this August. As the official launch nears, there will be a pre-registration event. Anyone with an email address and MetaMask can participate. It begins on August 8, and participants will receive many gifts with the official launch. We look forward to the participation of many gamers. Please refer to EPIC LEAGUE Discord and Twitter announcements for further information."
About EPIC LEAGUE
EPIC LEAGUE refers to a blockchain-based ecosystem connecting AAA quality games with its NFT marketplace, NFT management tool, guild tool, etc. The EPIC LEAGUE team is a group of avid online-game enthusiasts with 200+ cumulative years of experience in global top gaming companies. The team consists of top-tier game developers who created global top games such as Lineage 2M, Marvel Future Revolution, Marvel Future Fight, and BTS Universe Story and blockchain experts. Jeehyung Lee, a cover artist for Marvel and DC Comics, participated as Art Director. Also, Younghoon Paek, a former Netmarble COO, and Thomas Vu, a former Head of Creative and current advisor to Sandbox, participated as advisors.
Website | Twitter | Discord | Medium | Instagram | Youtube
About Polygon
Polygon is the leading blockchain development platform, offering scalable, affordable, secure and sustainable blockchains for Web3. Its growing suite of products offers developers easy access to major scaling solutions including L2 (ZK Rollups and Optimistic Rollups), sidechains, hybrid, stand-alone and enterprise chains, and data availability. Polygon's scaling solutions have seen widespread adoption with 19,000+ decentralized applications hosted, 1.6B+ total transactions processed, 142M+ unique user addresses, and $5B+ in assets secured. Polygon is carbon neutral with the goal of leading the Web3 ecosystem in becoming carbon negative.
If you're an Ethereum Developer, you're already a Polygon developer! Leverage Polygon's fast and secure txns for your dApp, get started here.
Follow us on Social Media