DC Partners With Palm NFT Studio for Epic Digital Collectibles Drop for DC FanDome 2021
Curated by Publisher and Chief Creative Officer Jim Lee, DC's Inaugural NFT Collection Will Power The Global Event's Registration
BURBANK, CA — DC, in partnership with Palm NFT Studio, officially steps into the world of blockchain technology with its first collection of NFTs on October 5. Using Palm's proprietary, environmentally sustainable and energy efficient technology, the NFTs highlight the company's legendary history, breadth of characters and diversity of storytelling. Hand-selected by DC's Publisher and Chief Creative Officer Jim Lee as a thank you to its legion of loyal fans and an invitation to attend DC FanDome on October 16, registrants will be able to collect a free NFT by enrolling for this year's global virtual event with the ability to unlock a second, free NFT by sharing on social media.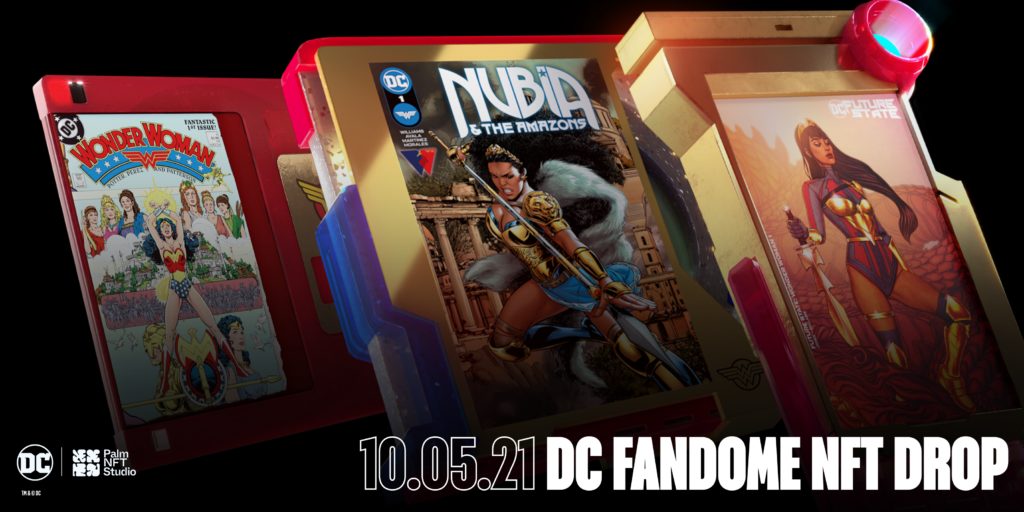 Featuring Super Heroes like Batman, Superman, Green Lantern, Wonder Woman, and Harley Quinn, the premier drop offers fans the opportunity  to collect three covers for each character in three levels of rarity. For example, fans of the Princess of Themyscira a.k.a. Wonder Woman can collect a Common (1987's Wonder Woman #1 by George Peréz), Rare (2021's Nubia and the Amazons #1 by Alitha Martinez), and/or Legendary (Yara Flor on 2021's Future State: Wonder Woman #1 by Jenny Frison) cover.
"We spent a lot of time on how to translate and adapt these classic covers into a 21st century format such as NFTs," said Jim Lee. "This drop pays homage to our 87 year history while visualizing a future in which NFTs play a foundational role in novel ways of interacting with DC content and unlocking new experiences."
In 2020, DC FanDome: Hall of Heroes generated a massive 22 million global views across 220 countries and territories in a mere 24 hours. Given that this year's attendance is anticipated to surpass 2020's staggering numbers, this will be the first large-scale virtual event with registration powered by NFTs, and very likely one of the largest NFT drops ever.
DC selected Palm NFT Studio as its partner because Palm is designed to be as flexible as artists are creative; it's able to build the infrastructure to match DC's ambitions and even assist in the creative development of the NFTs.
Also, Palm shares our environmentally conscious approach to NFTs. Palm's blockchain provides a 99.99% reduction in energy usage compared to Proof of Work systems, while enabling DC's platform to mint millions of NFTs for fans with near zero cost.
"It's immensely rewarding to work with a partner like DC who understands that blockchain is more than a technology, it's a sustainable storytelling tool that can reshape the relationship between creators and fans," said Palm Co-Founder Dan Heyman. "What does it mean to be a fan? What does it mean to be a collector? These are age-old questions that we get to watch creators like DC answer in brand new ways every day."
For over 87 years, DC has shaped fan culture. Today, through sustainable NFT initiatives, they're redefining it: giving fans unprecedented access, and the ability to own and be a part of the future of DC digital collectibles.
To register for DC FanDome and receive your free NFT, visit DCFanDome.com.
For more on DC and Palm's NFT collaboration, visit DCComics.com.
About DC
DC, a WarnerMedia Company, creates iconic characters, enduring stories, and immersive experiences that inspire and entertain audiences of every generation around the world and is one of the world's largest publishers of comics and graphic novels. As a creative division, DC is charged with strategically integrating its stories and characters across film, television, consumer products, home entertainment, interactive games, DC UNIVERSE INFINITE digital subscription service and community engagement portal. For more information visit dccomics.com anddcuniverseinfinite.com.
About Palm NFT Studio
Palm NFT Studio is a collective of technology, entertainment, cryptoart and art industry leaders. The studio provides bespoke creative services for artists and rights holders looking to establish NFT marketplaces and next-generation work on Palm.Palm NFT Studio was brought together by ConsenSys founder and Ethereum co-founder Joseph Lubin; film producer and owner of Heyday Films, David Heyman; and founder of world class art house HENI Group, Joe Hage. The new venture is being led by co-founder and CEO Dan Heyman, former General Manager of protocols at ConsenSys. Initial projects launching on Palm include Damien Hirst's The Currencywith HENI, Candy Digital's digital collectible program with Major League Baseball.
Working together with creators and rights holders, Palm NFT Studio is developing the Palm ecosystem on Ethereum to be both scalable and sustainable. For more information, please visit Palm.io.
Follow us on Social Media