A home for the curious.
 5,000 Curiosities on the Ethereum blockchain
Our mission is to create a home for the curious and provide true value to all holders by building out the Curiosities ecosystem and brand.
With all of the hand drawn traits that are offered, you're sure to find one that fits you.
In today's NFT market the number one goal should be under promise, over deliver. Curiosities did what few project have the courage to do. Pivot. The project, 5,000 metaverse NFTs launched on a WL during one of the worst bear markets the NFT space has seen. Instead of licking their wounds and disappearing, the team decided to discount the project, turning it into a free mint and creating community in return.  This move drew the attention of key Nevins Underground whales including Donald and Bai who quickly gravitated to the team understanding that community and ingenuity are the real drivers in the space. These types of pivots are where free mints become massive wealth potential for collectors, but the risk reward should still be considered with any project.  What makes this project unique is that it includes many of the key attributes that make a project like this successful.
NFT Staking
ERC-20 Tokens
A Marketplace / Merch
Collaborations
Full Commercial Rights to their NFTs
Alpha
If this team can succeed, this project has massive upside potential.
Curiosities NFT Roadmap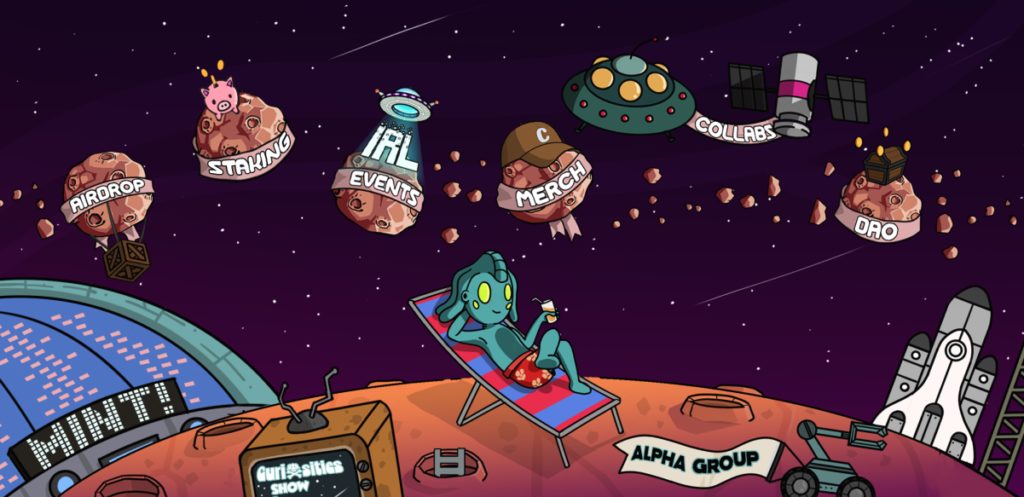 Above is the roadmap v1. It covers the next couple of months of plans from the mint to launching our staking protocol and native token, through apparel, IRL events, and launching the Curiosities show. As we get closer to completing this roadmap we will release the v2 edition.
Curiosities Official Links
Follow us on Social Media