King of Midtown at The Crypt Gallery
Wednesday, March 22, 2023
7 pm to 11 pm pst
Dream Hollywood 
Admission is free, RSVP for entrance needed    
————
New York | March 20, 2023 | The Crypt Gallery, the world's first NFT gallery in the hospitality industry, revolutionizes the in-real-life (IRL) digital art experience.
Known for hosting events that bring artists, communities, collectors, and multiple industries together, previous attendees include Ice Cube, Liam Payne, Dot Pigeon, JOY World, Miguel, and Emanuele Ferarri. 
Returning this year with new activations and guest experiences, The Crypt Gallery presents King of Midtown's official 2023 NFT Tour. Starting part one of this coast-to-coast tour in Los Angeles, California, the first event is scheduled for Wednesday, March 22 at Dream Hollywood. Part two of the tour continues this April during NFT NYC, one of the world's largest NFT activation weeks.
With over a dozen artists exhibited and in attendance, guests in LA have the chance to meet some of their favorite talent in the industry, including recent Sotheby's artists Michael Kutscshe and Bryan Brinkamn, audiovisual producer SillyGabe who is known for touring with Zedd, iconic digital artist Justin Maller, Blake Kathryn, Nicole Buffett and more! Additional performances include live painting by Gabe Weis and music by Abana.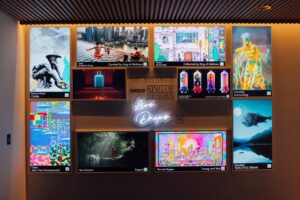 One highlight of the evening includes a LIVE MINTING experience with renowned artist  Jose Delbo. Famous for his work on comics such as Wonder Woman and other iconic modern Marvel and DC superheroes, Delbo released the first-ever original NFT comic in 2020. Pioneering comics into a new medium, Death…No Escape marks a historical moment. Since the original launch, Delbo has collaborated with other well-known artists in the space and continues to release original comic fine art. 
In collaboration with King of Midtown, Delbo's work will be available for the very first time at The Crypt Gallery as a free live mint of a limited 20 edition "Classic" piece depicting his iconic character, Death. The release and minting of the piece will happen on Nifty Gateway during the Crypt Gallery event. 9 of the 20 total editions will be available in Los Angeles during part one of KOM's tour, while the 10 remaining editions will open in NYC this April.  
Guests at the events will have exclusive access to enter for a chance to win one of five editions being raffled away in person. The remaining four editions will be raffled digitally to reward Delbo's existing collectors on Nifty Gateway as well as King of Midtown Gold and Platinum membership holders. To enter the digital raffle, holders must visit The Crypt Gallery's website and follow instructions for submission. Winners for both raffles will be announced after the event night. More information will be released shortly. Follow The Crypt Gallery for latest updates.
Adding to the in person experience, guests will be able to participate and contribute to artwork being made live by Gabe Weis. King of Midtown inspired, the artwork made during the event will be available as a $20 Open Edition on Nifty Gateway, exclusively available to IRL guests that evening. Rewarding the KOM community, this first ever live art and mint will then open to Gold and Platinum membership holders for an additional 24 hours. Final artwork will be revealed at the end of the evening and physical painting available for private sale.
Emphasizing creating accessible entry points and onboarding new audiences, both minting experiences focus on enhancing IRL attendance and merging the gap between digital and physical.
King of Midtown's LA event is scheduled for Wednesday, March 22, from 7 pm to 11 pm at The Crypt Gallery x Dream Hollywood. Admission is free, but RSVP here for entrance. 
NFT Culture, Social Club at Dream Hollywood, and On Chain Monkey are proud supporters of this event.
Part 2 of the tour will be held in New York City on Thursday, April 13th. Further details on the NFT NYC event will be announced soon.
Artists Exhibited and in Attendance:
Michael Kutsche, Justin Maller, TedsLittleDream, Robbie Trevino, Carlos Luna James, SillyGabe, Blake Kathryn, Jonathan Winbush, Bryan Brinkman, TooMuchLag, Brendan North, Nicole Buffett, Parrott, LeftyOutThere, Gabe Weis, Synchrodogs, Abana
TedsLittleDream: Year of the Rabbit, Blake Kathryn: Somnium Factorem, Justin Maller: Gatomnia
Follow us on Social Media