This project has been on the NFTCulture radar for a while. We think the art is beautiful, but some of the topics were a bit taboo. It is always interesting to see how society responds to these topics. The Matrix is one of the most revered movies of all time and Breaking Bad is possibly the greatest show of all time. Instead of avoiding the topic,  we sat down with the team to discuss our concerns with projects like these and appreciated their candor about mental health, substance abuse, talking about these issues and more.  On top of bringing these conversations to the forefront, they plan on supporting organizations that help combat these illnesses.  Now that we have that out of the way, here is our Q&A with the Team.
Please provide an overview of the project in your own words.
BYOP is a collection of 10,000 unique programmatically generated 3D pills with the goal of being the first consumable NFT across various metaverses. The project will allow collectors to experience unique AR/VR trips tied to traits of their pills in our mobile companion app which will be released shortly after launch. The project also aims to bring these unique trips to the metaverse, allowing collectors to experience it within the world itself. BYOP's ultimate goal is to introduce these BYOPills as consumables to the metaverses and blockchain-enabled games, ranging from temporary power-ups, ability boosts, or even unique emotes/dances similar to Fortnite. 
When Is the projects launch date?
Friday (7/16) at 11am EST.
How did you come up with the idea for this project?
We wanted to introduce a new dynamic that creates a lot of versatility and flexibility in the space. Potions/powerups are the most eye-catching sought-after game items – so we wanted to play on that to introduce this element into the meta verses. 
Also Having continuous struggle with mental health has been a forefront for one of the founding members so he took approach to take a unique look at "pills" and get the conversation on mental health going.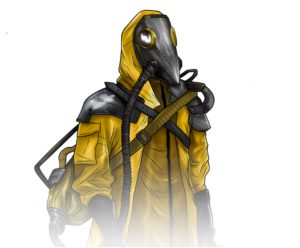 What Makes this project unique?
Aside from being aesthetically pleasing as collectibles themselves, this project is unique due to the various experiences we are introducing to the NFT space. Our project allows each collector to have his/her own unique "Trip" which will be experienced in Augmented Reality, Virtual Reality and in the Metaverse itself. Our aim is to bring new forms of utility to the NFT space, and we believe these experiences do just that. Furthermore, we noticed most projects are aimed at social avatars, or metaverse wearables. With BYOP, we wanted to introduce the first metaverse consumable, which typically plays a big role in any game. 
We also released a white paper to be as transparent as possible with the community, highlighting launch deadlines. 
We are also using a rendering pipeline that is not quite used in the space that we believe will set the norm for content creation in the future. We are providing high quality animated content on a set of 10,000 items with effects not easily achievable with the currently used methods. 
How Big is the team and what are their roles?
The core team has spent their whole life mixing radical technology and art to create experiences. The team consists of 3 people, each bringing their own experiences and talent to the project. Ether Jay is the dev and works on all things technical, from the smart contract, generation, to app development. He is also a game developer. George is the creative director, who is working on creating and designing the 3D models and is also helping with Marketing / overall direction. Peter is the NFT addict of the team, helping with the overall direction of the project and making sure BYOP meets all NFT's latest everchanging standards. He is also helping with marketing. 
What is the price? 
We have decreased the price from 0.08 ETH to 0.06 due to popular demand and to ensure everyone in the community gets the opportunity to mint. 
Why is that a fair price?
Given our long-term road map and the various utility we aim to provide, we think 0.06 ETH is a fair price, especially when compared to other projects at this price point. Plus, you're getting a really sexy 3D animated element. 
What is the mint size?
As of now, minting is limited to 15 per transaction. 
Are there any mechanics we should know about?
We integrated with Wallet Connect to enable access to various wallets while minting. Mobile minting is also available, directly via Metamask, or via Wallet Connect. Besides that, the minting should be smooth and directly on our website. Post-purchase, collectors will be able to see their pill directly on our website, in addition to seeing it on Opensea. 
How will BYOP introduce consumables and how will collectors benefit from that.
Our goal is to partner with as many metaverses / blockchain games as possible. When a partnership is made, we will be able to integrate the pills into their world, offering unique ability boosts, etc. based on what they allow with their game mechanics. This will create value for collectors because if the pill itself was not integrated with our partners, then it will be a consumable collection airdropped exclusively to collectors, which acts as a sort of dividend. If collectors are not interested in using these consumables in that specific world, then they can sell it on the secondary market to a community that is involved with that world. Hence, the more partnerships we create, the more value and demand that brings to BYOPills. 
Some people have been vocal online your plans to use this platform to discuss substance abuse?
We're entirely committed to use this platform to promote two use cases that mean a lot to us – and want to be vocal about it in the community – which is mental health and making the conversation about it okay, and substance abuse, and asking for help. This is why our plan is to support organizations helping people struggling with drug abuse and mental health conditions.
Some may also say that taking some experience digitally might actually lessen the need for real life substance abuse – something you see in VR therapy as well.
In a nutshell – we're happy to being light to this topic – and use some controversy to speak about a topic that has been a taboo for too long now.
Links to Discord, social, etc.
Discord: discord.gg/byopills
Follow us on Social Media